WHERE TO INVEST MONEY WITH LOW RISK
Are you wondering where to invest money with low risk? Different investment options come with varying levels of risk. If you want your money to be safe, where's the best place to invest?
Today I'm answering your question about where to invest money with low risk.
You're going to find many different opinions and ideas. There's nothing wrong with banks. They'll gladly accept your deposits, and they will hold your money safely with little or no risk.
The federal government sells savings bonds. This is another source where you can invest with low risk to your principal. However, it's a low interest rate.
The stock market has special accounts for cash. Some people call them money market accounts. These accounts have very little if any risk, and they're very much like a savings account, which some people call investment accounts.
Want to learn how you can make big profits from bargain real estate? Would you like to buy mortgage-free homes for pennies on the dollar? Or earn double-digit interest rates? Then you won't want to miss this FREE mini class.
WHERE TO INVEST MONEY WITH LOW RISK – CHALLENGES
If you don't want to have your money at risk, that's understandable. Your challenge is going to be exposure to inflation.
The federal government creates money by printing it, and they generally use the money for social programs.
Today's I'm answering your question about where to invest money with low risk, however, safety and security is not as easy as putting your money in the bank and having no worries for the future.
Money doesn't automatically grow. The money needs to work, and finding your comfort level with investing isn't exactly easy. You have a challenge that's going to be a part of your life.
WHERE TO INVEST MONEY WITH LOW RISK – MARKETS
The markets are continually moving up and down. As the market cycles, your portfolio is affected, also sometimes going up and sometimes down.
Market fluctuations are very much affected by what the government leadership does or doesn't do. There's always a reason every time the market goes up or down. Maybe it's the economy, or maybe it's the weather.
If the government is free-spending, constantly creating and authorizing new social programs to benefit the bureaucrats and the socialists, the markets will react. The market fears inflation and government programs.
WHERE TO INVEST MONEY WITH LOW RISK – INFLATION
So let's talk about where to invest money with low risk and determine if there could be a hidden risk.
The money you invest with low risk in a bank or a treasury note is certainly safe. You've handled the low risk part of the investment. However, your purchasing power is eroding. It's depreciating due to inflation.
To oversimplify, I'll use a $10,000 investment as the example.
WHERE TO INVEST MONEY WITH LOW RISK – AN EXAMPLE
Money in the bank is probably earning 1% or less in today's market. So, what is your $10,000 going to be valued at next year? I agree, it's low risk, but is it really?
Let's take a few other matters into account. According to recent surveys and the news media, the government tells us inflation is 6%, which simply means the government is putting more money into the system.
More money means you have lost 6% of your $10,000 in purchasing power. Yes, your statement still says $10,000, and at the end of the year it will say $10,100.
The problem is, it's going to take more dollars to equal the $10,000 that you had at the beginning of the year. You have a low risk investment, but unfortunately, it will now take $10,600 to buy what used to cost $10,000 in valuable products.
WHERE TO INVEST MONEY WITH LOW RISK – PRINTING MONEY
Suddenly a bank account or a treasury bond could turn into a risky investment, especially if the government keeps printing money, because your valuable savings in the bank or in a treasury note is worth less each year in purchasing power.
Should you worry about this? The answer is yes.
You need to know where to invest money with low risk, but that investment also must keep ahead of inflation.
WHERE TO INVEST MONEY WITH LOW RISK – HYPERINFLATION
100-years ago, in Europe, the major economy was German, yet the government inflated continuously to pay for social programs and build a military.
When the inflation finally grew to an uncontrollable rate, a homemaker shopping for bread and beef needed a large shopping bag filled with Marks, which was the currency of Germany.
Imagine going to the market with a shopping bag full of money. If you research, you'll find out what I'm saying is very true.
Seniors who have worked and saved their money will be wiped out financially because inflation will devastate their savings accounts, their social security and their pensions.
If this is interesting to you, I have a free mini course. It's a free gift from me to you that will teach you the secrets of tax lien certificates and how to profit in tax deeds.
WHERE TO INVEST MONEY WITH LOW RISK – A SOLUTION
What's the solution? I don't know the answers to money questions. Here's what I do know. I'm not the only one who thinks about the financial situation in the future.
Next, I'll discuss an alternative income investment that I discovered more than 30 years ago. This investment requires some adjusting and learning, however, it will generate new income with small investments.
I'll repeat this is an alternative investment. However, it's been in use by those in the know for over 200 years. It's an excellent investment if you're looking for where to invest money with low risk while also keeping ahead of inflation.
Today only a select group of investors, who realize the financial future may be in danger, have considered developing more revenue to take care of their needs.
The politicians will spend more money they don't have, and they will create more social plans to get more votes. You can plan on all of that happening. So let's plan on generating new income to solve the problem.
You'll need to earn more, and I doubt you want a job.
WHERE TO INVEST MONEY WITH LOW RISK – TAX DEFAULTED PROPERTY
30 years ago, I discovered a government-mandated and administered program that's affordable for the little guy. It helps the neighbors and local county government, and it allows the little guy to make some big money which they'll need.
State governments, that is, local counties have experienced delays collecting property taxes from property owners.
The state legislature resolved to fix the situation by passing new laws that require the county government board of supervisors or county commissioners to mandate that tax collectors and treasurers levy taxes and collect taxes.
WHERE TO INVEST MONEY WITH LOW RISK – TAX DEFAULTED AUCTION
If the taxes are uncollectable, they confiscate the defaulted property, sell it at a public auction to the highest bidder and use the money to pay county taxes.
The properties that have been confiscated are sold for just the back taxes, and the mortgage is deleted, canceled, wiped out.
For the last 3 decades, I've taught my clients how to purchase these properties, which are sometimes used and abused, for 10 cents, 20 cents, or 30 cents on the dollar and resell them for 50 cents, 60 cents, or 70 cents on the dollar.
WHERE TO INVEST MONEY WITH LOW RISK – AN EXAMPLE OF HOW THIS WORKS
This is a good business. For example:
• Tax assessed value is $90,000
• Property owner fails to pay taxes
• County treasurer seizes the property for $5,000 in defaulted taxes and auctions it at a public auction
• New buyer at the auction pays 20 cents on the dollar for a property valued at $90,000
• County is happy to have recovered the delinquent taxes, and the new buyer is happy they purchased a property for 20 cents on the dollar.
• New buyer uses Ted Thomas' buy low, sell low strategy.
• New buyer uses Craigslist, eBay, Facebook Marketplace and other electronic sites to sell the property
• Tax assessed value is $90,000, and buyer paid only $18,000
• Buyer advertises property for $55,000, way under market.
• Attractive price brings in a new purchaser
• New purchaser agrees to purchase with $10,000 down payment.
• New purchaser requests installment payments for 10 years.
WHERE TO INVEST MONEY WITH LOW RISK – PROFIT
• Let's do the math.
◦ Selling price $55,000
◦ Down payment $10,000
◦ Installment sale for 10 years at $450 a month equals $54,000
• Add back in down payment.
◦ Total price $64,000
◦ Purchase price $18,000
◦ Profit $46,000
◦ Investment $18,000.
CONCLUSION
We hope you enjoyed Ted's lesson, "Where to Invest Money With Low Risk
Certificates of deposit, savings bonds, and money market accounts have long been considered low risk investments. However, are these investment vehicles really low risk if they don't keep up with inflation?
e.g. If you're earning less than a 1% return when inflation is at 6%, then you're losing money.
The good news is that there is a solution to the issue of risk vs return. There is a little-known way to earn high yields without taking on a lot of risk, and that's by investing in tax delinquent property.
At tax defaulted property auctions, local counties sell real estate with the bidding beginning around the amount of the unpaid back taxes, which can be as low as 5, 10 or 20 cents on the dollar of the assessed value.
Additionally, these properties are sold mortgage-free.
Every day people purchase properties at tax sales for cents on the dollar and no mortgage or deed of trust loan.
Think about how having a profit margin like that gives you a huge competitive advantage when you sell the property. Since you bought it at a big discount, you can also sell it at a nice discount that will attract a lot of interested buyers.
You can generate cash flow quickly by buying low and also selling low. In addition to that, you could offer seller financing to create residual income and then profit from both the sale price and the financing.
About half the counties sell tax deeds, which means they sell the property outright, and about half the counties sell tax liens.
Tax lien certificates pay interest rates of 16%, 18%, 24%, or even as much as 36%, and they're an excellent passive investment if you don't have a lot of money to invest.
Tax liens are low-risk because they're government-backed and secured by real estate. You either get paid the high rate of interest or you get the property without a mortgage.
If you'd like to know more about tax delinquent property investing, there's no one more qualified to teach you than Ted Thomas, America's leading authority on tax lien certificates and tax defaulted property investing.
Ted Thomas is the only one who provides full support and complete training with home study courses, Q&A webinars, live tutorials, workshops & web classes, and personal one-on-one coaching.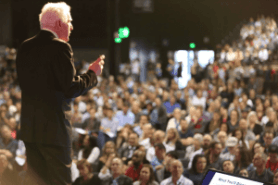 Get started today at no cost with Ted's FREE Master Class. It's only about 1 hour of streaming video and will open your eyes to the incredible opportunities available in tax lien certificates and tax deed investing.