If you're looking for a winning real estate bidding strategy, these 10 tips will give you an edge at the auction and even show you how to win a house in a competitive market.
So you've taken the time and energy necessary to research your tax sale.  The auction is about to begin!
What is a good auction strategy? Are there any steps you can take to improve your chances of getting a property?  Depending on the auction style, the answer is often yes.
Every tax sale has its own rules for bidding.  Sometimes there's a professional auctioneer who controls the pace of the auction and the bid increments.  In that case, your opportunities for creative strategies are pretty limited. 
The bidding will either go beyond your maximum, or it won't. 
My favorite auctions are the ones where the individual investors shout out their bids, and the property goes to the highest bidder.  This situation allows you to use bidding tactics to your benefit.
Everybody has their own style. Discover what works for you, and keep doing it.  Here's what works for me.
Want to learn more about bargain real estate? Would you like to buy nice homes for pennies on the dollar? Or earn outrageous interest rates secured by real estate? Then you don't want to miss this FREE class that Ted Thomas has for you.
Have an Organized Auction Strategy
Tip #1:  Reference every property with a tracking number or name.  Be consistent in labeling properties with all of your maps and bid sheets, in order to avoid confusion. 
If you prepare your own spreadsheet or property list, make sure that the information is easy to read, and the properties are listed in the order that they will be sold. 
I sometimes make a spreadsheet using different colors to highlight the properties that I like best.
Tip #2: Have your bid list ready.  At large auctions, things happen fast.  If you are disorganized, your favorite property might be sold before you know what happened.
When Bidding at Auction, Speak Up!
Tip #3: Speak loudly enough for everybody to hear you. 
The auction might be held in a large room, or outdoors near a busy road. 
Everyone in the crowd should be able to hear you the first time.  An auctioneer might ignore you if you mumble one time too many.
Your Auction Strategy Needs An Exit Strategy
Tip #4: Know in advance what your maximum bid will be.
Tip #5: How much should you bid on a house? Have an exit strategy for each property you are bidding on.  The exit strategy will affect how much you can afford to pay.
In order to know how much you can buy it for, you have to know much you can sell it for.
When to Place Your Opening Bid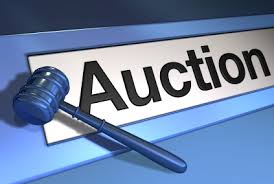 Tip #6: When your property is announced, pause a couple seconds to see whether anyone else bids. 
How do you win a bidding war on a house? Here's how to bid on a house with multiple offers. If two or more investors join the battle, keep your mouth shut.  Entering your own bids will only fan the flames. 
Wait until only one person is left, and then jump in. 
Consider the impact of your first bid at this point. 
For instance, let's say that you've decided that your maximum bid on the property will be $10,500.  Two prospective buyers have been upping the ante by $100 at a time, and the bidding has stalled at $8,000. 
If you offer $8,100, the other guy will probably say $8,200 and keep on bidding against you.  But if you jump to $8,500, your opponent might decide not to counter you.
Auction Psychology: Be Assertive
Tip #7: If nobody else bids when the opening bid is announced, take the initiative.  Forcefully offer the minimum bid. 
With your voice and body language, let everyone know that you mean business – even if you're about to have heart failure and can barely breathe.  As the bidding continues, keep bidding confidently and avoid any sign of weakness.
Unpredictable Auction Bidding Works
Tip #8: Avoid being predictable. 
If you raise the bid by $1,000, then $500, then $100, and then $50, your opponents will know that you're reaching the end of your rope.  Mix up your bid increments, so that nobody will know when you have reached your maximum.
Auction Bidding Strategy: Avoiding Round Numbers
Tip #9: Have a maximum bid, but don't make it a round number. 
For instance, if you decide that you're willing to pay around $20,000 for a property, set your limit at a value like $20,150, or $20,400, rather than a figure that is an even thousand. 
I have bought several properties in situations where it was clear that the other bidder stopped at a nice round number.
Strategic Pauses as Part of Your Bidding Strategy
Tip #10: Strategic pauses sometimes work.  Letting the auctioneer say, "going once, going twice" before announcing your bid can possibly demoralize your opponent or catch him off guard.  But don't do it every time. 
It will occasionally work against an amateur bidder.  The seasoned bidders know what they are willing to pay, and they want the real estate bidding process to move along at a brisk pace.
Your Winning Real Estate Bidding Strategy: Conclusion
Now you know ten real estate bidding strategy secrets. 
Be prepared with your well-researched property list, but also be organized because auctions can move fast.
Have an exit strategy. Know in advance what your maximum bid will be, but avoid round numbers to keep your competitors guessing what your limit is.
Speak loudly, show initiative, and avoid being predictable. Knowing when to speak and when to wait quietly is an important real estate bidding strategy.
Most of all, go out there, have some fun, and buy some properties!
If you need some help getting started, Ted Thomas can show you the ropes. For over 25 years, Ted's been teaching students the secrets, strategies, and safest ways to profit from investing in tax delinquent property.
There's no one more qualified than Ted, America's leading authority on tax lien certificates and tax defaulted property investing.
Ted Thomas is the only one who provides full support and complete training with home study courses, Q&A webinars, live tutorials, workshops & web classes, and personal one-on-one coaching. Successful people use a coach!
If you'd like to learn how to earn lucrative profits easily, painlessly, and safely, you can get started today at no cost by taking advantage of Ted's FREE Master Class and discovering how you can capitalize on bargain real estate.
So act now and learn the secrets of tax lien and deed investing that have made so many of Ted's students into 6-figure income earners.