LEARN HOW TO START YOUR OWN INVESTMENT PORTFOLIO
Are you researching potential investments and want to know how to start your own investment portfolio? Do you want to put your money into something high-yielding, but not too risky? Let me offer you a solution!
I'm Ted Thomas, and I've been investing in alternative investments for 30 years. It's not for everyone, and after I give you some insights and information, you'll determine for yourself if this is a way for you to get wealthy. 
Today, I'm going to answer your question about how to start your own investment portfolio.  There are dozens of methods and investment programs that you can implement in today's market. 
I'll show you a process that will work once, and then it will work again and again and again. In most instances, you'll work one time, and you'll receive checks for a decade or more.  
If you want a large portfolio, you'll learn how to do this once and then rinse and repeat. Each successful project will add to the previous success.  My point is, you'll enjoy numerous benefits. Yes, it will be work, but it will be positive income. 
What I'm about to reveal is a financial system that's been proven and tested by decades of experience.  The brilliance of what you're about to learn is simply this, everyone involved will benefit.  But first, understand that you can get wealthy.
Want to learn how you can make massive profits from real estate? Would you like to buy homes for cents on the dollar? Or earn double-digit interest rates? Learn how to secure your financial future with this FREE mini class on how to prosper beyond your wildest dreams from tax liens and deeds!
HOW TO START YOUR OWN INVESTMENT PORTFOLIO – TAX LIENS AND DEEDS
Now let's talk about how to start your own investment portfolio.  Thirty years ago, I discovered tax deeds and tax liens, and I've never looked back. 
This remarkable government-mandated and managed system is over 200 years old.  All you need is a few skills, some education and a few dollars, and you'll be off to the races.  
This is an alternative investment.  It's not like old world stocks or bonds, insurance or options.  This is a little different, and it falls into the real estate category.
You need to consider, are you a person who needs a broker, who definitely wants an investment advisor and must spend hours with due diligence, and do you need a sanitary environment? 
This alternative investment is in real estate, and the properties may be used and abused. You may get your shoes dirty.  
HOW TO START YOUR OWN INVESTMENT PORTFOLIO – PROPERTY TAXES
I'm discussing tax deeds and tax liens, a government-mandated and managed program.  The government follows a process that is created by the legislature and is very much needed because millions of properties nationwide will go into default after the property owners failed to pay property taxes.  
In the United States, everyone is allowed the privilege of owning property, and you can do what you want with it: raise cattle, grow crops, build houses, subdivide it. However, you are compelled by the state to pay property taxes to the local county.  
Why are you required to pay property taxes? The local county has many obligations. For example, paying the police, firefighters, and school teachers, paving roads and building schools, managing and paying for the court system.
I'm only naming a few of the local county obligations, and they are paid for by the local property owners.  
The state legislature requires every property owner to pay property taxes. The legislature mandates and authorizes the county commissioners or board of supervisors to instruct the tax collector and treasurer to levy property taxes and to collect property taxes.
The treasurer is authorized to confiscate property if the taxes are not paid, evict the property owner and ultimately sell the property at a public auction to the highest bidder.  
HOW TO START YOUR OWN INVESTMENT PORTFOLIO – TAX SALES
Here's how to start your own investment portfolio and make big money.  The county does not want the property.  They already own the parks, schools, and administration buildings. The county wants payment of property taxes on time, and delinquent taxes are not paying the county's obligations.  
After the seizure of the property, the county auctions it, not for retail price, but for the delinquent back taxes.  The starting bid at auction is usually very close to the back taxes owed. 
HOW TO START YOUR OWN INVESTMENT PORTFOLIO – DISCOUNT PROPERTY WITH NO MORTGAGE
These auctions, also called tax sales, are public affairs sometimes on the courthouse steps.  Many properties are sold at 60%, 70%, and 80% below the assessed taxed value. This process could give you a huge margin and be the pathway to wealth.  
What makes the auction so interesting to entrepreneurs and alternative investors is the county treasurer is authorized by the state legislature to cancel, wipe out, delete the mortgage or deed of trust loan. It's wiped clean from the official public records.  
To consolidate what I've just explained:
Property is sold at a public auction to the highest bidder.
The starting bid is very close to the back taxes owed. 
The property is sold with no mortgage or deed of trust loan. 
When this process takes place, everyone involved benefits.  
HOW TO START YOUR OWN INVESTMENT PORTFOLIO – A WIN-WIN SITUATION
This is a win-win situation. The county benefits because the defaulted property is no longer in default.  The auction has recycled the property back onto the honorable tax roll of property owners who pay in a timely fashion.
The new buyer benefits from a bargain purchase price and a high profit margin.  
How would this alternative investment benefit you?
HOW TO START YOUR OWN INVESTMENT PORTFOLIO – A LUCRATIVE BUSINESS
Auctions are conducted in most counties annually, however, many counties will auction properties monthly.  The point is, this is a lucrative business for the person who wants to develop the skill.
Warning: I've been involved in tax liens and tax deeds for over 30 years. I've taught thousands how to avoid big mistakes and make profits.  Do not buy a property you have not seen.  I don't mean you've looked at a picture. I mean you've had boots on the ground or someone you trust has looked at the property.  
I have a free gift for you, a 1-hour, streaming-video mini course that will teach you the secrets of one of the safest high yielding investments available and how to create massive cash flow and generate income streams from real estate.
It's time to take charge of your financial future, and this Free Course will show you how to start your own investment portfolio in real estate and get you on the road to success!
HOW TO START YOUR OWN INVESTMENT PORTFOLIO – A SIMPLE BUSINESS
This is an overly simple business.  You make your money when you purchase the property.
Most tax auction property is used and abused.  Many will be abandoned.  Others will require tender loving care.  All sales are as-is.  Don't overbid.  
Again, you make your money when you buy, not when you sell.  
My overly simple strategy works and is different from what the average real estate investor or broker would tell you.
HOW TO START YOUR OWN INVESTMENT PORTFOLIO – AN OUTSIDE-THE-BOX BUSINESS
I live differently than the regimented, non-innovative real estate community.  As an entrepreneur, it's wise to think the opposite and differently than others in your community. 
For example, late night television advocates buy, fix up, flip and sell.  They usually teach to fix up and go for the gold. Fix up takes time, money, skills and much patience. 
Television is filled with fixer-upper shows, where in a span of 29 minutes, you see a worn out less than average property turned into a mansion.
You are continuously encouraged by an attractive woman conducting a business with dozens, not one or two, but dozens of contractors smashing walls, pouring concrete, filling dumpsters, cutting boards, and in 29 minutes, it's all finished. This is entertainment. It's not the world of making money.
If you have lots of time and money, that's the way to go. It requires very low skill and a big bank account. Skilled workers are no longer available at $10 per hour. TV personalities earn big dollars. Add those together and your finished prices will be significantly higher than the market place.  Let's compare that with an opposite contrarian example. 
https://tedthomas.com/wp-content/uploads/2021/10/fixer-upper-shows.png
HOW TO START YOUR OWN INVESTMENT PORTFOLIO – BUY LOW, SELL LOW
The perfect scenario for this alternative investment, in my opinion, is buy low at the auction, sell lower than the assessed or retail price, and move on to the next property. 
The key to the business is to purchase for the right price. 
Assure your purchase price and the value have great profit margin.  Don't try to take all the margin for yourself. Allow the new buyer to purchase at a discount. That makes the sale much easier. Everyone wants a discount.  
Auctions are a process. Wise bidders attend many auctions. They are patient and let other people spend their money. They understand you make your money when you buy, not when you sell.  They're frugal and try to get the best deal.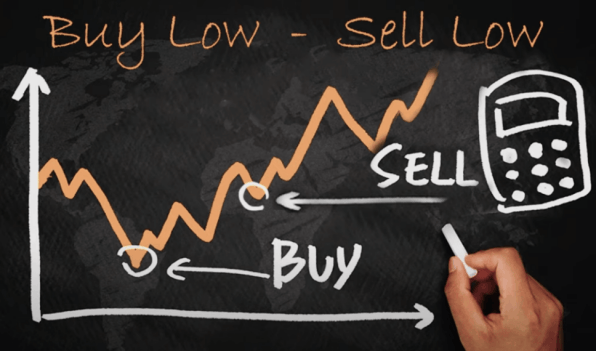 HOW TO START YOUR OWN INVESTMENT PORTFOLIO – SELLING PROPERTY
Let's go back to selling.  You need a continuous multi-step and multimedia selling strategy.  Briefly, that would include signs on the property, Craigslist, eBay, Facebook Marketplace, and any and all electronic sites, like Realtor.com when you know how.  This is only a few. 
If you learn to buy low and sell low, you will receive the benefit of many buyers looking for bargains.  It's important to sell under market to attract buyers.  
HOW TO START YOUR OWN INVESTMENT PORTFOLIO – SELLER FINANCING
If you want to know how to start your own investment portfolio in real estate, it's also important to understand seller financing and installment sales. 
This opens up a whole market of buyers, as many as 20% that are unqualified, rejected by banks and lenders due to low FICO scores because they've been recently divorced, filed bankruptcy or just made a bad decision.  
Properties may be sold without attorneys, brokers or title companies. Thousands of properties are sold using contracts rather than traditional mortgages or deeds of trust.  There is no time in this lesson to explain those, but you can read more about seller financing here. 
A good summary would be as follows:  the seller has the option to take low down payments, installment payments and bypass attorneys and agents, thereby saving large commissions and accelerating the process. 
Seller financing is an excellent way to generate streams of income that last for years to come.
CONCLUSION
We hope you enjoyed Ted's lesson, "How to Start Your Own Investment Portfolio"
An excellent way to do this is with real estate. If you want to know how to start your own investment portfolio in real estate, look no further than tax delinquent property.
At a tax sale auction, you can pick up properties for mere pennies on the dollar. The bidding on tax defaulted property begins at around the amount of the back property taxes owed, which is a small percentage of the property's assessed value.
Additionally, the mortgage is removed the property. Getting a mortgage-free property for 10, 20, or 30 cents on the dollar leaves you with a large profit margin.
You make your money when you buy, and when you wisely buy at a tax sale, the sizable profit margin enables you to sell the property quickly.
Ted's strategy of buy low, sell low fast, and move on to the next property is a cash flow machine, a process that you can repeat over and over again to fatten your bank account in a life-changing way.
If you want to know how to start your own investment portfolio by holding onto the properties, you can do that as well. Another strategy is seller financing via an installment sale.
A lot of buyers who are able to afford house payments, may not have a credit rating that enables them to get a home loan. By offering such buyers an installment plan, also called rent to own, you could sell property at a price much closer to the assessed value, and receive income streams on your properties from installment payments for years to come.
If you'd like to learn more about how to start your own investment portfolio in bargain real estate, there's no one more qualified to teach you than Ted Thomas, America's leading authority on tax lien certificates and tax defaulted property investing.
Ted Thomas is the only one who provides full support and complete training with home study courses, Q&A webinars, live tutorials, workshops & web classes, and personal one-on-one coaching.
Get started today at no cost and learn how to start investing with Ted's FREE Master Class, that reveals the incredible opportunities available in tax defaulted real estate. The class is only about 1 hour of streaming video and contains life-changing information! You can't afford to miss it!