HOW DOES SELLER FINANCING WORK IN A HOME SALE?
How does seller financing work in a home sale? It may sound complicated and advanced, but the steps are actually simple! I'll show you the process and how to profit from it!
I'm Ted Thomas, and for the last 30 years I've been involved in a category of real estate that's unique, little known, and quite profitable. I'll tell you more about it later in this article.
Today I'm answering your question, "How does seller financing work in a home sale?" However, before I answer that, I'll give you a little background information.
Want to learn how you can make big profits in real estate? Would you like to buy homes for pennies on the dollar? Or earn double-digit interest rates? Learn how with this FREE mini class on how to generate quick cash flow and create income streams for years to come from real estate!
HOW DOES SELLER FINANCING WORK IN A HOME SALE? – OVERSPENDING
The government figured out decades ago that the average person cannot budget and save money.
That's why the government doesn't give employees the option of paying income tax once a year in April. Employees don't get to take home all of their pay. The government gets paid before they do.
Human nature is the enemy. Most people are not disciplined, and they spend money they don't have. They want instant gratification.
Banks and credit card companies also understand that most people cannot budget. So, they give their clients monthly payments which many times are automatic withdrawals. What am I leading up to?
HOW DOES SELLER FINANCING WORK IN A HOME SALE? – INSTALLMENT PAYMENTS
Why shouldn't you and I use the same strategy when we sell real estate? Selling to people who can't budget. That means we allow buyers to pay us monthly installment payments, and we can charge interest on the unpaid money.
Installment payments work for you, and you're making yourself wealthy because you can sell once and collect payments for decades.
It's a simple concept. Work once, and get paid for years. That works for me.
HOW DOES SELLER FINANCING WORK IN A HOME SALE? – A SIDE HUSTLE
You can do this part time. Let's call it a side hustle. You can keep your job and continue to collect paychecks.
If you already own a property, everything I've discussed applies to you.
If you don't own a property, maybe you should. You could apply the same strategies with your boat, your car, your house or any asset.
HOW DOES SELLER FINANCING WORK IN A HOME SALE? – TAX LIENS AND TAX DEEDS
For the past 30 years, I've been investing in little-known, but highly lucrative, tax liens and tax deeds. Let me tell you, tax lien certificates are the safest investments in America today.
I don't want to rattle off a lot of numbers, but I will share a few examples. The first example is very easy to understand.
This is real, and it demonstrates that you can do this with very small amounts of capital. You can get started. You can do as thousands of others have done before who have followed this strategy.
Before I reveal the example, I will tell you ahead of time that this couple only invested $8,000 to get started, and they needed an additional $4,000 to make the property ready for sale.
Keep in mind, I'm still answering your question, how does seller financing work in a home sale?
HOW DOES SELLER FINANCING WORK IN A HOME SALE? – INVESTING WITH LITTLE MONEY
Half of all Americans feel like it's already too late in life for them to have the future of their dreams. They have little savings and no pension plan.
I can tell you right now, it's not too late for you, and I'm going to give you an example that anyone can copy.
Even for those starting with small accounts, once you complete this proven process, you can repeat it again and again. You can see and learn how to do this, and you can do the same.
A half a dozen transactions like this one will make you financially free without money worries.
This is a real example with real people, and you can do what they did.
HOW DOES SELLER FINANCING WORK IN A HOME SALE? – A SUCCESS STORY
Senior citizens Sonny and Marcia were worried about their financial future. They're in good health and high spirits and willing to do the work necessary to take care of themselves.
They're willing to learn and do new things and interested in new ways to make money and be in control of their own destiny.
They understand that their pension plans won't pay enough for the lifestyle they enjoy. They decide to be coachable.
HOW DOES SELLER FINANCING WORK IN A HOME SALE? – ALTERNATIVE REAL ESTATE
For decades, I've been involved in a business that's an alternative to the regular real estate market. Most people have heard a lot about real estate, but they have a hard time believing it.
They're entertained by home fixer upper shows that always show a pretty girl and several contractors upgrading run-of-the-mill homes into mini mansions.
However, that's not what this business is that I'm about to explain to you.
This isn't traditional, but it does involve purchasing and sales. Here's some background info.
HOW DOES SELLER FINANCING WORK IN A HOME SALE? – TAX DELINQUENT PROPERTIES
It can be a challenge for local governments to collect property taxes, so the county governments and state legislatures have taken measures to standardize the collection process.
The county needs money to pay its employees, like police, firefighters, and school teachers, and to pay its bills for the upkeep of infrastructure, like roads and hospitals.
If a property owner can't or won't pay taxes, the board of supervisors or county commissioners will authorize the county treasurer to confiscate the tax delinquent property, and then sell it at a public auction in order to pay the back taxes.
There are over 3,000 counties in the USA, and they sell tax delinquent property.
HOW DOES SELLER FINANCING WORK IN A HOME SALE? – MICHIGAN TAX SALE
After learning how to do this, Sonny and Marcia, attended an auction in the state of Michigan. They were pleasantly surprised .
Some of the properties were junk, and many of them were used and abused, however some were move-in quality.
They had learned in previous classes that these properties would be sold at auction for only the back taxes, sometimes for an amount as low as 10 cents or 20 cents on the dollar of the assessed value.
Learn how you can secure your financial future with this FREE mini class on bargain real estate investing. It's a gift from me to you. Be sure to take advantage of it today!
HOW DOES SELLER FINANCING WORK IN A HOME SALE? – SMALL INVESTMENT, BIG PROFIT
Sonny and Marcia purchased a single-family home for a small investment of $8,000.
Within 60 days, they turned that $8,000 into $38,500.
During that time, the nation celebrated Thanksgiving and Christmas, so most people were on vacation.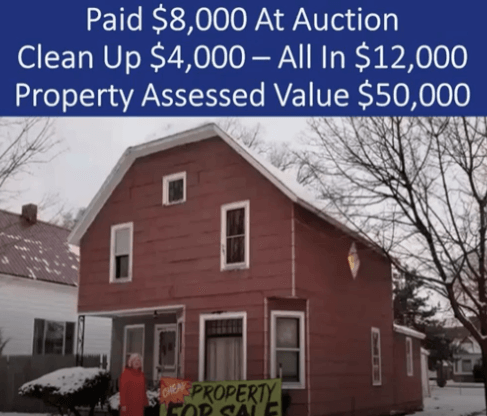 HOW DOES SELLER FINANCING WORK IN A HOME SALE? – SECURING RETIREMENT
Is seller financing good for the seller? Sonny and Marcia are proof that the answer is yes.
Note that these are not young college grads. They're a hard-working, middle-class couple who realized that social security is only supplemental, and the same pretty much goes for pension plans.
However, Sonny and Marcia did not give up. They realized they could take charge of their financial future with this business.
HOW DOES SELLER FINANCING WORK IN A HOME SALE? – SELLING PROPERTY
Everything you learn from this point on, you could do yourself with a minimal amount of training.
Sonny and Marcia started out slowly. They looked at the real estate at the auction. The property they bid on had an assessed value of approximately $50,000. It looked pretty decent, but it wasn't pretty.
To sell it, they used electronic advertising, Craigslist, and Facebook Marketplace just like they had been taught in class. Additionally, because they advertised installment sales, their ads attracted many offers .
HOW DOES SELLER FINANCING WORK IN A HOME SALE? – INSTALLMENT SALE
A lot of credit-challenged people don't qualify for bank financing, and installment sales are a blessing for them.
Sonny and Marcia had never been involved in the real estate business, but they were still earning a fast profit on a somewhat used and abused property.
The property needed to be cleaned up, so they hired people that would do that. This added $4,000 to the $8,000 they had originally invested. So now they were into the property for $12,000.
Their electronic advertising and the ugly signs they put on the front lawn attracted a buyer.
They sold the house and earned a $23,500 profit. That's not exactly retirement money, but they'd nearly doubled their investment.
HOW DOES SELLER FINANCING WORK IN A HOME SALE? – SELLER FINANCING CONTRACT
Just like they'd been taught, they used a simple contract, an owner finance contract for deed, that you can get from any title company in the USA if you do business with them.
The bottom line is they made a nice profit in less than 2 months.
They advertised that they were willing to do seller financing; that's what the new buyer wanted, and the title company helped them with the documents.
HOW DOES SELLER FINANCING WORK IN A HOME SALE? – ADDITIONAL PROFIT
It gets even better! Sonny and Marcia generated an additional $15,000 in income over the next 10 years from the seller financing.
They only had to do the work once, and now they have extra income totaling $38,500 over the next decade.
Life is a marathon, not a sprint.
Owner financing is a win-win that works for everyone involved. Sellers earn money fast and get paid monthly. If they don't get paid, then they can resell the property.
CONCLUSION
We hope you enjoyed Ted's lesson, "How Does Seller Financing Work in a Home Sale?"
When it's combined with the massive discounts you can get on real estate from tax delinquent property investing, seller financing becomes very lucrative.
At a tax defaulted auction, the bidding begins around the amount of the unpaid property taxes which are a small portion of the property's tax assessed value. So you can purchase a home for 10, 20, or 30 cents on the dollar.
On top of that, you get the property without a mortgage, so now you have a mortgage-free property with a large profit margin. Since you bought it at a low price, you can also sell it at a low price to make a quick sale and still rake in a nice profit.
However, you can profit from more than just the sale if you use seller financing.
So how does seller financing work in a home sale, and how do you structure a seller financing deal?
You could use a contract for deed, which you can get from a title company, and draw up the terms. Typical owner financing terms are price, down payment, monthly installment payments, interest rate, contract duration, and items like who pays property taxes and insurance.
Who holds the title in seller financing? To minimize risk, you, as the seller, should hold the title.
A lot of people don't qualify for a bank loan due to a poor credit rating despite the fact that they can afford to make payments on a home. Many of these credit-challenged, wanna-be home buyers are good candidates for seller financing.
If you'd like to learn more about how to profit from tax delinquent property investing and then profit even more from seller financing, there's no one more qualified to teach you than Ted Thomas, America's leading authority on tax lien certificates and tax defaulted property investing.
Ted Thomas is the only one who provides full support and complete training with home study courses, Q&A webinars, live tutorials, workshops & web classes, and personal one-on-one coaching.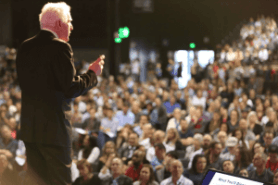 Get started today at no cost with Ted's FREE Master Class, that reveals the incredible opportunities available in tax defaulted real estate. The class is only about 1 hour of streaming video and contains life-changing information! You can't afford to miss it!