For 30 years, Ted Thomas has taught hundreds of students how to sell land by owner to generate cash flow and residual income. Whether it's a large vacant lot that you won at an auction or some acreage that needs to be offloaded, selling land can seem daunting.
With Ted's strategies, selling land can be made simpler. Learn how to market your property effectively and attract prospective buyers by understanding the basics of how to sell land by owner to maximize profits.
Table of Contents:
Want to earn massive income from bargain real estate investing? Would you like to buy mortgage-free properties for pennies on the dollar? Or earn double-digit interest rates secured by real estate? Then get started today with this Free Gift.
How to Buy and Sell Land the Ted Thomas Way
When you know how to sell land by owner, you can make extra money and increase your passive income. However, first let's talk about how to buy land. As Ted says, "You make your money when you buy, and you merely collect your money when you sell."
Your profit margin is determined by how much you spent on the land you are selling, so let's talk about where to find amazing deals on vacant land.
Few people are aware of tax-defaulted property auctions, where real estate can be purchased without a mortgage for 10, 20, or 30 cents on the dollar of the tax assessed value. Roughly 25% of the properties up for sale at these auctions are vacant land.
Tax-defaulted real estate is property that was seized by the county or municipality due to unpaid property taxes. Opening bids at tax-defaulted auctions begin at or near the amount of the delinquent back taxes, and the winning bidder gets the property.
Imagine what you could do with vacant land that you purchased mortgage-free for pennies on the dollar. How do you think such a profit margin would affect your sale of the land? After all, if you purchase it for a discount, you can also sell it for a discount and attract land buyers seeking a bargain.
If you want to know how to sell land by owner fast, Ted's buy low, sell low strategy has been tried and tested. It works. Now let's talk about the basics of how to sell land by owner.
Understand the Basics of Selling Land by Owner
It's important to understand the basic procedure of selling land, so here are some tips on how to sell land by owner.
Research Your Property:
Before you purchase a property for resale, you need to research it thoroughly. Look up local zoning laws, assess any potential environmental hazards or restrictions that may affect the sale, and check out comparable properties (comps) in the area for an idea of what price range you should be aiming for when you sell. It's necessary to have a complete understanding of the market and area so you can create an effective listing when you sell vacant land.
Determine Your Asking Price:
How do you determine the value of a lot? To determine an appropriate asking price for your property, think about the locale, measurements, state of the property and any alterations. Also factor in market trends and take into account similar properties nearby that have recently sold.
With this data in hand, you should be able to come up with an amount that reflects both current market conditions and what buyers might expect when you're pricing land.
Once you've determined the market value, you can sell the land fast if you offer it for an attractive discount off of what the going price is in the land buyer market. For example, it you purchased a vacant residential lot valued at $50,000 at a tax-defaulted auction for 20 cents on the dollar ($10,000), then sold it for 65 cents on the dollar ($32,500), that's a $22,500 profit on the real estate transaction.
Adopting the right strategies and providing incentives can draw in potential purchasers who are keen on buying your land.
Important Takeaway: Research the property and comparable properties in the area to come up with a competitive asking price. Purchasing the property for a fraction of the value, enables you to price your land low for a quick sale.
How to Market Land Effectively
Marketing your property effectively is essential when selling vacant land by owner. No one is going to buy your land if they don't know that you're selling property. To maximize your chances of success, use multiple platforms to reach potential land buyers, showcase your property and nearby attractions with photographs or videos, and offer incentives that generate quick land sales.
Using multiple platforms ensures maximum exposure for your listing. Utilize both traditional and digital mediums such as newspapers, social media, and online classifieds to provide increased visibility for your listing when you're selling property. Use listing sites like Zillow, Trulia, Redfin, and the MLS; advertise on Craigslist, eBay, and Facebook Marketplace.
Also, contemplate creating a website devoted to promoting your property; this will give potential purchasers an effortless means of discovering more details about it.
What is the fastest way to sell land? Offering incentives is a great way to entice potential buyers into making an offer on your land. The 2 most popular incentives used by investors with experience selling land are:
Offer the property for sale at a discount
Provide financing options (e.g. offer owner financing)
These types of incentives encourage people to purchase.
Once you have effectively marketed your property, it's time to negotiate with prospective buyers. This requires preparation and knowledge of the process in order to ensure a successful transaction.
Important Takeaway: To maximize your chances of success when selling land, use multiple platforms to reach potential buyers, showcase it with photographs or videos, and sweeten the deal with attractive incentives. If you desire to move your land swiftly, use Ted's outside-the-box strategies.
Negotiate with Land Buyers
Negotiating with prospective buyers is an important part of the land selling process. It's critical to be ready for talks and have well-defined terms set before any deals are made. A real estate agent may be helpful when negotiating with potential buyers.
Being prepared for negotiations is key, which includes having all relevant paperwork ready ahead of time. Before entering negotiations, be aware of the local regulations which may influence land sales.
Thoroughness is essential when formulating the conditions of a sale. Key considerations include payment methods, closing date expectations, contingencies related to inspections or financing approvals, deadlines for submitting offers or counteroffers, as well as how disputes should be handled if they arise during the real estate transaction process.
Additionally, real estate agents can be helpful if needed; especially if you're unfamiliar with local market trends or don't feel confident negotiating directly with buyers yourself. Experienced real estate agents can provide valuable insights while minimizing potential risks associated with buyer-seller interactions.
Finally, if you decide to offer owner financing, also called "seller financing," an attorney or a title company can assist you with the real estate land contract.
When you offer seller financing, you act as a bank. You accept a down payment and monthly installment payments from the buyer. This enables you to collect residual income for years. 
Conclusion
With the right knowledge, you can navigate the process of how to sell land by owner with ease and successfully sell property quickly. Make sure you understand the basics of buying and selling, market effectively, negotiate well with prospective buyers, and for quick sales, utilize Ted's buy low, sell low strategy, which you can do by taking advantage of the amazing deals found at tax-defaulted property auctions.
By following these steps, you can soon have cash in hand.
If you're looking for the best strategies on how to sell land by owner, Ted Thomas's videos provide comprehensive solutions from a world-renowned expert. Learn how to maximize your profits and minimize risks with Ted's proven methods!
Get started with this Free Gift & see for yourself what tax-delinquent property investing can do for you.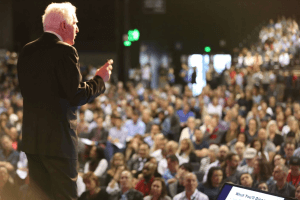 Ted Thomas is America's Leading Authority on Tax Lien Certificates and Tax Deed Auctions, as well as a publisher and author of more than 30 books. His guidebooks on Real Estate have sold in four corners of the world. He has been teaching people just like you for over 30 years how to buy houses in good neighborhoods for pennies on the dollar. He teaches how to create wealth with minimum risk and easy-to-learn methods.