How to Make Money Monthly by Investing
I'm Ted Thomas, and I've been involved in making money in an alternative part of the traditional real estate business for well over 30 years. I've been teaching it for about 25 of those years.
Today I'm answering your question about how to make money monthly by investing so you can get a nice installment check every month. I'm going to show you a step-by-step process to making money monthly by investing.
You can do this from a home office. You can do it part-time or full-time, and you can make $25,000, $50,000 or even $100,000 on one deal in this business.
Want to learn how to achieve financial freedom? Would you like to buy mortgage-free homes for pennies on the dollar? Or earn double-digit interest rates secured by real estate? Then you don't want to miss this FREE Mini Course.
Investing in Alternative Real Estate for Passive Income
What is the best investment for monthly income? To generate this monthly income, you can use traditional real estate, however, I like to use an alternative that's a subset of traditional real estate.
This business really works, and you can make money monthly by investing. I teach my students that they can be the beneficiary of some pretty big checks, and the county will benefit, they will benefit and whoever buys from them is going to benefit.
This business that I'm talking about is tax liens and tax deeds, and it's been around for hundreds of years. I'll show you how to make money monthly by investing in tax delinquent property.
Tax Delinquent Properties are Good Investments and Unbeatable Bargains
30-years ago, I discovered that local county governments will sell properties for just the back taxes. They're required by law to recycle these properties that were seized by the country treasurer for unpaid property taxes.
They're going to confiscate and then resell tax defaulted property to get it back on the tax roll. The county needs money and doesn't want the property, so they sell it.
What do they resell it for? That's the beauty of the business. They resell it for discounts of 60%, 70%, or 80% less than the tax assessed value.
Where to Invest in Tax Defaulted Real Estate
When I discovered this business, it had already been around for a couple of hundred years; I had just overlooked it, I didn't realize it was there.
Properties are always going to default, so in over 3,000 counties across the United States, they're going to have defaulted properties to sell at public auctions held online and offline.
They're going to sell that property for very close to the back taxes, so they might start the bidding at 10 cents or 20 cents on the dollar. You can buy properties that cheap if there aren't a lot of bidders there.
Anybody can attend the auction. Why anybody? It's a public auction, and all they care about is selling to the highest bidder.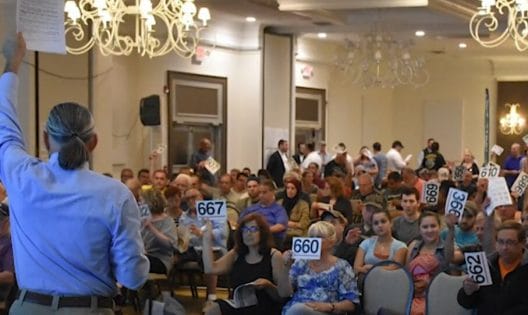 High-Yield Investments With a High Profit Margin
Most of the properties are used and abused, and some of them are junk. Don't buy junk. However, some are good enough to just clean up and move into.
There are going to be houses, vacant residential lots, small farms, and small retail outlets. Those properties are for sale, and they're selling them for pennies on the dollar.
Here's the beauty of a tax auction. When the auction takes place, the treasurer is authorized to wipe out the mortgage.
So when you buy tax delinquent real estate, you can get it for very close to the back taxes and with no mortgage or deed of trust loan on the property. There are bargains out there every single day.
I have a free gift for you, a special Master Class that will show you how to profit with tax lien certificates and reveal the secrets of tax deed investing. Get your FREE gift today.
An Example of How to Generate Passive Income
Let me give you an example of how to make money monthly by investing in tax defaulted property.
Let's say the tax assessed value of a property is $100,000, but the back taxes owed is $5,000. That $5,000 is what the county wants, so they'll start the bidding there.
Will all the properties go out the door at $5,000? No, there are other savvy investors around, so let's say another investor is there and willing to pay $20,000.
The county will take that money and give that investor the deed to the property. This new owner now has a property that could have a value all the way up to $100,000 but only paid $20,000 for it.
Would you like to be that buyer? You could do that because there are five thousand of those auctions every year.
Selling Real Estate to Receive Residual Income
Now what are you going to do with the property? I'm going to say why don't you sell it?
How would you sell it? Well, it's not that difficult. You could put it on the Multiple Listing Service, eBay, Craigslist, Trulia, and Zillow. There are any number of ways to sell a property.
If you're willing to sell it for something less than the $100,000 assessed value, bargain hunters are going to find you.
Let's say the bargain hunters see your announcement on Craigslist, and you're offering to sell a $100,000 property for $65,000. Do you suppose that's going to get their attention? Absolutely!
Earn Income Every Month From Installment Payments
Now let's say the new buyer will pay you $65,000 but wants to make payments. A lot of people make payments, people have mortgages, and there's a whole group of people that can't get a mortgage because they've got a low FICO score. Banks are going to reject them.
You could sell to those people and receive installment payments with seller financing. So let's say that you decide you're going to sell it for $65,000, and you'll accept $900 a month for 10 years.
In 10 years, you'd bring in $108,000, and you only invested $20,000. Does that work for you?
This is how to make money monthly by investing in deep discount real estate, and you can generate multiple income streams by repeating the process. If you're an entrepreneur, you're going to want to learn this business.
Conclusion
We hope you enjoyed Ted's lesson, "How to Make Money Monthly by Investing"
The profit margins on tax delinquent property are so high that you can generate massive profits quickly by purchasing real estate for 10, 20 or 30 cents on the dollar then selling it under market to attract bargain hunters.
Additionally, by utilizing seller financing, you can generate monthly income from installment payments for years to come.
If you'd like to know more about alternative real estate investing, Ted Thomas provides full support and complete training with home study courses, Q&A webinars, live tutorials, workshops, web classes, and personal coaching with certified coaches.
You can learn how to reap the huge rewards from tax lien and tax defaulted property investing! Get started today by taking advantage of Ted's Free Master Class! Act now, it costs you nothing and will give you a big head start!