Let's talk about a little-known way to buy real estate online. If you're seeking a convenient way to purchase real estate at bargain basement prices, tax deed auctions provide an ideal solution.
Online tax deed auctions offer a great way to purchase properties inexpensively from the comfort of your own home. Today, we'll explore what a tax deed is, how to find tax deed auctions and lists of properties for sale, as well as how online tax deed auctions work so that you can take advantage of these deals.
Table of Contents:
Want to earn massive income from bargain real estate investing? Would you like to buy mortgage-free homes for pennies on the dollar? Or earn double-digit interest rates secured by real estate? Then get started today with this Free Gift.
What is a Tax Deed?
A deed conveying title to real estate from the public sector to a private entity is known as a tax deed, which is issued when taxes owed on a property have not been paid and the government has taken possession of the real estate.
To acquire title to the property, the buyer must pay all outstanding taxes, interest, penalties and fees associated with their online purchase.
Definition of a Tax Deed:
A tax deed is an official document that conveys title or ownership of real estate from the taxing authority (usually the county) to another party who has purchased it at a public auction due to unpaid taxes. The new owner then becomes responsible for paying any outstanding taxes owed on the property as well as any other costs associated with its transfer.
Real estate investing in tax deeds can be quite lucrative, because you can purchase mortgage-free properties for pennies on the dollar and generate quick cash flow from reselling the real estate. The large profit margin enables you to sell the property at a discount to attract buyers looking for bargains.
Diversifying your real estate portfolio by adding investment properties without needing to shell out large sums of capital upfront is also a great advantage.
Before investing in tax deeds, it's essential to understand the associated risks and rewards. With that in mind, let's look at how you can find tax deed auctions and properties for sale.
Important Takeaway: Tax deed auctions offer savvy investors the potential to make lucrative profits by diversifying their real estate portfolios and taking advantage of low real estate prices.
How to Find Tax Deed Auctions and Properties for Sale
Tax deeds are sold at public auctions, either online or offline, so it's important to understand the process of finding these sales and researching the property before you buy real estate online at a tax deed sale.
Online resources are one of the most convenient ways to find tax deed auctions and real estate properties for sale. Many county websites will post upcoming tax deed auctions lists of tax delinquent properties up for sale. It's also worth checking out local newspapers and legal notices which may list any upcoming sales in your area as well as details about specific properties being offered at auction.
Offline resources can be helpful too when looking for tax deed sales and properties up for auction. County offices often have detailed records on file regarding past auctions and current offerings available upon request from staff members working there.
Additionally, attending an actual auction can give you a better understanding of how the process works while providing an opportunity to speak with other tax defaulted real estate investors who have experience buying through this method before committing yourself financially by bidding on anything that day.
With the right resources and research, finding tax deed auctions and properties for sale can be a straightforward process. Let's examine the functioning of online tax deed auctions now that you have an idea on how to locate them.
Important Takeaway: Using online and offline resources, savvy investors can easily find tax deed auctions and properties for sale. Attend an auction and speak with experienced buyers to get the inside scoop before diving in head first.
How Do Online Real Estate Tax Deed Auctions Work?
While online tax deed auctions are a great way for investors to purchase real estate investments at a discounted price, it's important to understand the process and terms before you buy real estate online at an auction.
Overview of the Process:
To buy real estate online through a tax deed auction, you must first register with the county or state where the sale is taking place. This usually involves providing proof of identity and payment information such as credit card or bank account details.
Once registered, you can search for available properties by address or parcel number and review their associated documents such as legal descriptions, title reports, and photos to identify properties that meet your criteria as potential real estate investments. Don't trust photos. Be sure to go take a look at the property or have someone do it for you.
The bidding process typically begins with minimum bids at or near the amount of the delinquent back taxes.
Understanding Terms & Conditions:
It's essential to read all rules carefully before bidding on real estate properties up for sale at an online tax deed auction. These include rules specific to each jurisdiction governing how much money may need to be paid upfront, when payments are due are your online purchase, and if there is any additional paperwork required post-closing.
Before entering into any online tax deed auctions, it is important to do your research ahead of time. Knowing what you're bidding on beforehand allows you to craft successful real estate investing exit strategies rather than simply relying on luck alone.
Important Takeaway: Real estate investors should do their homework before entering into an online tax deed auction to craft a winning strategy and potentially save money. Knowing the rules in advance is essential.
Conclusion
With the right research and due diligence, you can buy real estate online that may have previously been out of reach financially. Bidding typically begins at the back taxes, which enables you to buy real estate online for 10, 20, or 30 cents on the dollar of the tax assessed value, and you get the property without a mortgage.
Before jumping in, be aware of the ins and outs of how online tax deed auctions work. Attend an auction as an observer. Talk to other buyers. Do your homework before you place your first bid.
If you'd like to know more about tax-defaulted real estate investing, Ted Thomas provides full support and complete training with home study courses, Q&A webinars, live tutorials, workshops, web classes, personal coaching with certified coaches, and an interactive map and auction calendar research tool that allows you to visit each county online to find the details about upcoming auctions.
Start your money-making journey by attending Ted's 7-Hour foundational training. Download your Free Insiders Report & Book your seat today to attend the Retire Rich From Home Virtual Workshop, go to https://TedThomas.com/freegift & see for yourself what this business can do for you.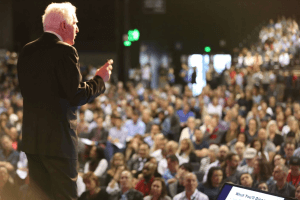 Ted Thomas is America's Leading Authority on Tax Lien Certificates and Tax Deed Auctions, as well as a publisher and author of more than 30 books. His guidebooks on Real Estate have sold in four corners of the world. He has been teaching people just like you for over 30 years how to buy houses in good neighborhoods for pennies on the dollar. He teaches how to create wealth with minimum risk and easy-to-learn methods.
Follow us on: