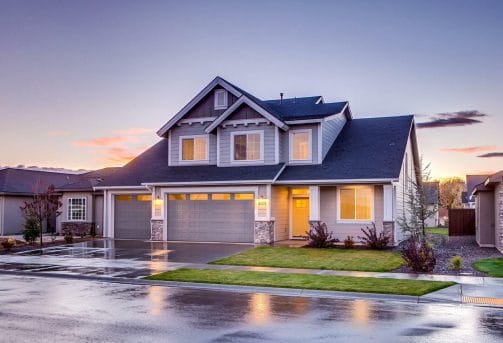 Buying a home with bad credit and no down payment is not impossible, it just takes some work.
Every day someone in the US is buying a home with bad credit and no down payment. If you have bad credit and no money for a down payment, that could be you.
Let's go over some ways you could purchase a house under these circumstances. The topics I'm going to cover are:
Want to learn how to purchase bargain real estate? Would you like to buy mortgage-free property for pennies on the dollar? Or earn double-digit interest rates secured by real estate? Then you don't want to miss this FREE Mini Course.
How to Get Approved for a Home Loan
The first thing you must do if you're buying a home with bad credit and no down payment is prove you can make mortgage payments, despite what your credit history shows. You'll need recent tax returns, W-2s, bank statements and pay stubs. If you have other income sources, you'll need to bring that to the table too.
If you have debts, like other loans, medical bills or some other kind of payment, make a list of these as well.
Your recent and current economic situation, as well as what happened in the past, gives the lender a good idea of your ability to repay the loan.
A good example of someone who is probably eligible for buying a home with bad credit and no down payment is someone living in an area that was hurt badly in the recession. The person lost his job when a local plant closed. A new plant comes to town, and he goes to work there.
If that company has a solid track record, and the home buyer had a good employment record at the prior company, then lenders will look favorably on this.
Helpful Government Home Loan Programs
Writing in the San Francisco Gate, M. Shayne Arcilla, says, "Although credit availability and underwriting standards for most lenders are strict, there are options available to those who experienced financial hardship and had no choice but to face a foreclosure or a bankruptcy in the recent past.
The federal government has created mortgage programs to help stabilize the housing market and help downtrodden homeowners get back on their feet."
The Federal Housing Authority (FHA) makes mortgages. FHA loan requirements are different than Fannie Mae and Freddie Mac. Bankruptcy and foreclosure are not automatic disqualifiers. FHA loans do require some down payment, 3.5 percent is usual.
It's possible you could borrow that much on a secondary loan. Family might be able to give you that much. Some organizations offer down payment help as well. Some states also offer programs for buying a home with bad credit and no down payment, especially for first time home buyers.
Have a Cosigner Help You Get Financing for a Home
A cosigner will greatly improve your chances of getting a loan if you had bad credit or no credit. The cosigner is agreeing to make the loan payment if you don't.
The cosigner can also make the down payment.
You and that person set the terms for repaying that money. In other words, you are buying a home with bad credit and no down payment based on the cosigner's credit.
Build a House With Habitat for Humanity
Some groups, Habitat for Humanity is the most well known, help people get into homes for sweat equity. In other words, you help build the house. You also agree to help build houses for other people.
The work you put in counts as your down payment.
All you need is the ability to pay the mortgage. Some of these organizations even carry the loan.
Find an Owner Who Is Financing a Home
This can be the easiest route to buying a home with bad credit and no down payment. It can also be the most tricky. It's easy because you deal with the owner exclusively. You and the owner draft the mortgage terms.
It's tricky because unless you order it, there is no title check to make sure the house is clear of any liens.
Likely you are also responsible for recording the deed at the courthouse to make sure your purchase is properly recorded. Most of the time a real estate attorney or closing agent takes care of this.
Conclusion
We hope these tips on buying a home with bad credit and no down payment were helpful to you.
If you'd like to know more about real estate, particularly investing in bargain real estate, there's no one more qualified to teach you than Ted Thomas, America's leading authority on tax lien certificates and tax defaulted property investing.
Ted Thomas is the only one who provides full support and complete training with home study courses, Q&A webinars, live tutorials, workshops & web classes, and personal one-on-one coaching.
If you'd like to learn how to purchase homes for 10, 20, or 30 cents on the dollar, or earn interest rates of 16%, 18%, up to 36%, secured by real estate, then get started today with the FREE Master Class.
Ted Thomas is America's Leading Authority on Tax Lien Certificates and Tax Deed Auctions, as well as a publisher and author of more than 30 books. His guidebooks on Real Estate have sold in four corners of the world. He has been teaching people just like you for over 30 years how to buy houses in good neighborhoods for pennies on the dollar. He teaches how to create wealth with minimum risk and easy-to-learn methods.