WHEN WILL SOCIAL SECURITY GO BANKRUPT?
When will social security go bankrupt? Many people are worried about what may happen in the future with social security. What can you do to protect your money?
I'm Ted Thomas, and for more than 30 years I've been involved in a small but highly profitable alternative investment called tax liens and tax deeds, which I'll tell you more about.
Today I'm going to answer your question, "When will social security go bankrupt?"
What will happen when social security runs out? This is a hot potato, and the Congress of the United States should have answered the question years ago so people would have confidence that their government was running correctly.
WHEN WILL SOCIAL SECURITY GO BANKRUPT? – WHO AM I?
I'm not an attorney at law, certified public accountant, business advisor or investment guide. I am an author, an investor, and I have experience in the real estate business.
Thirty years ago, I discovered a government program that was lucrative and stable, and it has worked profitably for over 200 years. I'll tell you more about that as I go along, and I'll give you some insight into what I've discovered about the social security system.
Before I finish, you'll have some ideas which I think you'll find practical.
Want to learn how you can profit from bargain real estate? Would you like to buy mortgage-free homes for pennies on the dollar? Or earn double-digit interest rates? Learn how you can secure your financial future with this FREE mini class on alternative real estate investing!
WHEN WILL SOCIAL SECURITY GO BANKRUPT? – POLITICS
What year is social security bankrupt? How long will social security be around? Will social security be around in 30 years? Will Social Security be around in 40 years? Or will social security run out of money in 2023?
To start with, there is no telling what the politicians will do, and whether we like it or not, it's a big risk for all of us. The government and the politicians that run it are the ones that got us into so many wars over the years.
Afghanistan is a perfect example. They kept us there for over 20 years, and then we got kicked out by a bunch of ragamuffins that don't wear shoes and carry swords and old Russian rifles.
What's worse than anything, they think women are second-class citizens. The whole thing is disgraceful.
WHEN WILL SOCIAL SECURITY GO BANKRUPT? – TOO BIG TO FAIL
So when will social security go bankrupt? Will social security run out for Millennials? Many young people don't believe they'll ever receive it.
My answer is loud and clear. Social security will not go bankrupt. Forget about that. Don't waste your conversation.
Currently, over 60 million citizens of the United States collect social security benefits. This is of interest to everyone.
WHEN WILL SOCIAL SECURITY GO BANKRUPT? – HISTORY OF SOCIAL SECURITY
The system was implemented in 1936, and during those years it has changed and modified.
The system started as a pay-as-you-go system. Basically, the government paid out what it took in. It's not that way today.
At the time of the creation of the social security system, approximately 16 workers contributed money for the one beneficiary that was collecting benefits.
The country and the system has changed continuously. More and more people were added that receive benefits. Benefits means the government is sending people checks.
WHEN WILL SOCIAL SECURITY GO BANKRUPT? – FUTURE OF SOCIAL SECURITY
What will happen to social security in the future? Will social security run out by 2035?
Today for each person receiving benefits, there are less than 3 workers contributing money to the system.
The politicians try to terrify everyone and say the system is going broke.
WHEN WILL SOCIAL SECURITY GO BANKRUPT? – WHAT HAPPENS IN THE YEAR 2037?
According to the Social Security Administration, in the year 2037, there will be only 2 contributors for each person collecting benefits.
It doesn't take a genius to figure out that this system is going to change. That means you'd better get ready to change.
Something will change, however, it could have been changing over the past 3 decades of time. It will only change if Congress would do the job we pay them to do.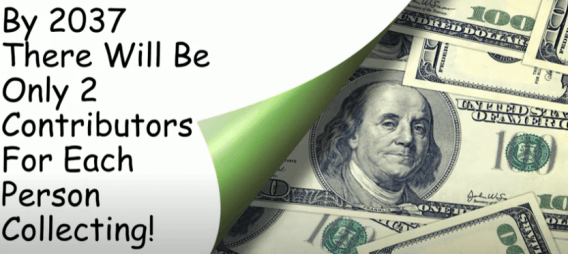 WHEN WILL SOCIAL SECURITY GO BANKRUPT? – A BROKEN SYSTEM
The biggest problem with the system is people have stopped having babies. The taxpayers that are needed to make contributions into the system are not flowing in at the bottom. How bad is that?
Add to that, people are healthier. They live longer; they get old, and they expect checks.
Every day, according to the Social Security Administration, 10,000 baby boomers apply that are qualified to collect checks from the social security system. All of what I'm telling you is old information.
The bureaucrats have known this for decades. They are aware. They just want to terrify all of you.
Learn how you can secure your retirement with this FREE mini class on how to invest in real estate the way the one-percenters have been investing for generations.
WHEN WILL SOCIAL SECURITY GO BANKRUPT? – CONTRIBUTIONS
The social security system is not going bankrupt. 60 million Americans collect social security every month. That's a fact. Add to that 10,000 new qualified boomers every day.
This is not a tornado or a hurricane or a tidal wave. It's normal progress and growth.
Today, according to the Social Security Administration, the contributors send $2 billion a day to the Treasury of the United States.
Employees of all those small businesses on Main Street and everywhere else contribute 6% of their earnings to social security. Let's not forget each of their employers, the people writing the checks, also contribute 6%. Wow. 12% of all earnings go to the federal government.
WHEN WILL SOCIAL SECURITY GO BANKRUPT? – CHANGES ON THE HORIZON
Social security estimates that in 2037 the people expecting benefits will total 83 million people. Folks, I didn't make this up.
I'm answering your question, when will social security go bankrupt? My answer is it's not going broke; it's going to change.
There is no way we are going to stop paying 60 million Americans, and there is no way that 83 million Americans, in just a few years, aren't going to be paid.
The change will happen in 2037 because the money coming from only 2 workers to fund 1 retirement isn't going to work.
WHEN WILL SOCIAL SECURITY GO BANKRUPT? – SALVAGING SOCIAL SECURITY
Forget about all the rumors. Believe the politicians if you want to, but social security will survive.
Will it be the same as today? Or will the retirement age go from 67 to 70? Will the benefits be less? Or will the contributions be more?
If the government is collecting $2 billion a day and they want $3 billion a day, it's going to happen.
Maybe the government would stop paying COLA which is the cost of living adjustment.
What do you think will happen? Will they reduce the benefits? I can't imagine what that will cost.
WHEN WILL SOCIAL SECURITY GO BANKRUPT? – A SOLUTION
Folks, think about solutions. Everyone is going to pay more. You're going to need more. I doubt if we can change what's going to happen, but I'm sure we can plan to take care of ourselves.
I promised you I'd tell you that I discovered a solution about 30 years ago. It's an alternative investment, and it involves real estate.
Just so you know, I've been teaching and guiding others for more than 3 decades, and my clients are people who get it. If you get it, you know you must take care of yourself.
WHEN WILL SOCIAL SECURITY GO BANKRUPT? – TAKING CHARGE OF YOUR FUTURE
My clients, one at a time, come to the conclusion that they can take care of themselves with very small amounts of money. They don't need big money, but they do need to use their brains and hire and fire a few people to do the work.
Nothing is easy. I don't have a magic wand. I do have a system where there is steady work, good income, and anyone who can read and write can do it.
I'm not saying that I can make you rich by next Friday, although I have many student investors who are getting wealthy using a step-by-step process that has been around for 200 years.
It's honorable, ethical, it helps others, and it puts money in your bank account.
CONCLUSION
We hope you enjoyed Ted's lesson, "When Will Social Security Go Bankrupt?"
While we can't always predict what politicians will do, they will not allow social security to go bankrupt. 60 million U.S. citizens collect social security, and the number is growing. Politicians are under pressure to resolve the issue.
Rather than going bankrupt, social security would be reformed. There would be changes, which would have to occur around 2037 when there would only be a ratio of two workers to fund one retiree.
Perhaps they'll reduce benefits or end the cost of living adjustment or workers will pay more in contributions. Regardless of the solution, you'll need to be prepared for change. You'll need to be able to take care of yourself.
The best way to take care of yourself is to achieve financial independence, which Ted Thomas and many of his students have done by purchasing and reselling tax delinquent property.
At county auctions, you can buy tax deed property for 10, 20, or 30 cents on the dollar mortgage-free. Then by utilizing Ted's buy low, sell low, and move on to the next property strategy, you can generate cash flow quickly.
Or, if you prefer a passive investment, you can purchase tax lien certificates, which are secured by real estate and pay interest rates of 16%, 18%, 24%, or even as much as 36%!
If you'd like to learn more about this lucrative, yet little-known, way to invest in real estate, there's no one more qualified to teach you than Ted Thomas, America's leading authority on tax lien certificates and tax defaulted property investing.
Ted Thomas is the only one who provides full support and complete training with home study courses, Q&A webinars, live tutorials, workshops & web classes, and personal one-on-one coaching.
Get started today at no cost with Ted's FREE Master Class, that reveals the incredible opportunities available in tax defaulted real estate. The class is only about 1 hour of streaming video and contains life-changing information! You can't afford to miss it!