WHAT IS OWNER FINANCING WHEN BUYING A HOUSE?
What is owner financing when buying a house? Real estate investors love using this method to sell because of its many benefits for both seller and buyer. Find out how to profit from this win-win transaction!
There are dozens of ways to make money with real estate.
Today I'm answering your question, "What is owner financing when buying a house?"
I have a number of answers, and those who follow my system of buying and selling real estate with owner financing really make big profits.
Want to learn how to profit from bargain real estate? Would you like to buy mortgage-free homes for pennies on the dollar? Or earn double-digit interest rates secured by real estate? Learn how with this FREE mini class!
WHAT IS OWNER FINANCING WHEN BUYING A HOUSE? – CREDIT
Owner financing is a blessing for the student investor and for the 25% of the financial world that is struggling with poor credit.
Regarding the latter, I'm talking about people who have been thrown a number of curve balls, maybe it's illness or divorce, or maybe it's the loss of a good job, but it could also be because of poor decisions.
Economics change, and not everyone is a good planner or a financial wizard. Bad choices really mess up a lot of lives.
WHAT IS OWNER FINANCING WHEN BUYING A HOUSE? – FICO SCORES
Fortunately, owner/seller financing really works for these people who are challenged with what the banks and the credit people call FICO scores.
This simply means in layman's terms that the banks and the credit card companies are keeping those with low FICO scores from financing most homes and consumer products. These people are rejected and refused credit.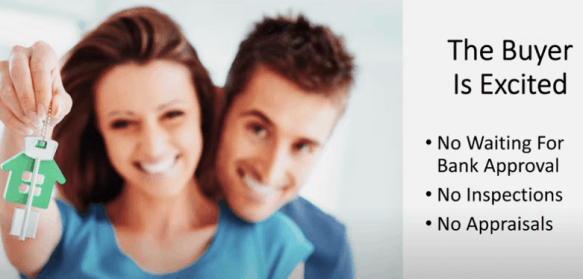 WHAT IS OWNER FINANCING WHEN BUYING A HOUSE? – BUYERS
Seller financing is a blessing for these buyers. They need homes and are willing to accept less than pristine new houses.
For a seller, this is an open market. It's a tool that can be used to help sell the property and to make significant rewards.
How much interest does owner financing charge? It's up to what the seller is willing to accept and what the buyer may possibly be able to negotiate.
Owner financing may be, in terms of interest rates, more expensive than the banks. However, owning a home, even a slightly abused and used home, is a place to raise a family and not just pay rent.
Making payments on purchasing a home also requalifies those who have poor FICO scores.
WHAT IS OWNER FINANCING WHEN BUYING A HOUSE? – SELLERS
The biggest benefit of owner financing is that it allows the seller to have, hold and maintain the security of keeping the deed to the property by selling with a contract, plus collecting a down payment and monthly payments over time, 5, 10, or 20 years.
Another big benefit of owner financing is that the whole process is accelerated at the time of the sale. The closing process and getting the new buyer into the property is very fast.
WHAT IS OWNER FINANCING WHEN BUYING A HOUSE? – BENEFITS
Here's an example of how owner financing speeds up the sale process.
No waiting for loan approval from the bank. The owner can approve the loan yes or no immediately.
Seller financing is a contract. There is no waiting for an attorney. More than likely, the seller can use a local title company that will have forms and is prepared to explain to the new buyer the legality of all of this.
There is no waiting 2 weeks for a home inspection.
There is no reason for anyone to wait for an appraisal which might take weeks.
The seller and the buyer will save thousands when no attorneys are involved.
When a roof over a family's head and a safe neighborhood and schools are a must, owner financing is the answer. It may be more expensive for the buyer to pay higher interest, but it's worth a lot in peace of mind.
WHAT IS OWNER FINANCING WHEN BUYING A HOUSE? – BARGAINS
Today I'm answering your question, "What is owner financing when buying a house?"
So now I'm going to show you a way to acquire bargain real estate that benefits both buyer and seller when the property is sold via owner financing.
Learn how you can secure your financial future with this FREE mini class on bargain real estate investing. It's a gift from me to you. Be sure to take advantage of it today!
WHAT IS OWNER FINANCING WHEN BUYING A HOUSE? – TAX DEEDS
Many of my student investors profit greatly at tax defaulted auctions. These are properties which the local county has confiscated from property owners who failed to pay property taxes.
The state legislature has authorized and mandated that the county board of supervisors or county commissioners must have a treasurer, and the treasurer levies property taxes then follows up to collect property taxes.
If the property owner is unwilling or unable to pay, the treasurer is authorized to confiscate the property and then resell it at a public auction.
Anyone can attend this auction where properties will be sold to the highest bidder, and the revenue will be used to pay the county obligations, like the police and school teachers and to contribute to the hospitals and dozens of other bills.
WHAT IS OWNER FINANCING WHEN BUYING A HOUSE? – TAX DEFAULTED PROPERTY AUCTIONS
The starting bids at the tax defaulted auction are usually the back-delinquent taxes plus a few fees.
Properties are sold for 10 cents, 20 cents or 30 cents on the dollar.
The county does not want the property. The county owns the parks and multiple administration buildings. My point is the treasurer will sell tax defaulted auction property for 60%, 70%, and 80% or more discounts.
WHAT IS OWNER FINANCING WHEN BUYING A HOUSE? – MORTGAGE-FREE PROPERTY
The good news is the treasurer is authorized to cancel, delete, wipe out the mortgage or trust deed loan from the official county records.
Auction buyers receive property for starting bids as low as 20 and 30 cents on the dollar, and they get the property with no mortgage.
WHAT IS OWNER FINANCING WHEN BUYING A HOUSE? – CONTRACT OF SALE
Savvy auction buyers purchase at low prices and sell at high margins using a contract of sale which is owner installment financing.
How do you structure an owner finance deal? The terms would include price, down payment, the monthly installment payments, interest rate, and the duration of the contract.
You would also want to specify items like who pays property taxes on owner financing and who pays insurance.
Additionally, it's very important to designate who holds the deed in owner financing. To mitigate risk, the seller should hold the deed.
TAKEAWAY
We hope you enjoyed Ted's lesson, "What Is Owner Financing When Buying a House?"
Owner financing occurs when the seller acts as the bank, draws up a contract of sale and directly receives the down payment, monthly installment payments, and interest on the payments from the sale of a property.
Why would a seller want to do this? It cuts out the middlemen, expedites the sale of the property, and enables the seller to receive a passive income from the installment payments. It also enables the seller to profit from the financing in addition to profiting from the sale price of the property.
Why would a buyer be interested in purchasing an owner financed property? One big reason is because not all buyers qualify for a bank loan due to a poor credit rating even if they earn enough money to afford house payments.
Owner financing can benefit both the buyer and the seller, and the deal can be even better if the seller invests in tax delinquent property which can be purchased for pennies on the dollar.
At county auctions, where tax defaulted property is sold, the bidding begins around the amount of the unpaid property taxes, making it possible to purchase real estate for 10, 20, or 30 cents on the dollar.
On top of that, the property is sold to the winning bidder mortgage-free. The enormous profit margin can make for a quick sale if the investor sells it at a discount and offers owner financing, and both the buyer and seller can benefit from this.
If you'd like to learn more about how to profit from tax delinquent real estate, there's no one more qualified to teach you than Ted Thomas, America's leading authority on tax lien certificates and tax defaulted property investing.
Ted Thomas is the only one who provides full support and complete training with home study courses, Q&A webinars, live tutorials, workshops & web classes, and personal one-on-one coaching.
Get started today at no cost with Ted's FREE Master Class, that reveals the incredible opportunities available in tax defaulted real estate. The class is only about 1 hour of streaming video and contains life-changing information! You can't afford to miss it!