WHAT IS THE BEST REAL ESTATE TO INVEST IN?
What is the best real estate to invest in if you want to make the most money? There's a little-known real estate market that's highly lucrative, and I'll tell you all about it.
What is the best real estate to invest in? You should expect many opinions when you ask an open-ended question like this.
I'm Ted Thomas, and for the majority of my lifetime, I've been involved in real estate. Experts will have different opinions, and the realities of the marketplace will be different from decade to decade.
Supply and demand make a huge difference. Availability of financing also makes a big difference, and private money or government money will make a difference.
Most newcomers have the opinion that real estate will always go up. That, of course, is not true.
Today I'm answering the question, "What is the best real estate to invest in?" and I'll also teach you about a little-known and very profitable market of distressed real estate.
Want to learn more about bargain real estate? Would you like to buy homes for pennies on the dollar, and without a mortgage? Or earn double-digit interest rates secured by real estate? Then you don't want to miss this FREE Mini Course.
WHAT IS THE BEST REAL ESTATE TO INVEST IN? – THE ECONOMY
If there is significant inflation of the money supply, or money is too easy to get, then the markets will change dramatically.
The banks and federal government policies can create enormous shortages in the market, and out of control easy money expansion can create overwhelming oversupply.
Real estate is affected dramatically by the financing.
Expansion sounds good to everyone. However, if it's not controlled, you'll ultimately see a massive recession; people in the United States and worldwide will be affected severely, and it will be painful.
WHAT IS THE BEST REAL ESTATE TO INVEST IN? – RISK
What I'm saying is nothing like many gurus that claim real estate is risk-free, I'm suggesting real estate has major risk, and the philosophy of buy and hold is questionable.
From an investment perspective, I'm discussing everything as if I'm the investor. Their home, for most people, is considered their biggest investment.
Surprisingly for many, their home will produce the biggest profits ever. That assumes you own it over decades. That also assumes that the market is inflating.
All of that changes if there is no inflation, if there's too much money.
WHAT IS THE BEST REAL ESTATE TO INVEST IN? – INFLATION
What are the safest real estate investments? Give me a few minutes, while I give you foundational material, then I'll show you how to work once, collect money for decades, and have very small concerns about the market. But first a small example.
The example I'll use is the Ford Mustang. In 1964, yes, I was there, the sticker price was $2,495. What is it today? $40,000? $50,000? Maybe more.
Simultaneously, in 1964, a single family, 3-bed, 2-bath home in a good new neighborhood in California, sold for $40,000. If you added every amenity known to man…$50,000. What does that all cost today?
WHAT IS THE BEST REAL ESTATE TO INVEST IN? – EASY MONEY
Another consideration should be what happens if money is too easy and everyone can buy a home. Then think back if you weren't here to do the research.
From 2005 to 2012, when the markets dropped 30% or 50%, depending on the community, and in Las Vegas and Phoenix dropped 70%, then the mortgage exceeded the value.
Millions of property owners, I said millions, walked away in every state in the union. They had lost it all.
The same story played out in apartments, office buildings, and agricultural property. Millions of people paid the price for the banker's easy money. They lost all of their assets and probably their mortgage.
The financial people wiped out the little guys' wealth which was his and her home.
WHAT IS THE BEST REAL ESTATE TO INVEST IN? – CASH RESERVES
Getting back to investments, single family homes are good, however, you should know why they are good. If your answer is inflation, you may be hurt economically if you don't have reserves.
Small and large apartment properties are exceptionally good in rising markets and during tight money markets when the builders are not growing the housing inventory.
Office buildings are the premium investment. Notice the insurance company's strategy. They fund new buildings and make money on the financing. They promote and have ownership of many office buildings.
Why? These are long-term real estate investments. They can weather the markets because they have large cash reserves. The economy moves up or down, and their reserves survive.
WHAT IS THE BEST REAL ESTATE TO INVEST IN? – REAL ESTATE
In just a moment, I'm going to reveal a low-risk strategy that has been in use for decades that will give you income. You work once, and you collect money for 10 years.
I've been involved in real estate since 1970, starting with single family homes, condominiums, small apartments, small office buildings and large apartments.
I have a free gift for you, a 1-hour, streaming-video mini course that will teach you the secrets of one of the safest high yielding investments available and how to create massive cash flow from real estate.
If you've decided it's time to take charge of your financial future, then this Free Course is the best way to get yourself started on the road to success!
WHAT IS THE BEST REAL ESTATE TO INVEST IN? – A LITTLE-KNOWN STRATEGY
What is the best real estate to invest in? Today I'm going to reveal a little-known, highly lucrative, recession-proof and boom-proof real estate strategy.
It's older than dirt, 200 years. It's anything but glamorous. In fact, it's somewhat ugly. However, when you know how it works, this is wildly, outrageously profitable.
It's easy to prove and test. You don't need a public offering with millions of dollars. You don't need to be an expert at crowd funding, and mostly, you don't need dozens of high-priced employees.
It's compact, and you can do it from your home computer. Years ago, everything was manual. Today, it's 85% business management and understanding how to sell.
It requires a maximum of 10 focused hours a week, and finally, you must be willing to act like a banker and understand installment sales.
WHAT IS THE BEST REAL ESTATE TO INVEST IN? – INSIDE INFORMATION
So what is the best real estate to invest in? All of them are good. They all have positives and negatives. Go slow. If the market's going down, don't worry, it will soon go up.
Financing is important. You'll never pick the right time. Everyone claims they can. Be flexible.
Here's some inside information that's legal to know and for me to reveal. This is little known to other professionals. Brokers don't get it. Most attorneys don't get it, and most buyers and sellers don't believe it.
It's not a secret. Everything I have to say is public knowledge, and you can be a beneficiary on your first deal.
WHAT IS THE BEST REAL ESTATE TO INVEST IN? – TAX DEFAULTED PROPERTY
I'm talking about tax defaulted real estate which has two distinct profit centers. You can enjoy both of them legally.
In just a moment, I'll show you a couple of seniors who generated $100,000 profits in their first year by just following the instructions.
They did this business outside of their home state in a small American town, nothing glamorous. You won't be a TV star and neither will your properties, however, this not-so-young couple is averaging 30% annual rates of return. What's better than that?
WHAT IS THE BEST REAL ESTATE TO INVEST IN? – PROPERTY TAXES
Here's a quick review. The laws in all states require property owners to pay property taxes.
If the property owner fails to pay, the state legislature and the county treasurer give the property owner notice. This is the law. It's called due process.
If the property owner fails to pay, the county treasurer will take action. The state authorizes the treasurer to levy taxes, collect taxes and confiscate the property if the taxes are unpaid.
The county governments work in two ways, both profitable to you.
WHAT IS THE BEST REAL ESTATE TO INVEST IN? – TAX LIEN CERTIFICATES
If the state is benevolent and flexible, the state will sell tax lien certificates. These certificates may be purchased by investors.
Tax lien certificates pay outrageous interest rates, 16%, 18%, 24%, even up to 36%, depending on the state.
If the property owner fails to redeem the tax lien certificate, then you, the certificate owner, will be awarded the property mortgage-free. And you only paid back taxes when you purchased the tax lien certificate.
However, 97% of property owners will pay their tax certificate, and you'll earn one of those high interest rates.
WHAT IS THE BEST REAL ESTATE TO INVEST IN? – TOO GOOD TO BE TRUE?
Imagine acquiring a $200,000 property, mortgage-free, and you only paid the back taxes. That is happening in every state in the United States.
I know it sounds too good to be true. I have dozens of documented successful real estate investment examples, however, you can check with any of the 3,000 county treasurers.
It's the law in all 3,000 plus counties, and the properties and the tax liens will be sold at public auctions.
WHAT IS THE BEST REAL ESTATE TO INVEST IN? – TAX DEEDS
It doesn't stop there with tax lien certificates. In the other half of the counties that are not so kind as the benevolent, flexible counties, if the treasurer does not get paid, then after giving appropriate notice, the treasurer will confiscate and seize the property.
Shortly thereafter, the treasurer will sell the property at a public auction to the highest bidder, and the starting bid price is very close to the back taxes. This occurs in states like New York and California, for example.
WHAT IS THE BEST REAL ESTATE TO INVEST IN? – BARGAIN REAL ESTATE
It doesn't matter what the property is worth; they don't want the property.
It's not unusual for savvy investors who know how to purchase tax defaulted real estate for 70%, 80%, sometimes 90% less than the tax assessed value.
Yes, this happens on office buildings, farms, even on large parcels covered with timber.
WHAT IS THE BEST REAL ESTATE TO INVEST IN? – AN EXAMPLE
My senior couple that I mentioned earlier followed the exact steps I showed them in training. They checked out a number of properties in an adjoining state.
They started small with an older 50-year-old house, 5-bed, 1-bath, livable, and in a bread and butter neighborhood.
The tax assessed value was $45,000, and the auctioneer sold them the property for just under $8,000. Then they paid a handyman to clean up and touch up the paint which cost them another $4,000.
WHAT IS THE BEST REAL ESTATE TO INVEST IN? – SELLER FINANCING
They created a very ugly sign which they put on the front lawn on the snow. The property sold quickly for $32,000, generating a $20,000 profit.
The buyer requested financing, and the seniors quickly said yes.
You don't need the details now, but I will tell you the contract was for 10 years, and the installment sale will total $52,000. Let's keep in mind that the total investment was $12,000.
WHAT IS THE BEST REAL ESTATE TO INVEST IN? – RETURN ON INVESTMENT
In the next 10 years, the seniors will receive over $400 a month, $5,000 per year.
If you want to do it on an ROI (return on investment) basis, they invested $12,000 and will collect more than $5,000. That's more than a 40% ROI.
This was the first of 3 transactions in 11 months.
Our question today was, what is the best real estate to invest in? The answer is it's all good.
Is buying real estate the best investment? In my opinion, yes. You just need to learn how.
CONCLUSION
We hope you enjoyed Ted's lesson, "What Is the Best Real Estate to Invest in?"
There is a little-known, highly lucrative, recession-proof and boom-proof way to invest in real estate, and that is tax defaulted property investing using Ted's buy low, sell low strategy.
Local counties sell tax delinquent real estate at public auctions at amazing discounts, and these properties are sold without a mortgage. The starting bids begin around the amount of the unpaid property taxes, making it possible to purchase properties for pennies on the dollar.
Once you've purchased a property for 10, 20, or 30 cents on the dollar, you can also sell it for a large enough discount to make a quick sale and still generate a lucrative profit. Additionally, by utilizing seller financing, you can increase your profit even more.
If you prefer a more passive investment, about half of the counties sell tax lien certificates. These certificates pay interest rates of 16%, 18%, 24%, or even as much as 36%, and they're secured by real estate. So if you don't get paid, you get the property.
If you'd like to learn more, Ted Thomas can show you how to make huge profits investing in bargain real estate. For over 25 years, Ted's been teaching students the secrets, strategies, and safest ways to profit from tax lien and tax deed investing.
There's no one more qualified than Ted Thomas, America's leading authority on tax lien certificates and tax defaulted property investing, to teach you how to do this safely and profitably.
Ted Thomas is the only one who offers full support and a complete training program on how to buy property with delinquent taxes with home study courses, Q&A webinars, live tutorials, workshops, web classes, and personal coaching.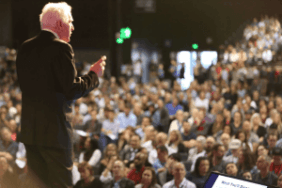 If you'd like to learn how to create massive cash flow and streams of residual income from deep discount real estate, you can get started today at no cost by taking advantage of Ted's FREE Master Class on America's best kept secret, tax lien and tax deed investing.