HOW DOES OWNER FINANCING FOR A HOUSE WORK?
How does owner financing for a house work? This is a lucrative strategy for sellers and a big advantage for buyers! Learn about the benefits of owner financing.
I'm Ted Thomas, and I've been involved with an alternative segment of real estate for 30 years, more specifically tax liens and tax deeds.
In the tax deed and tax lien business, we learned many years ago that tax deed properties are sold at local county tax auctions conducted by the tax collector and the treasurer.
Want to learn how you can make big profits in real estate? Would you like to buy homes for pennies on the dollar? Or earn double-digit interest rates? Learn how with this FREE mini class on how to generate quick cash flow and create income streams for years to come from real estate!
HOW DOES OWNER FINANCING FOR A HOUSE WORK? – YOU CAN DO THIS!
You can do this. Thousands before you have done it.
These properties are sold for pennies on the dollar when compared to the tax assessed value posted by the tax collector. The auction is a public affair, and anyone can attend. The only qualification is you need money to buy.
You're reading with an interest in learning an unusual business and owner financing, and today, I'm answering your question, "How does owner financing for a house work?"
Personally, I've learned to be cautious and not take advice from anyone who hasn't acquired a solid or high net worth or who doesn't have vast experience.
My students have decades of experience with seller financing, so I'll start right out with a perfect example.
HOW DOES OWNER FINANCING FOR A HOUSE WORK? – AN EXAMPLE
Let's say we've located an auction that's mandated and administered by the local county treasurer.
The treasurer gets marching orders from the board of supervisors or the county commissioners who will approve the auction, and the property pricing will be exceptionally low to get the property off the county's tax delinquent books.
These are non-revenue properties, and the county wants them back on the honorable revenue-producing tax roll. The county needs the tax payments.
HOW DOES OWNER FINANCING FOR A HOUSE WORK? – BUYING DISCOUNT PROPERTY
For example, let's say a property is valued by the tax collector at $100,000. The bidding at the auction will start at very close to the back-delinquent taxes.
More than likely you will not be the only bidder at the auction, and the bid price will go above the $5,000. Let's say it stops at $25,000 for our example.
If I'm the new buyer, I'm happy to purchase at 25 cents on the dollar for a tax assessed $100,000 value.
If you are a newcomer, this probably sounds unbelievable. However, I can assure you this is happening regularly at over 3,000 tax defaulted auctions nationwide.
HOW DOES OWNER FINANCING FOR A HOUSE WORK? – SELLING PROPERTY FAST
So, how does owner financing for a house work? To start with, seller financing will accelerate the sale of the property which we just purchased at auction.
Sellers who want to sell quickly learn to do many things the right way to excite new buyers and announce to the world they have a bargain for sale. Here's how that works.
Learn how you can secure your financial future with this FREE mini class on bargain real estate investing. It's a gift from me to you. Be sure to take advantage of it today!
HOW DOES OWNER FINANCING FOR A HOUSE WORK? – ADVERTISING  YOUR PROPERTY
The owner starts with advertising the property for sale. Not just locally, but on Facebook Marketplace, Craigslist, eBay, the MLS (Multiple Listing Service), Zillow, Trulia, and Redfin, as many electronic sales sites as possible.
Cleaning up the property and showing the property as soon as possible makes sense. The whole process of selling revolves around pricing, financing and promoting the property as an installment sale purchase.
Advertising in the local newspaper, Penny Savers, announcement flyers in the neighborhood and front lawn signs is highly recommended.  It all make a difference.
HOW DOES OWNER FINANCING FOR A HOUSE WORK? – A BARGAIN SELLING PRICE
Most importantly, the selling price must emphasize a bargain and owner financing installment sales. These are all key words or phrases.
Buy low at auctions, and sell low quickly is my usual theme.
Pricing under market attracts buyers. People who want bargains are attracted, and they are looking for owner financing installment sales.
HOW DOES OWNER FINANCING FOR A HOUSE WORK? – OWNER FINANCING SPEEDS UP THE DEAL
Owner financing is a big part of selling the property quickly. This is one of the reasons entrepreneurs become wealthy quickly.
This is not a business that is easily standardized by people with computers and the Wall Street wizards doing volume. Each deal is different. Standardization is difficult.
For example, a $100,000 tax assessed value advertised in the marketplace for only $65,000 tells the world a bargain is available. Adding owner financing to that bargain means a fast deal can be made.
There will be no delay waiting for bank loan approvals. Owner financing usually means no lengthy wait for appraisals or home inspections.
HOW DOES OWNER FINANCING FOR A HOUSE WORK? – TAX DELINQUENT PROPERTY
Are you wondering about the math with owner financing. How does that work? It's easier than you think. Any title company can help you or most attorneys. Here's a simple example.
My student investors spend time researching and locating tax deed auctions nationwide. The student's objective is to purchase real estate for discounts of 60%, 70%, or 80% below the tax assessed value.
The properties are not pristine and new. They are slightly used and abused. Many auction properties are junk. We don't buy junk. You should not buy junk.
There are many opportunities and a few properties will be purchased for 20 or 30 cents on the dollar.
The biggest challenge is selling the property. To do so, it's best to price below the competition. This attracts buyers and bargain hunters.
HOW DOES OWNER FINANCING FOR A HOUSE WORK? – OWNER FINANCING AS A SALES TOOL
My student investors use owner financing, also called seller financing, as a sales tool because owner financing is very attractive to a portion of the market.
Is owner financing a good idea for the buyer? Many buyers who are just starting in real estate may not have large capital reserves saved or available. For some buyers, a seller offering owner financing is their only avenue to purchase a home.
Thousands are bargain hunters who have had previous credit challenges and do not have adequate credit scores. FICO scores of less than 700 are usually rejected at the banks.
Pricing is always number 1 priority. Owner financing is usually number 2 because it attracts a volume of bargain hunter buyers.
Owner financing works to accelerate the sale because many do not want to wait for bank approvals and many are rejected.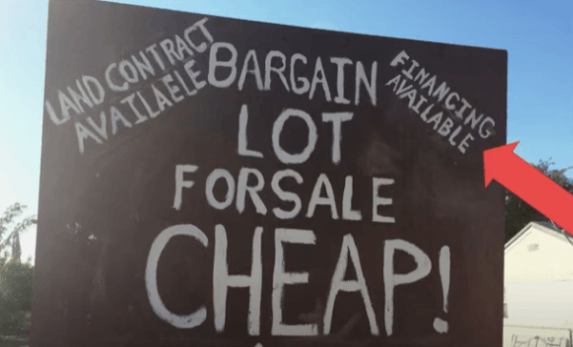 HOW DOES OWNER FINANCING FOR A HOUSE WORK? – YOU MAKE YOUR MONEY WHEN YOU BUY
Let's get back to our example of the $100,000 tax assessed value auction property.
The county treasurer is auctioning the property for the delinquent back taxes plus a few fees. Let's use a $5,000 minimum bid as our starting point.
At the auction, others will realize this could be a bargain. Let's assume your bid is $25,000, and that's the highest bid.
Before I go further, it's important that you understand in this business you make your money when you buy, and you collect your money when you sell.
To accelerate the sale and make a profit on the margin between purchase and selling, you must move quickly.
HOW DOES OWNER FINANCING FOR A HOUSE WORK? – BUY LOW AND SELL LOW
It's very simple, buy low, sell low, and attract buyers with lower than competitive prices. Offer owner financing installment payments, and advertise the property on as many media sites as possible.
America buys installment sales, cars, furniture, houses, refrigerators, boats and recreation vehicles.
To review, my student investors improve and accelerate the sales cycle by advertising and promoting in multiple locations.
The advertising must include key words, like bargain hunters, auction buyers, tax assessed value, slightly used and abused bargains, for sale, owner financing, and seller accepts installment sales.
The eager buyers are attracted to the appealing advertising and the potential upside of a $100,000 tax assessed value and they only pay $65,000.
HOW DOES OWNER FINANCING FOR A HOUSE WORK? – INSTALLMENT SALE
This is a perfect business for entrepreneurs because the real estate industry is not efficient, and it's tough for computer people to organize and standardize. Every deal is different. It's not the place for the high-speed traders.
The upside is the difference between the purchase price, which in this case is $25,000, and the selling price of $65,000.
The owner financing installment sale will attract buyers who would not otherwise be interested.
HOW DOES OWNER FINANCING FOR A HOUSE WORK? – THE CONTRACT
After the auction, my student investors are now owners, and they work with title companies and attorneys to create selling contracts and avoid using mortgage documents.
How does owner financing for a house work? For example, sell using a contract for sale or contract for deed.
How do you structure an owner finance deal?
Typical owner financing terms are price, interest rate, down payment, installment payments, duration of the contract, and items like who pays property taxes on owner financing and who pays the insurance.
To minimize risk, the seller should hold the title.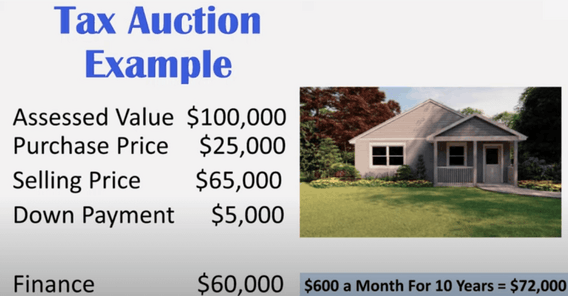 HOW DOES OWNER FINANCING FOR A HOUSE WORK? – THE TERMS OF THE CONTRACT
How do you calculate owner financing? This is the math for buying low and selling low on a property purchased for $25,000 with a tax assessed value of $100,000
Sales price – $65,000
Down payment – $5,000
Seller financing – $60,000
Installment payments – $600 a month, which equals $7,200 a year for 10 years.
That's 120 months at $600 a month or $72,000 in payments. Add the $5,000 down payment, and it comes to $77,000 all in. The original purchase price was $25,000. So the profit is $52,000.
HOW DOES OWNER FINANCING FOR A HOUSE WORK? – BIG PROFITS
Seller financing is popular for credit-challenged buyers who have been rejected by banks and others who are looking for a perfect price and financing.
Student investors who finance make a profit on the margin between purchase price and sales price and another profit on the total interest on the money lent.
Ask yourself. Why should you work for wages all your life when you can acquire real estate assets that work for you whether you work or not?
CONCLUSION
We hope you enjoyed Ted's lesson, "How Does Owner Financing for a House Work?"
Owner financing real estate is an excellent way to increase your profits since not only do you profit from the sale, but you can also profit from the financing.
The seller is not the only one who benefits. Buyers who earn enough to afford a house payment but don't have a high enough credit score to qualify for a bank loan can become homeowners via an owner financing deal.
Owner financing can be a win-win situation for both parties involved.
If you're an investor who's interested in owner financing real estate, Ted Thomas has developed a system that yields lucrative profits and also benefits buyers.
Ted invests in tax delinquent property, which can be acquired at county auctions mortgage-free for pennies on the dollar. He buys these properties at a deep discount, then sells them at a discount for a quick sale.
Ted's motto is buy low, sell low, and move on to the next property. e.g. At a tax sale, a $100.000 home can be purchased for $25,000, then sold fast for $65,000. However, by including owner financing, even more profit can be made.
If you'd like to learn more about how to profit from tax delinquent property investing and then profit even more from owner financing, there's no one more qualified to teach you than Ted Thomas, America's leading authority on tax lien certificates and tax defaulted property investing.
Ted Thomas is the only one who provides full support and complete training with home study courses, Q&A webinars, live tutorials, workshops & web classes, and personal one-on-one coaching.
Get started today at no cost with Ted's FREE Master Class, that reveals the incredible opportunities available in tax defaulted real estate. The class is only about 1 hour of streaming video and contains life-changing information! You can't afford to miss it!