Ted Thomas will show you where to find the best real estate bargains in the USA. It can be hard to find good deals on property… unless you know where to look!
Today I'm going to answer your question about how to find hidden real estate bargains, and I'll cover a lot of different places to do this.
I've been involved in real estate for a lot of years. It's a business that's been around for a long time. If you want to find real estate bargains, I'm going to take you on a step-by-step process and show you.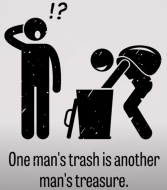 The United States is loaded with all kinds of real estate bargains. How can I say that? One man's trash is another man's treasure, that's for sure.
Some people just don't want the real estate anymore, and they walk away. Other people get sick, lose their jobs, and they end up in foreclosure. The point is there are going to be a ton of real estate bargains out there.
I've spent the majority of my life being involved in this kind of real estate, so here's what I will tell you: If you're willing to put a little time into research, you'll be able to find all the hidden real estate bargains that you want.
If you're wondering, "How do I find bargains for real estate?" Here's the good news. The marketplace is absolutely filled with bargains, and I'll show you different areas.
Want to learn how to find the best real estate bargains in the USA? Would you like to buy homes for pennies on the dollar? Or earn outrageous interest rates secured by real estate? Then you don't want to miss this FREE class.
THE REAL ESTATE MARKET
Regarding the market as a whole, if there's a lot of money circulating in the market because the banks are lending and the federal reserve is easy with the money, everybody's making money.
People are going to be doing a lot of real estate deals out there, so that means the real estate market will boom. It will go up.
As soon as the federal government starts slowing the money flow down, that really slows the real estate market down. When it slows down, then people aren't able to sell their property quickly.
Sometimes if they can't sell quickly, they can't make the payments, and that causes everything from foreclosures to tax auctions. Properties will go into default.
Economies change, like the steel industry or the automobile industry shuts down. There are going to be a lot of reasons for the market to go up and down.
You can think about the tide. It goes out. It goes in. That's going to happen continuously.
HIDDEN REAL ESTATE BARGAINS
All my adult life, I've been involved in doing something in real estate. If you're willing to research a little bit, you'll find all the hidden bargains that you ever dreamed about.
What I'm talking about today is how to find hidden real estate bargains. There are going to be plenty of them. The economy is always going to be changing. Tide goes out; tide comes in. So let's learn about these hidden bargains.
FORECLOSURE AUCTIONS
In many cases, there are going to be foreclosures.
I'll go through the reasons for those foreclosures, but I can tell you if you live in a county that has a very low population, they're going to have foreclosure auctions on the courthouse steps or at the county offices. They're going to have 1 or 2 of those every week.
Usually that's the bank trying to recover the collateral. The collateral was the house, so they're trying to recover their collateral to recycle it and sell it because someone hasn't paid it.
In other words, whoever signed the mortgage or the deed of trust as a promissory note hasn't met their commitments, so now the bank's trying to get it back.
If you're in a county that has a large population, then we're talking about 3 to 5 foreclosures auctions a day. There are hundreds and hundreds of these foreclosures.
Why am I telling you that? Because there are a lot of hidden real estate bargains here. Why? Because when these properties are sold at foreclosure auctions, they're usually selling for the mortgage that's on the property.
Let's say the mortgage on the property is $60,000 dollars. If it's a $100,000 dollar property, and the starting bid is $60,000, that means an almost 40% discount.
All kinds of properties are going to auction. There are going to be regular buildings going up for  auction, farms going for auction; there are going to be houses, all kinds of properties.
What you want is the hidden real estate bargains so start watching those foreclosure auctions.
There will be hundreds of those foreclosures nationwide, and it will be in the hundreds of thousands in the course of every single year. However, that's not the only place.
Let's think about the discounts first. These discounts could be 20% or 30%. I've seen up to a 40% discount. If you can buy a property, that's a bargain, let me tell you.
If you can get a 40% discount, you didn't steal it, but you got a property at an excellent value because you went to the foreclosure auction.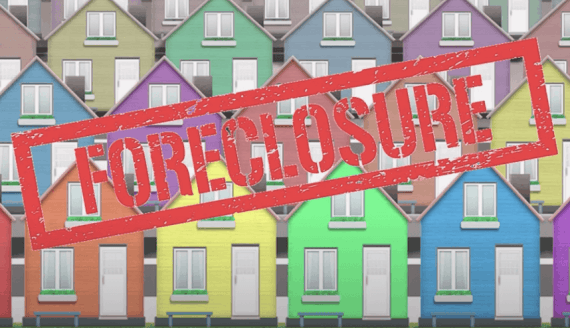 HUD AUCTIONS
Are there other kind of auctions? Sure, there are other kinds, and there are real estate bargains to be found there. Could the U.S. Department of Housing and Urban Development (HUD) have auctions? Absolutely.
My point is there are going to be a lot of these. You could go to the Department of Agriculture, and they would have a list of properties like small farms that they're foreclosing on.
Let's say that you could buy that farm, and it had a value of $300,000, but you can get it for 60% of value. $180,000 is pretty cheap for that property. That's a hidden bargain people haven't thought about.
We have to go out and get the money somewhere. Yes, but there are all kinds of sources like this. There's a regular foreclosure market. There's HUD.
HUD will probably do 30,000 to 50,000 properties every year. Why would you want to talk to HUD? Because they could provide financing. Think about that.
USDA AND VA AUCTIONS
We've got the Department of Agriculture. What about the Department of Veterans Affairs?
There are 3 government agencies right there that probably have 100,000 properties this year. They're not steals. You're not going to steal it, but if you can get a property for a 20%, 30%, or 40% discount, you're doing pretty darn good.
So think about what we're talking about. Also think about where you're going to get the loan. HUD's been doing this since before I was born. The Congress of the United States created HUD just to help people with financing.
You might be a person with a good job, but you don't have a good FICO score. The banks are looking at your credit score and saying, "No, we won't handle you." Maybe you go look at HUD.
Maybe you think about buying one of their houses, especially if they would give you financing.
I was very lucky. I was involved in the foreclosure business for many, many years, so that meant I was out trying to buy property all the time.
There are a lot of stubborn buyers out there. Even though they're going to foreclosure in 2 days, they don't want to bargain.
TAX DEFAULTED PROPERTY AUCTIONS
I lucked out and had some people take me to an auction, but it was not a government auction or a bank auction. It was a county auction. I said I never heard of the county selling property.
Well, I heard about it very quickly because in all 3,000 counties, the local county ends up owning property that people didn't pay property tax on.
If the county owns it, I can tell you right now, they don't want it. So that's how I discovered tax deed sales and tax lien sales.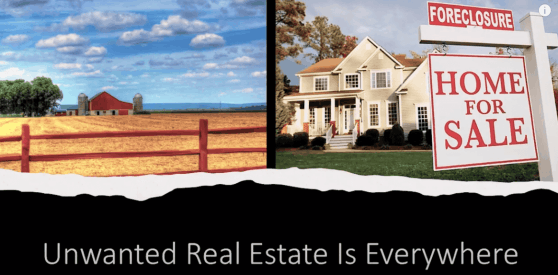 TAX DEED SALES
At tax deed sales, the bidding starts at the back taxes. I didn't say they sold for 60% or 70% of value. I said they sold for the back taxes. When I learned that, I knew that there was going to be a goldmine out there.
I've been in this business a long time. About 30 years ago, I discovered that all of the counties in the United States, all 3,000+ of them, will sell tax defaulted property and sell it at 60%, 70% and 80% discounts.
If that isn't a hidden bargain, I don't know what is. You can get incredibly cheap real estate at these auctions.
Where are these auctions going to happen? They're going to happen in your county and in every county in the United States.
I have a free gift for you. It's a streaming video mini course that will teach you the basics of tax lien certificates and how you can make big profits in tax defaulted property. These are the ultimate hidden real estate bargains! Be sure to take advantage of this opportunity.
MORTGAGE-FREE PROPERTY AT TAX DEED SALES
I know what you're saying to yourself, "Ted, this is too good to be true."
I'm here to tell you that these properties have sold at 60%, 70%, and 80% discounts. I've even seen some of my students get 90% discounts, and there's no loan on the property.
If you're in the east, that means there's no mortgage. If you're in the south or the west, it means there's no deed of trust.
The point is I was in shock, and you're going to be in shock.
HIDDEN REAL ESTATE BARGAINS AT TAX DEED SALES
The government has tons of properties, and every county in the United States is selling real estate. There will be at least 5,000 of these auctions this year, and nobody else even knows about it.
Anybody can go to these auctions. When I showed up at the auction, this woman who was a county employee was auctioning off the properties as fast as you can snap your fingers.
I couldn't even keep up with it, but I was surprised to see properties selling for 10 cents, 20 cents and 30 cents on the dollar. Think about what I just said there.
She didn't care. She just worked for the county. All she wanted to do was get the property off the default list and back on the tax roll. So she sold the property to the highest bidder with no mortgage and no trustees on the property.
You could be buying those properties. You want hidden real estate bargains? There's a hidden bargain for you.
Is that employee pushing it down your throat like an auctioneer? Absolutely not. They're just standing there selling those properties. An hour later, the next county employee will come and do the same thing.
REAL ESTATE BARGAINS ALL ACROSS THE USA
If you want to find hidden real estate bargains, you can find them, not only at government auctions but in every county across the United States.
It's not unusual for my clients to get a $50,000 home with someone that was living in it for $5,000 or $6,000 dollars at one of these auctions.
REAL ESTATE BARGAINS ON RESIDENTIAL LOTS
My preference is to tell you to buy a residential lot because everybody else won't bid on it, then resell it.
Learn how to do the business by buying a residential lot. You'll probably buy it for pennies on the dollar, $2,000 or $5,000 dollars, and it might be worth $25,000 or $40,000.
REAL ESTATE BARGAINS ON HOMES
Where are the cheapest houses for sale? Some of the cheapest real estate bargains on homes can be found at tax defaulted property auctions.
If you buy a house, and there's nothing wrong with that, you'll make just as much profit or probably more.
However, if you're wondering, "How can I get a deal on a house?" you also need to ask yourself a few other questions. Does the house need to be fixed up? Are you going to be able to rent it? Do you know how to sell it?
Have you really learned how to do the business? I say start small and then build yourself up. This business is a business of abundance. It will always be here. It's been here for 200 years.
BIDDING AT A TAX DEED AUCTION
Anybody who has the money can bid at a tax auction, however I would tell you make sure you have the money for the bid.
Do not bid if you don't have the full money to pay for it because the sheriff will visit you right then and there. It's illegal to bid at an auction and not have the money. So pay attention to the rules of the auction.
COMMON (AND COSTLY) MISTAKES MADE AT AUCTIONS
I'm going to finish up by telling you there are two big mistakes people make at auctions that you need to know about ahead of time.
MISTAKE #1
Big mistake number one is people show up at the auction, they start bidding, raising their hand, and they've never looked at the property!
What if there was a fire or a flood? What if the building had some kind of crisis happen, like a windstorm that blew all the windows out?
When you buy at an auction, the sale is final, so you want to make sure that you've looked at the property.
MISTAKE #2
The second big mistake people make at auctions, and it's another bad one, although it's much the same, is people bid without knowing what their selling price is.
You don't want to bid on any property until you know how much you can sell it for. If you know the exit strategy, go ahead and bid. That will keep you from bidding too high.
Some people just keep bidding, and they go right past the price. If you do that, you could be overpaying for the property, and they're going to take your money, I can assure you of that.
CONCLUSION
We hope you enjoyed Ted's lesson on how to find hidden real estate bargains.
Real estate bargains can be found all over the United States at several different venues.
Foreclosure auctions start the bidding at the amount of the mortgage, and discounts of 20% to 40% are not unheard of.
HUD, the USDA, and the VA also auction off properties, and real estate bargains can be found there too. Sometimes they even offer financing as well.
However, the best real estate bargains are overwhelmingly found at tax defaulted property auctions, also called tax deed auctions. These are local auctions held by counties all across the United States.
The bidding on properties at tax deed auctions starts at around the amount of the back property taxes owed, making it possible to get 70%, 80%, or even 90% discounts off the assessed value of properties sold at tax deed auctions.
Additionally, the county wipes the mortgage off the property. So not only do you get it for pennies on the dollar, but you also get the property without a mortgage. Talk about real estate bargains!
This is occurring in every county in the United States, and they have more properties than they can sell. It's a business of abundance.
Tax defaulted properties truly are hidden real estate bargains because so few people know about these auctions. You buy directly from the country without any middlemen, and that's why no one ever told you about it.
Brokers and agents don't make any commissions off of the sale of tax defaulted properties, so they have no incentive to tell you about this investment vehicle that's been generating wealth for the one-percenters for the last 200 years.
If you want to join the one-percenters in knowing how to find and vet deep discount real estate and make profits beyond your wildest dreams, Ted Thomas can show you how.
For over 25 years, Ted's been teaching students the secrets, strategies, and safest ways to profit from investing in tax delinquent property.
There's no one more qualified than Ted, America's leading authority on tax lien certificates and tax defaulted property investing, to show you how to do this.
Ted Thomas is the only one who provides full support and complete training with home study courses, Q&A webinars, live tutorials, workshops & web classes, and personal coaching.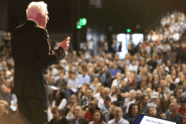 If you'd like to learn how to earn lucrative profits easily, painlessly, and safely, you can get started today at no cost by taking advantage of Ted's FREE Master Class and discovering how you too can capitalize on America's hidden real estate bargains.