Learn how to become an entrepreneur online successfully. More people are heading down the path of online entrepreneurship. Jump aboard the wave of the future! I'll show you how I did it.
I'm Ted Thomas, and I've been involved in business for many decades. I've employed as many as 250 people.
I have also worked from a home office and managed from that office as many as 20 people worldwide.
Today I'll discuss how to become an entrepreneur online.
Almost everyone has the vision that being online is going to solve the problem of working.
I'm about to suggest that what you may find online is a lot different than you think, especially if you cannot divide your work day from your family.
Want to learn how to become an entrepreneur online? Ted Thomas shares what made him and so many of his students into successful entrepreneurs in the field of alternative real estate investing. Live the life of your dreams. Learn how with this FREE mini class!
THE 4-HOUR WORK WEEK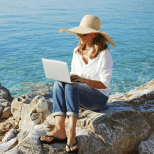 Years ago, an entrepreneur, an author by the name of Tim Ferriss, wrote a book that was a bestseller. The title was The 4-Hour Workweek.
Readers loved the book. The vision was amazing. Everyone wanted a 4-hour workweek, and Tim Ferris did not discourage them.
The readers pictured themselves with laptop in hand, working on the beach, and they drove to the beach in a fancy sports car. They were earning 6-figure incomes in just a few hours a week. That was the vision.
The problem was they were living the online internet lifestyle in their mind. Deep into the book, they finally realized there was a lot of work going on. Much of it being outsourced, which also sounds pretty darn good.
WORKING ONLINE VS. OFFLINE
Sorry I can't sugar coat this for you. Working online is just like working offline. Very little is going to happen unless you make it happen.
The 4-hour workweek is not realistic. That's the dream. That's the vision. It's going to take some real effort to outsource work.
 OUTSOURCING
Seriously, it takes hours to, first of all, locate the right people, and secondly, evaluate and review their qualifications, and then dozens of repetitious follow ups to encourage the outsiders to finish their work.
The truth is you can work online with many outside self-styled professionals. There are companies like Fivver that employ thousands of these people. However, their qualifications and work levels are up to you.
It's not exactly easy. So, when you work online, you actually work for all these outside professionals.
This takes many hours of coordination. I'm not saying it won't work. I am saying this is a job just like working in an office.
Yes, you could be at the beach. Yes, you could be travelling the world. However, evaluation, training and checking the results still must take place.
Everyone dreams of having a smooth business. It's only as smooth as the entrepreneur can organize. Will it work for you? Absolutely. Will it be easy? Absolutely not.
A SUCCESSFUL BUSINESS
How much do online entrepreneurs make? For example, 30 years ago, I discovered a business that I could do from home or an office, and during those 30 years, it has grown to 8 figures.
It takes many outsiders to conduct that business, but it can be all done online from your home office.
Your lifestyle will be dramatically different.
When you're working online, there are many distractions, constant pinging, never-ending people contacting you in the middle of the night and expecting you to be available.
Don't kid yourself, there's a ton of work requiring effort, more effort, then even more effort and finally the rewards.
Fortunately, I discovered a subset of the real estate business. It's just a small segment. No way is it glamorous. However, it's little known, yet highly lucrative. It's very profitable, and it requires regular work.
I have a free gift for you, a 1-hour, streaming-video Mini Course that will teach you how to start an online business from home investing in alternative real estate for pennies on the dollar to earn a secure passive income, residual income, and generate massive cash flow! 
3 STEPS TO BECOME AN ENTREPRENEUR
Today I'm discussing how to become an entrepreneur online.
If you're wondering, "How do I start to become an entrepreneur?" here are a few steps:
Step 1 – Be sure you can help people.
Step 2 – Find and research problems others are having; solve the problem.
Step 3 – Investigate if there are enough people who want you to solve their problem.
For example, I know people want to earn more money, so I get into a business where I can buy properties at 60%, 70%, and 80% discounts. Guess what? I can turn around and resell them and make a big profit.
I can buy low, I can sell low. The idea is I can become an entrepreneur online. I can do all my purchasing online, and I can do all the selling online.
That doesn't mean I'm going to be at the beach or driving around in my sports car all day.
In closing, 30 years ago, all of this was offline. Everything was manual. The documentation was physical, and everything was required on-site. Today, 30 years later, the business can be 90% completed online.
Nationwide, there's abundance. Over 3,000 counties conduct 5,000 auctions.
All of these counties have a problem, and thousands of individuals have a problem on where to buy, how to buy, and how to sell. I just solve problems.
CONCLUSION
We hope you enjoyed Ted's lesson, "How to Become an Entrepreneur Online"
Being an online entrepreneur still takes work. Much of it can be outsourced, but even outsourcing requires a lot of vetting and management.
If you're looking for online entrepreneur ideas, be sure what you do helps people, solves a problem, and that there are enough people who need the problem solved. In a nutshell, you become a problem solver.
Ted Thomas has solved a lot of people's money woes by teaching them how to invest in a little-known, yet highly lucrative real estate niche, and it doesn't even take a lot of money to begin investing!
If you'd like to learn more about how to start up a small home business investing in deep discount real estate, there's no one more qualified to teach you than Ted Thomas.
Ted is the only one who provides full support and complete training with home study courses, Q&A webinars, live tutorials, workshops & web classes, and personal one-on-one coaching.
Get started today at no cost with Ted's FREE Master Class, that reveals the incredible opportunities available in bargain real estate. The class is only about 1 hour of streaming video and contains life-changing information! You can't afford to miss it!