WHAT IS AN INSTALLMENT SALE IN REAL ESTATE?
What is an installment sale in real estate, and how can it benefit you? This is one of the best methods that real estate investors use to make money! Learn how it works and how you can get started!
I'm Ted Thomas, and I've been involved in an alternative market in real estate for the past 30 years. It's easy to buy real estate, but it's a lot more difficult to sell real estate and make a profit.
The savvy real estate buyers think about their exit strategy before they buy. Unfortunately, the majority don't do that.
Selling can be a challenge for a number of reasons. First of all, most people don't like to sell items. After all, people say no, and buyers reject sellers in many ways. Some are abrupt, and some are gentle.
Today I'm answering your question, "What is an installment sale in real estate?" My first answer is the installment sale is the fastest way to sell real estate.
Want to learn how you can make big profits in bargain real estate? Would you like to buy homes for pennies on the dollar? Or earn double-digit interest rates? Learn how with this FREE mini class on how to generate quick cash flow and create income streams for years to come from real estate!
WHAT IS AN INSTALLMENT SALE IN REAL ESTATE? – LOANS
It's tough to sell a $200,000 or $300,000 house without help from a bank or a lender. Many buyers think they can qualify. Unfortunately, they don't all qualify, and without a mortgage, the property isn't going to sell.
Brokers and sellers depend on the banks to provide mortgage loans, which are installment sales, because very few can pay cash. No mortgage loans, and the real estate business grinds to a close.
The government controls the banks, and the government buys most of the mortgages and trust deeds from the bank.
WHAT IS AN INSTALLMENT SALE IN REAL ESTATE? – GOVERNMENT INFLUENCE
If the government makes a decision to restrict loans or raise the standards, i.e. increase the rates for real estate loans, everything stops until the buyers, sellers, brokers, and everyone adjusts.
That includes home builders, adjusters, carpenters, and framers. Everyone that works in real estate is affected very quickly based on interest rates and mortgage loans.
The point is most people cannot buy a $300,000 home for cash. In summary, no bank loan translates to no buyers purchasing, no brokers working, no carpenters building walls, and no brick masons laying bricks.
WHAT IS AN INSTALLMENT SALE IN REAL ESTATE? – MORTGAGES
What is an installment sale in real estate? What is an example of an installment sale? The simplest answer is a 30-year mortgage is an installment sale.
Banks and lenders prefer to make loans to individuals who have high credit scores and good payment histories.
Banks like new homes and existing single-family homes in good areas.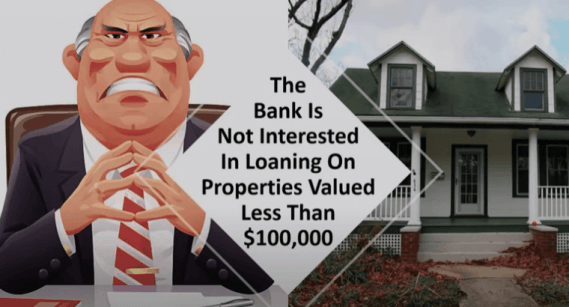 WHAT IS AN INSTALLMENT SALE IN REAL ESTATE? – MORTGAGE REQUIREMENTS
The banks prefer to make large loans of $100,000, $200,000 and more, and they want to lend to buyers with good credit.
In good economic times, the banks rarely restrict the loans or mortgages, and they accept many applications for loans. However, they reject those who have low credit scores.
This is a big problem for people with poor credit ratings, so I'll be discussing the bank loan installment sale vs. seller financing installment sale in this article.
WHAT IS AN INSTALLMENT SALE IN REAL ESTATE? – TAX DEEDS
30-years ago, I discovered a market that was filled with unwanted real estate that was being auctioned by local counties for pennies on the dollar.
The business is mandated and authorized by the local county officials, and they often offer properties at amazing bargain prices. They are authorized to do so by their state legislature.
This type of deep discount real estate is called tax deeds, which are tax defaulted properties, and they are sold without mortgages with the bidding starting around the amount of the delinquent property taxes owed.
WHAT IS AN INSTALLMENT SALE IN REAL ESTATE? – TAX DEED AUCTIONS
Knowing what you have just learned gives you a competitive advantage. In over 3,000 counties, real estate is sold at public auctions for 60%, 70%, or 80% or more discounts.
Properties sold at these auctions will often sell for as low as 10 cents or 20 cents of the assessed value. That translates to outrageous discounts and huge profit margins for auction buyers.
Just imagine. A $90,000 property with a starting bid at a tax deed auction of only 5 or 10 cents on the assessed value.
Learn how you can secure your financial future with this FREE mini class on bargain real estate investing. It's a gift from me to you. Be sure to take advantage of it today!
WHAT IS AN INSTALLMENT SALE IN REAL ESTATE? – DELINQUENT PROPERTY TAXES
In case you're wondering, these are not bank foreclosures. These are properties seized because the owners failed to pay property taxes.
The state legislature has passed laws (statutes) that all property owners are required to pay property tax.
The legislature has authorized the county supervisors or board of commissioners to require the tax collector/treasurer to levy property tax and collect property tax.
If the treasurer cannot collect taxes, because the property owner fails to pay, then the treasure will seize, that is confiscate, the property and sell it at a public auction to the highest bidder.
The county will then use the revenue from the auction to pay county employees, school teachers, police, and firefighters, and send money to the local hospital to pay doctor bills for those who can't afford to pay.
WHAT IS AN INSTALLMENT SALE IN REAL ESTATE? – INSTALLMENT SALES
What is an installment sale in real estate, and how does an installment sale work?
Here's an installment sale example. It's the same type of loan you would receive purchasing a car with monthly payments for 2 years, 5 years or 7 years.
The buyer wants instant gratification and doesn't want to wait until they've saved the money. So, the buyer is willing to pay installment sales as you would with a car or a big screen television or a new kitchen appliance.
WHAT IS AN INSTALLMENT SALE IN REAL ESTATE? – SELLING PROPERTY VIA INSTALLMENT SALE
America buys on installment sales. What does that mean in real estate? It's the solution to selling property that is not perfect or pristine or in a nice new subdivision.
The installment sale is the solution to not being in a good real estate economy. After all, a lot of buyers won't need a $200,000 loan from the bank. However, they will need a loan, and the banks will reject them.
What do buyers want? They want low down payments or no down payment. They are willing to pay higher prices and higher interest rates if the owner seller will give them an installment sale.
WHAT IS AN INSTALLMENT SALE IN REAL ESTATE? – BUYER CREDIT SCORES
Thousands of buyers have poor credit scores, and the banks and other lenders will turn them away.
These buyers may be people who have had difficulties. Good people are not immune to difficult problems.
For example, divorce creates credit problems, and FICO scores drop dramatically. Past foreclosures with banks hurt credit scores. Mistakes and mismanagement of credit card payments damages FICO scores.
WHAT IS AN INSTALLMENT SALE IN REAL ESTATE? – CASH FLOW FROM INSTALLMENT SALES
Installment sales are okay, if the buyer has longevity of employment and a good paying job.
Installment sales usually have interest rates considerably higher than local banks.
Owner seller generated financing will bring high prices and high cash flow when using an installment sale.
WHAT IS AN INSTALLMENT SALE IN REAL ESTATE? – INSTALLMENT SALE CONTRACTS
Installment sales may be called land contracts, contract for deed, or contract for sale. Good places to find a real estate installment sales contract template would be a title company or an attorney.
Savvy owners sellers do not turn the title over to the new buyer until the contract is fully paid.
Long term, this holding of the title by the seller gives the seller significant security and assures the owner seller all payments will be made on time.
Who benefits most from an installment sale? Both parties do. The owner is able to sell a property and receive an income stream, and the buyer who may not qualify for a bank loan is able to become a property owner. Win-win.
TAKEAWAY
We hope you enjoyed Ted's lesson, "What Is an Installment Sale in Real Estate?"
We're all familiar with installment sales, making monthly payments on an item we can't afford to buy outright whether it's a vehicle, appliance, or home.
Technically, a mortgage or deed of trust loan is an installment sale. You make monthly payments to the bank, and you only take ownership of the property when the loan is paid in full. However, not all buyers can qualify for a bank loan.
Some people have poor credit scores, and banks refuse to loan to them even if they earn enough to afford a mortgage payment. This could make them good candidates for seller financing.
Seller financing is when the property owner acts as a bank and draws up a contract with the buyer, then the buyer makes the down payment and monthly payments directly to the property owner.
The contract may contain terms like price, down payment, monthly installment payments, interest rate, contract duration, and who is responsible for taxes and insurance. It's prudent for the owner to hold onto the title until the contract is paid in full.
This is a win-win for buyers and sellers. The seller can profit from both the sale of the property and the seller financing, and the buyer can purchase real estate without qualifying for a bank loan.
If you'd like to learn more about how to profit from real estate, there's no one more qualified to teach you than Ted Thomas, America's leading authority on tax lien certificates and tax defaulted property investing.
Ted Thomas is the only one who provides full support and complete training with home study courses, Q&A webinars, live tutorials, workshops & web classes, and personal one-on-one coaching.
Get started today at no cost with Ted's FREE Master Class, that reveals the incredible opportunities available in tax defaulted real estate. The class is only about 1 hour of streaming video and contains life-changing information! You can't afford to miss it!