Selling properties with owner financing is popular in the real estate industry, but what if you're a buyer? Learn how to buy a house from owner financing. I'll show you how it works!
Buyers generally are bargain hunters when they start a real estate career, unless they already have a savings account, pension plan, self-directed IRA account or ROTH account.
Bargain hunters and newcomers may or may not qualify at the local bank for a real estate loan which is usually a long-term loans with a low interest rate, meaning the payments are going to be affordable.
The natural alternative for these bargain hunters is to search for seller financing which may be advertised in many different ways, local newspapers, penny savers, Craigslist, signs on properties and dozens of electronic websites.
Many sellers understand that the availability of money is more important to the buyer than the interest rate.
Want to learn how you can make big profits from real estate? Would you like to buy homes for pennies on the dollar? Or earn double-digit interest rates? Get started today with this FREE mini class on how to prosper beyond your wildest dreams from tax liens and deeds!
INTEREST RATE
Now let's elaborate on that subject. The availability of property is more important than the interest rate to many buyers.
For example, banks are lending at low interest rates and willing to lend to A-rated customers, people with good to excellent credit ratings and high FICO scores of 700+.
The banks have high standards and want to lend to those who fit into guidelines that the bank determines.
For example, the bank determines they want high FICO scores, borrowers who have been employed in the same place for many years and wages that are high. These are just a few of the standards. This all works for the banks.
TAX DEFAULTED PROPERTY
My experience in the last 30 years has been in the area of real estate that's known as tax liens and tax deeds. This is not standard real estate. I tell you that because we as investors buy properties for pennies on the dollar.
The properties are unwanted. They have been overlooked by most. However, they are perfect because these properties are discounted by the county treasurer and tax collector.
The local county governments sell tax defaulted properties at auction for 60%, 70%, and 80% discounts from the tax assessed value.
SELLERS
Today I'll answer your question about how to buy a house from owner financing. First of all, there are many different types of owners.
For example, Mom and Pop homeowners are downsizing. They want to move into a smaller living accommodation.
For a moment, think about how many families have sons, daughters, or parents living in extra areas of the home, maybe a basement or a refurbished attic, or even extra bedrooms at the back of the house.
SELLER FINANCING
Many sellers, if they know how, are good prospects for selling with owner financing.
Bargain hunters are looking for bargains.  However, if you have no money, the bargain may be the financing and the deal.
Seller financing generates money for the seller. If the down payment and the installment payments fit your standards, you could get started.
What's more important? The price, the interest or getting started?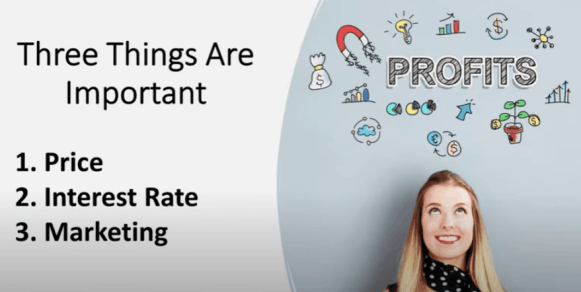 MOTIVATED SELLERS
Many sellers are willing to use seller financing, like a young or old entrepreneur who fixes and rehabilitates used and abused properties with updated kitchens, cleaned up bathrooms, paint and landscaping.
Cosmetically it looks good, but what if the market is bad and the banks aren't financing?
These sellers become desperate they need to cash out. They need to develop revenue. This is a perfect opportunity for the new bargain hunter who wants a low down payment and long term financing.
Seller financing generates revenue. One party needs revenue, and another party needs assets to grow the portfolio.
A TRIED AND TRUE METHOD
Seller financing is an option for anyone who owns assets. Installment sales work to sell a boat, a cabin in the woods, or for owner financing commercial property, and it also works for owner financing homes.
As the population grows older, many are seeking revenue with no additional work, and they are nervous. They want security and payments into the future.
Selling assets without transferring title and not using a mortgage is not a new concept. This has been going on for 1,000 years.
Wise home sellers generate secure retirement income by developing seller financing.
I have a free gift for you, a 1-hour, streaming-video master course that will teach you the secrets of one of the safest high yielding investments available and how to generate massive cash flow and residual income streams from real estate.
This Free Course will show you how to get started on the road to success. Take charge of your financial future today!
THE CONTRACT
How does seller financing work? Sellers advertise and promote seller financing and use title companies to draw up legal contracts, or they use attorneys.
Selling this way with a contract is casually referred to as an owner finance contract for deed or contract for sale.
TERMS OF THE CONTRACT
These are legal contracts that outline the terms of the transaction, for example:
Who pays property taxes on owner financing?
What are the number of years of the contract?
What's the amount of the installments?
Who pays the insurance?
What's the interest rate?
What's required for annual maintenance?
Who holds the deed in owner financing?
Security of the investment is important when an owner is providing financial assistance. Therefore, owners should retain title; they should keep the deed in their own name.
VALIDITY OF THE CONTRACT
Seller financing using a contract allows the seller to write specifically within the deed that the seller retains the title. Additionally, the contract will stipulate installment payments must be on time, taxes paid in full, and insurance kept current.
These are all security issues for seller financing, using a contract which is valid only when payments are current, on time and full payments.
If for some reason, the buyer abandons the property, refuses to pay installments, or defaults on the taxes or the insurance, the seller may take action to evict and protect their investment, ultimately reclaiming the property and starting the process over.
MAKING A DEAL
If you are getting started, here's how to buy a house from owner financing and even get a deal.
If the economy is in a slump and banks are not aggressively lending for home purchasing, there will be an abundance of flexible sellers. Your down payments and installment payments will be lower as markets dictate.
Seller financing can be a process. Keep in mind, getting the property (asset) is important. You can't grow without assets.
Sellers generally need income and not assets. Assets produce income.
Once again, for a newbie or a bargain hunter getting the property may cost slightly more, and the interest rates might be slightly higher. However, it's possible to make the deal.
If the banks won't lend and your friends won't lend and there is no market to gain money, seller financing is what you want.
Many bargain hunters negotiate too hard, and they don't get the asset. They brag about not paying high interest, but they also may not be getting any properties.
GROW WITH BORROWED MONEY
Let's review. Seller financing is sellers who want revenue. So to give them what they want, you give them revenue. In return, they assign you the asset for a very small amount of money.
If the asset grows slightly, your return on investment will be very high. You grow with borrowed money, and Uncle Sam lets you deduct interest from your earnings that helps your returns.
TAKEAWAY
We hope you enjoyed Ted's lesson, "How to Buy a House from Owner Financing."
If you can't get a home loan from your bank due to your credit score, you could consider purchasing a house from a seller willing to do owner financing. The property owner may even be willing to do so at your suggestion if the owner is motivated to sell quickly.
It's important that you know how to buy a house from owner financing. It's not hard. A suitable contract could be picked up at a local title company or from an attorney.
Owners sell properties themselves all the time. It's just a matter of having a proper contract with terms that both parties can live with.
The type of contract normally used for owner financing is called a contract for deed or contract for sale. Then the seller draws up the terms, like the number of years, amount of the installments, interest rate, who pays taxes and insurance and annual maintenance requirements.
Expect to pay more in interest than you would on a bank loan and for the seller to retain title, however it's a win-win way for you and the seller to complete the sale and make you into a homeowner!
If you'd like to learn more about investing in real estate, there's no one more qualified to teach you than Ted Thomas, America's leading authority on tax lien certificates and tax defaulted property investing.
Ted Thomas is the only one who provides full support and complete training with home study courses, Q&A webinars, live tutorials, workshops & web classes, and personal one-on-one coaching.
Get started today at no cost with Ted's FREE Master Class, that reveals the incredible opportunities available in tax defaulted real estate. The class is only about 1 hour of streaming video and contains life-changing information! You can't afford to miss it!