Today I'm answering your question, "Is tax forfeited property a good investment?" and the topics I'm going to cover are:
Want to learn how to purchase bargain real estate? Would you like to buy mortgage-free property for pennies on the dollar? Or earn double-digit interest rates secured by real estate? Then you don't want to miss this FREE Mini Course.
Investing in Tax Forfeited Real Estate
You're about to discover an alternative investment that's different from the traditional real estate world. I'm referring to the non-traditional real estate of tax lien certificates and tax forfeited property, called tax defaulted real estate.
My name is Ted Thomas, and I've been involved in the alternative investment of tax defaulted properties as an investor for over 30 years.
Newcomers will find an abundance of tax defaulted properties that are available at the right price. These are properties the owner has forfeited for lack of payment of property tax.
What Is a Tax Forfeiture?
Property tax forfeiture is a process where the state takes ownership of the real estate if taxes are not paid, and it's very likely that the mortgage has been extinguished.
The tax forfeited land, homes, and businesses have been confiscated by the local government for non-payment of property taxes. This is a forfeiture.
The county's objective is to collect past due taxes or confiscate the property and sell it to generate revenue to pay the back taxes.
To the treasurer, the tax roll is very important. Since forfeited properties are not paying taxes, they are not generating money for the county.
Counties recoup the delinquent tax revenue on forfeited real estate by selling either a tax deed or a tax lien.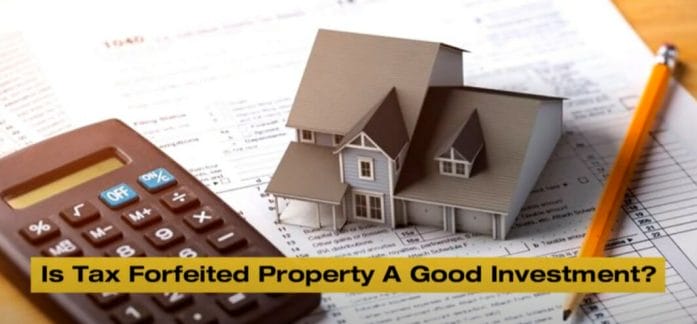 Tax Delinquent Properties Sold at Tax Deed Auctions
Tax deeds are sold in approximately half of the states, and a tax deed sale is really an auction to the highest bidder. A tax deed auction gives the purchaser instant ownership.
It's not unusual for tax deed properties to be auctioned with starting bids of the delinquent past due taxes which could be as low as 10 to 20 cents on the dollar, significantly below the tax assessed value.
Savvy investors purchase tax defaulted real estate (forfeitures) that have been discounted by 60%, 70%, and 80% below the tax assessed value.
The auction is a public auction, and anyone can attend. The local county will auction properties on the courthouse steps, also on their website, and maybe even on a special auction site. Auctions are listed and announced in the local newspaper and on the county website.
The large population counties will have hundreds of forfeited tax defaulted properties to auction, while smaller population counties may have dozens of tax forfeited properties for sale.
I have a free gift for you, a special mini course that will show you how to profit with tax lien certificates and reveal the secrets of tax deed investing. Get your FREE gift today.
Tax Lien Certificates Sold at Property Tax Lien Sales
Tax lien certificates are available in the other half of the states and counties in the United States. The process starts with a tax lien certificate auction. This is a method the county uses to force owners to pay unpaid taxes.
At a tax lien certificate auction, the county treasurer does not sell the property but instead sells the delinquent taxes to investors.
The county covenants that the investor will be paid a high interest rate, or if the certificate is unpaid, the investor will receive the property after due process of law.
Tax lien certificates pay interest rates of 16%, 18%, 24%, and even as high as 36%.
Non-payment of a tax lien certificate will lead to the ultimate foreclosure which is a forfeiture of the property. At that point in time, the certificate purchaser will take possession, and the county will extinguish the deed of trust and mortgage loan.
Are Tax Sale Properties a Good Investment?
So is tax forfeited property a good investment? My answer is maybe!
If the property is in good condition and has value, purchasing with no deed of trust and no mortgage could be a bonanza.
In the real world, tax forfeited properties are used and abused. Sometimes they're junk, but many properties only need cleaning up and could be lived in or resold.
Research is required to be successful. Properties are sold at bargain prices because tax defaulted properties are rarely well taken care of or pristine just built properties. Don't buy junk. Only buy properties that can be resold quickly.
So now let's revisit the question, is tax-forfeited property a good investment? My answer is yes, if you know the rules and do your homework. I also suggest you use a coach or a guide to learn the process.
Conclusion
We hope you enjoyed Ted's lesson, "Is tax forfeited property a good investment?"
Tax forfeited property can be an excellent investment if you do your due diligence. Though tax forfeited properties can be purchased mortgage-free for pennies on the dollar, they are sold as-is. Therefore, be sure to do your research before bidding on a property.
If you'd like to know more about tax forfeited property investing, Ted Thomas provides full support and complete training with home study courses, Q&A webinars, live tutorials, workshops, web classes, and personal coaching with certified coaches.
Learn how to reap huge rewards from tax lien and tax deed investing! Get started today by taking advantage of Ted's Free Master Class! Act now, it costs you nothing and will give you a big head start!
Ted Thomas is America's Leading Authority on Tax Lien Certificates and Tax Deed Auctions, as well as a publisher and author of more than 30 books. His guidebooks on Real Estate have sold in four corners of the world. He has been teaching people just like you for over 30 years how to buy houses in good neighborhoods for pennies on the dollar. He teaches how to create wealth with minimum risk and easy-to-learn methods.