HOW TO BE SUCCESSFUL IN REAL ESTATE
Learn how to be successful in real estate in a little-known sector of the market where you can get mortgage-free property at amazing discounts and make big profits from selling it fast!
Real estate is a very broad category. Traditional real estate is thought of as homes, small farms and small retail buildings, but mostly homes.
I you're wondering, "How do I start a career in real estate?" look before you leap! In the boom markets for real estate, the National Association of Realtors (NAR) will have in excess of 1 million members. First of all, that's a lot of competitors.
In the poor real estate or down markets, the NAR will have only 500,000 or less members. Ask yourself what happened to the other 500,000? You don't want to be one of those unemployed, unplugged people.
I'm Ted Thomas. I've been involved in a small subset of the traditional real estate market for more than 30 years, and today I'll show you how to generate $25,000 or even $50,000 on one transaction.
Want to learn how to be successful in real estate? Would you like to buy mortgage-free property for pennies on the dollar? Or earn double-digit interest rates secured by real estate? Then you won't want to miss this FREE mini class.
HOW TO BE SUCCESSFUL IN REAL ESTATE AS AN AGENT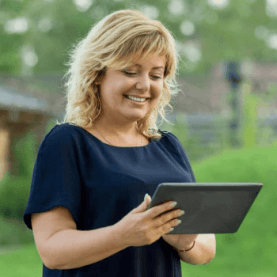 Today I'm answering your question about how to be successful in real estate. First, we'll discuss a career as a real estate agent, then we'll move on to investing.
If you want to be an agent and buy and sell in most states, you're going to need a license from the governor of the state. This involves passing an exam to make sure you know everything.
In real estate, to be valid when it comes to deal-making, it must be in writing.
Take a step back in time. Learning and knowledge are respected by all. For example, years ago the trade unions began what they called an apprentice system for plumbers, carpenters, and electricians. I'm sure you get the idea.
The objective was to train people to do things the correct way so that work was trusted and the consumer would realize an apprentice was different from a journeyman and considerably different from a master.
I you want to learn how to become a real estate agent and save yourself heartbreaking failure and lawsuits or getting fired from a job, you need to pay a mentor, a coach or a guide or attend lengthy training to learn how to be a successful real estate agent your first year.
Most real estate companies of any substance will hire you with little training and little experience and allow you to learn under an experienced journeyman or master.
Mistakes are costly, and they not only cost a lot of money, but people lose confidence when they understand that you don't have experience.
HOW TO BE SUCCESSFUL IN REAL ESTATE INVESTING
Turning back to real estate. Do you want to be successful? Are you a good networker? Do you understand there will be strong competitors? Are you willing to learn from others and build a business?
You need skills that can be taught in school, however, they can be learned quicker working with a coach or mentor, even though you are licensed and you passed many exams which the governor said you must pass. There is a lot to learn.
Your friends can't show you how to be successful in real estate. After all, they are your friends. That probably means they're just like you.
What I'm about to tell you is an important step. It's an attitude and one of the attributes of successful people.
If you'd like to cash in on a hidden gem of the real estate market, I have a free mini course. It's a free gift from me to you that will teach you the secrets of tax lien certificates and how to profit in tax deeds.
LEARNING HOW TO BE SUCCESSFUL IN REAL ESTATE
When I started, I asked successful, experienced business people what enabled them to earn money and operate businesses, what they did specifically daily, hourly and weekly to succeed.
When they answered, I listened. I made notes, and then I tried what they told me would work. That was a shock. Slowly things changed for the better.
What they told me from experience, not from book learning, not from a professor, not from a teacher, worked, and it worked for me the same as it worked for them.
Here's an example.
If you wanted to climb mount Everest, the highest mountain in the world, would you want to learn from Sir Edmund Hillary the first man to reach the top of Everest, or would you want to learn from his cousin who has never left Manchester, England?
The business of choosing the right coach, mentor and guide determines your future. Choose wisely. It doesn't matter how much money it costs; it's your future. The lesson is, if you choose, and whatever you choose, will have consequences.
AN EXAMPLE OF HOW TO BE SUCCESSFUL IN REAL ESTATE
Let me lighten up and give you a practical example of how to be successful in real estate.
Debra makes her home outside the United States in a teensy little town surrounded by mountains and crystal-clear lakes, like you see in National Geographic on TV. All of this beauty is in the middle of British Columbia, Canada.
Debra built a generous portfolio together with her husband. She told me her story about 2 decades of trying to find a guide. Each year, she hired a professional to help grow her portfolio. This took place for 20 years.
She hired financial planners, stock brokers, investment advisors, real estate brokers, CPAs, and attorneys, and she always gave them the same simple goal. She wanted a 5% annual return on her portfolio.
In 20 years of hiring different experts, she never once earned the 5% on her portfolio, and in some years, she lost money. There is a lesson here.
HOW TO BE SUCCESSFUL IN REAL ESTATE WITH THE CORRECT HELP
She didn't believe my presentation when I talked with her group. She challenged me. I mean, she challenged me to make 5%. I told her I couldn't do that, but I could teach her to do that.
To be clear, I don't take clients' money. She needed to control her own destiny. I taught her what I teach on this site.
How long does it take to be successful in real estate? Well, she was successful on her first deal.
Her first purchase was a small $25,000 investment. This investment turned out to be a tax defaulted property that when she opened the door, was fully furnished.
She cleaned, tidied up and rented the property for an annualized return of 35%.
Is it hard to be successful in real estate? Your choices have consequences. My answer is simple. Choose the correct help, and you'll be successful.
HOW TO BE SUCCESSFUL IN REAL ESTATE WITH TAX DEFAULTED PROPERTY INVESTING
What is tax defaulted property investing,? All across the USA, counties and municipalities hold auctions on tax delinquent properties. This real estate was seized and is then sold at auction due to unpaid property taxes.
The bidding at a tax defaulted auction starts around the amount of the back property taxes owed.
Since property taxes are a small fraction of a property's assessed value, it's possible to purchase real estate for 10, 20, or 30 cents on the dollar at these auctions, which are held online, offline or both.
On top of that, the county deletes the mortgage, so you get the property mortgage-free.
Purchasing at a deep discount leaves you with a big profit margin, which enables you to sell the property at a discount for a quick sale.
So, if you want to know how to be successful in real estate, then buy low at a tax defaulted auction, sell it low, and move on to the next property. This is a repeatable process that leads to wealth!
CONCLUSION
We hope you enjoyed Ted's lesson, "How to Be Successful in Real Estate"
30-years ago, Ted discovered a hidden gem of the real estate industry, tax delinquent property, and learned that he could get amazing discounts on properties sold at tax defaulted auctions.
If you want to know how to be successful in real estate, an important lesson is that you make your money when you buy, and you only collect your money when you sell.
The key is purchasing property at a price that leaves you with an excellent profit margin.
Since you can purchase real estate for pennies on the dollar at a tax defaulted auction, you can sell the property at a discount, which leads to a quick sale.
The one-percenters have known how to profit from tax delinquent property for generations. Now it's your turn!
If you'd like to know more about how to be successful in real estate in this little-known market, there's no one more qualified to teach you than Ted Thomas, America's leading authority on tax lien certificates and tax defaulted property investing.
Ted Thomas is the only one who provides full support and complete training with home study courses, Q&A webinars, live tutorials, workshops & web classes, and personal one-on-one coaching.
Get started today at no cost with Ted's FREE Master Class. It's only about 1 hour of streaming video and will open your eyes to the incredible opportunities available in tax lien certificates and tax deed investing.