Find out how to buy auction homes in California at amazing discounts! Real estate prices in the Golden State are sky high, but here's a way you can get California properties for pennies on the dollar!
Today I'll answer your question about how to buy auction homes in California.  You'll find this report eye opening and almost amazing.
After spending 35 years as a resident of California, I moved to Florida.  California residents work hard to find bargains, and the real estate is very costly. 
Want to learn how you can make big profits from deep discount real estate? Would you like to buy nice homes for pennies on the dollar? Or earn double-digit interest rates? Then you don't want to miss this FREE mini class. 
CALIFORNIA IS A COMPETITIVE MARKET
There are forty million residents in California, and a large percentage want to own real estate. This translates to a competitive market because everyone would like to take advantage of rising prices.  They want to enjoy appreciation.
There is a solution to that which I'll explain when I show you how to buy auction homes in California.  I can assure you there will be plenty of properties to choose from. 
AUCTION HOMES IN CALIFORNIA – THE BASICS
Let's get started with the basics about overall auctions in this market. 
All 58 counties will post and announce many auctions every week.  From north to south, in California you'll find thousands of foreclosure real estate auctions. 
These are properties whose owners failed to make payments on their installment loans. 
WHAT IS A DEED OF TRUST
The loans are referred to as mortgages.  Although in reality, these loans are deed of trust documents.  This is the source, the method, the lender uses to make loans with installment sales in much of the western part of the United States.
California law and processes have very special rules regarding payment of the deed of trust.  No attorney is required if the homeowner defaults on the deed of trust loan. 
If the homeowner fails to make installment payments, the law allows the lender, which may be a bank or institution, to begin a foreclosure when the homeowner fails to make installment payments.
FORECLOSURE AUCTION
Once the bank or lender has initiated the foreclosure process, the process will last 111 days.  At the conclusion of the 111 days, a trustee will conduct an auction on the courthouse steps. 
The starting bid at that auction will be the total amount of the deed of trust plus taxes and fees.  
California-wide, thousands of properties will enter default each year.  Each county will have dozens, and some counties will have hundreds of auction properties weekly and monthly. 
This is all regarding loans on properties.  The loans are not called mortgages, they are called deeds of trust loans.  The rules are different.  
If you're interested in making big profits from real estate, I have a free gift for you, a 1-hour, streaming-video mini course that will teach you the secrets of tax lien certificates, a lucrative passive investment, and how to create massive cash flow from tax deeds.
TAX DEED AUCTION
Another auction takes place annually in California. This is the auction for nonpayment of property taxes.  California has many very liberal rules requiring nonpayment of property taxes.  
Each of the counties will be authorized to have one or more tax defaulted auctions each year.  The treasurer is following very liberal policies that are set at the legislature.  
California is very lenient, almost benevolent, when it comes to pushing property owners out of properties which have delinquent property taxes.  
The state legislature allows the county treasurer to send tax bills including delinquent tax bills to the property owner for 5 years.  At the conclusion of 5 years, the treasurer will take action and demand payment.  
Keep in mind, I'm not an attorney or real estate broker.  I'm giving you my understanding as an author, publisher and investor.
TAX DEFAULTED PROPERTY
The legislature is comprised of elected lawmakers. This group has authorized and mandated that the treasurer confiscate, that is, seize the property after many years of delinquent nonpayment of taxes.  
Once the county has seized the property, the county treasurer will announce in the local newspaper and publish on the county website that they will be conducting a tax defaulted auction. 
At the auction, the starting bid for the property will be 5 years delinquent taxes plus any penalties and fees that may have accrued.
 A MORTGAGE-FREE PROPERTY
The properties will be sold with no mortgage.  That means there will be no lien on the property when it is sold.  
The state of California has authorized the local counties to delete and extinguish from the official public records all references to delinquent loans, and the purchaser will be free from any liens including the deed of trust loan.  
This is a list from a past auction sale in Los Angeles.  
All 58 counties in California are authorized to auction real estate to the highest bidder and remove encumbrances like deeds of trust or mortgage. 
The low-population counties can be expected to have dozens of tax defaulted properties.  The high-population counties could easily have 1,000 to as many 2,000 properties available for auction.  
TAX DEFAULTED PROPERTY AUCTION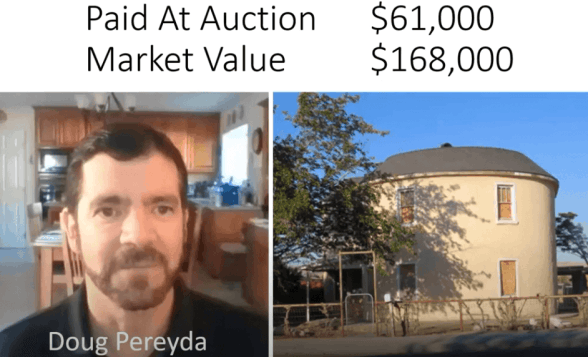 This is Doug Perada.  He bought a property with a starting bid of the back taxes and paid $61,000 for a property with a market value of $168,000.  That's much different than buying a property or home at a regular foreclosure auction.
He bought that property at a tax defaulted auction.
Here's another example.  Rene purchased a residential lot at auction with a tax assessed value of $150,000.  He paid only 6 cents on the dollar online.  
You're not going to find that at bank foreclosure auctions. This is a tax defaulted property auction.
All counties are authorized to auction tax defaulted property and to remove mortgage or deed of trust loan from the county records. 
HOW TO BUY AUCTION HOMES IN CALIFORNIA – AUCTION RULES
California auctions may be well attended.  The county will discourage visitors and lookie loos by charging a deposit of $5,000 at 3 weeks before the auction is scheduled.  
The state of California doesn't consider the auction entertainment.  They only expect serious auction bidders, and the $5,000 will be part of the deposit.  For buyers that do not bid, the $5,000 will be returned.  
All auctions have rules and processes.  If you don't know the rules, I'd suggest you not attend until you do.  
Unfortunately, from time to time, auction buyers do not follow the rules, and I can assure you the treasurer will be present.
The treasurer has power. He will use that power and authority to have you removed by a sheriff's deputy for bad conduct for not following the rules.  
HOW TO BUY AUCTION HOMES IN CALIFORNIA – A BIG MISTAKE TO AVOID
My experience is that only very few of the attendees are profited, and many amateurs overbid at the auction.
Unfortunately for them, they purchase property that's worthless because they've rarely used a guide, mentor or coach to help them.  This is a big mistake that is costly, and in many cases, in thousands of dollars in overpayments.
So are auction homes a good investment? Absolutely, if you know what you're doing.  The educated buyer can make a year's pay on one deal.
CONCLUSION
We hope you enjoyed Ted's lesson on How to Buy Auction Homes in California in which Ted explains 2 types of auctions.
The first is the foreclosure auction which occurs when the property owner fails to pay the loan on the property. Since California is a deed of trust state, the foreclosure process happens more quickly than it would for a mortgage.
The foreclosure process lasts 111 days, then the trustee will auction the property for the amount of the deed of trust plus taxes and fees.
The second type of auction is a far more lucrative one for bargain hunters.  This is the tax deed auction, which is also called a tax defaulted property auction. This occurs when the property owner has failed to pay the property taxes.
At a tax defaulted auction, the bidding will start at the amount of the delinquent property taxes plus penalties and fees, and the mortgage (deed of trust) will be wiped out.
In a nutshell, at auctions on foreclosed homes in California, the bidding starts around the amount of the deed of trust plus the taxes, while at tax defaulted auctions, the bidding starts around the amount of just the property taxes and the deed of trust is extinguished.
If you'd like to know more about how to buy auction homes in California or anywhere in the USA, there's no one more qualified to teach you than Ted Thomas, America's leading authority on tax lien certificates and tax defaulted property investing.
Ted Thomas is the only one who provides full support and complete training with home study courses, Q&A webinars, live tutorials, workshops & web classes, and personal one-on-one coaching.
Get started today at no cost with Ted's FREE Master Class. It's only about 1 hour of streaming video and will reveal the incredible opportunities available in tax defaulted real estate and how you can make life-changing profits!