CAN YOU INVEST IN REAL ESTATE WITH A ROTH IRA?
Can you invest in real estate with a Roth IRA? Is there more you could be doing with that money? I'm about to show you an incredibly powerful combination, tax deductions and real estate investing!
Let me start with a brief definition of the acronym "IRA." It's common for people to say IRA. Unfortunately, a lot of people have no idea what those initials actually stand for.
So, a brief explanation is IRA stands for individual retirement account. It was meant to be an additional benefit. Think of it as a parallel to the social security system.
Today I'll answer your question, "Can you invest in real estate with a Roth IRA?"
You'll like the answer, and you'll be happy with the result when you do so.
Want to learn how you can make big profits from bargain real estate? Would you like to buy mortgage-free homes for pennies on the dollar? Or earn double-digit interest rates? Learn how to secure your financial future with this FREE mini class today!
CAN YOU INVEST IN REAL ESTATE WITH A ROTH IRA? – ROTH IRA INVESTMENTS
I'm Ted Thomas, and I've been investing, guiding, teaching and coaching others about the advantages of investing and growing financially using tax liens and tax deeds for over 25 years.
Today I'll discuss Roth IRA investments.
CAN YOU INVEST IN REAL ESTATE WITH A ROTH IRA? – AN EXCEPTIONAL WAY TO MAKE MONEY
To start with, this is an exceptional way to make money. IRA accounts are almost too good to be true. When you fully understand the benefits, you'll want to be part of this government-approved and mandated system.
I'm not a CPA, an attorney or a salesman for IRA accounts. I am a prepared tax lien and tax deed investor, coach and mentor.
My information comes from decades of experience working in the trenches, researching, buying and selling tax liens and tax deeds which are sold at public auctions.
CAN YOU INVEST IN REAL ESTATE WITH A ROTH IRA? – TAX DEFAULTED PROPERTY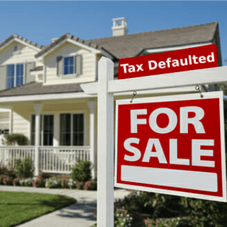 So what does a Roth IRA let you invest in? Can you use a Roth IRA to buy a house?
Many of my student investors have followed my suggestions and guidance and have become wealthy with tax lien certificates by purchasing and reselling. They have also become wealthy with tax deed properties.
For example, Mr. S., using his Roth IRA account, purchased a property at a tax defaulted auction. It was one of those amazing situations where no one else bid.
Using his ROTH IRA funds, he purchased a 3-bed, 2-bath home with a swimming pool and a 2-car garage with cars in the garage and a boat parked near the pool.
CAN YOU INVEST IN REAL ESTATE WITH A ROTH IRA? – TAX DEFAULTED AUCTION
The auction took place on the courthouse steps. Other bidders did not raise their hands.
His total investment was $3,000, and the tax assessor valued the house at $55,000.
The auctioneer said going once, going twice, going 3 times… and Mr. S. owned the property. It wasn't perfect but a little clean-up and a little paint went a long way.
CAN YOU INVEST IN REAL ESTATE WITH A ROTH IRA? – NONTAXABLE PROFITS
All of the profit on the purchase price to the ultimate sales price, all of the it, remains in the Roth IRA, and it's not taxable.
For Mr. S., this was not his first property, and he had previously learned that many newcomers are looking for financing. So, he sold the property with an installment sale.
CAN YOU INVEST IN REAL ESTATE WITH A ROTH IRA? – AMAZING PROFITS
Now, we are about to see the unbelievable profits that can happen. Keep in mind, his total original investment was $3,000, and he sold the property by seller financing it for 7 years at $800 a month.
So, for 84 months, he will receive $800. The total from the buyer will be $67,200, and all of the profit is nontaxable within the Roth IRA. Okay, now you're getting the idea.
Again, I'm not a CPA. I'm not an attorney. My knowledge comes from working in the business and on the business with savvy people who can follow guidelines and want to make retirement money.
CAN YOU INVEST IN REAL ESTATE WITH A ROTH IRA? – IRA ACCOUNTS
The IRA account which is titled Roth IRA is a special account. The original IRA was called a traditional IRA.
These accounts became so popular because they allowed investors, big and small, to take tax deductions and put money in a bank. In the case you have just heard about, big money was made on a small investment.
CAN YOU INVEST IN REAL ESTATE WITH A ROTH IRA? –  A BRIEF HISTORY OF THE IRA ACCOUNT
IRA accounts are a relatively new phenomena, created by the Congress of the United States about 40 years ago. The accounts were originally created by insurance companies and banks, and they hired lobbyists to present their findings to Congress and make it a tax deduction.
The important words here are "IRA accounts." They start out as tax deductions, and everyone likes tax deductions.
The insurance companies and the banks wanted more deposits. Their motivations were honorable. They wanted cheap money to grow. The government awarded them this gift, and all investors qualify for an IRA account.
I have a gift for you, a Free Mini Course, that will reveal the secrets of tax lien certificates and how to make big profits with tax deeds. Be sure to take advantage of it. It's a great way to get started, and it costs you nothing. 
CAN YOU INVEST IN REAL ESTATE WITH A ROTH IRA? – RETIREMENT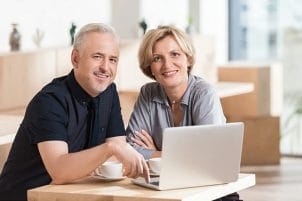 There are many retirement programs, and I'm no expert, but you've just seen how well our investors are doing by formulating an IRA account.
The objective was to let people control their own money, and that would improve their retirement situation. It certainly is doing that.
Buyers with a long-term view of investments need to think and learn about IRA accounts.
Most people start with a traditional IRA account. As you become qualified, you'll want a Roth IRA account. It's an easy transition and you control your own destiny. However, there are some cautions.
CAN YOU INVEST IN REAL ESTATE WITH A ROTH IRA? – SELF-DIRECTED IRA
To be successful and control your destiny, you must have a self-directed account. This account allows tax money/deductions to build the account. Self-directed is very important.
The history of these accounts is they were developed and created by insurance companies.
Unfortunately, the insurance companies call the accounts self-directed. Here's the caution. The insurance companies and banks mean you can only purchase insurance or bank products. That's not very self-directed.
You need a true self-directed account that involves custodians and trustees to handle the money. It's not complicated, and I'm a tax lien certificate and tax deed guy. So, you need some help.
CAN YOU INVEST IN REAL ESTATE WITH A ROTH IRA? – TAX LIEN CERTIFICATES
With traditional IRA accounts, most purchase tax lien certificates.
A good example would be an investor purchases a $2,000 tax lien certificate in Arizona which pays 16%. In a perfect world, the certificate would pay off on the 365th day, and the investor would earn 16%.
If the investor goes out and spends the money, that's okay, its theirs.
CAN YOU INVEST IN REAL ESTATE WITH A ROTH IRA? – COMPOUNDING THE HIGH INTEREST
Another formula which my students find successful, is to take the principle $2,000 plus the earning at 16% and reinvest the whole thing in another tax lien certificate. Once again, in a perfect world, that would pay off in a year.
Again, take the principle and interest, roll it over, and keep doing it.
The point I'm making is $2,000 growing at 16%, at the end of 20 years, would be nearly $40,000.
CAN YOU INVEST IN REAL ESTATE WITH A ROTH IRA? – TRADITIONAL IRA VS ROTH IRA
All that assumes a perfect world. In both instances, the example shows significant profit.
Why? First of all, the traditional IRA pays no taxes on the growth, however, the account will pay taxes as the money is withdrawn.
The Roth IRA pays taxes initially and then no taxes on the profit.
CAN YOU INVEST IN REAL ESTATE WITH A ROTH IRA? – CONTROL YOUR DESTINY
Nothing in life is perfect. You must be careful.
Of course, you can invest real estate in your IRA. The accounts were initially only with banks and insurance companies. Now, you need a self-directed IRA, and the self-directed IRA must have a custodian and a trustee.
The whole process I've discussed in this lesson is how to control your own destiny, and you do that with a truly self-directed IRA.
TAKEAWAY
We hope you enjoyed Ted's lesson, "Can You Invest in Real Estate With a Roth IRA?"
Yes, you absolutely can invest in real estate with a Roth IRA for amazing tax savings.
Additionally, an incredibly powerful combination is using a Roth IRA to purchase tax delinquent property. The tax savings of the Roth IRA combined with deep discount real estate investment can generate massive wealth.
At a tax defaulted property auction, the starting bids begin around the amount of the delinquent property taxes owed. So you can purchase real estate for pennies on the dollar, and you get the property without a mortgage.
Now combine the tax savings of using a Roth IRA to invest in tax defaulted property, and you have a recipe for wealth creation.
To do this, you would need to use a genuinely self-directed IRA. If you use a traditional IRA, you won't pay any taxes on the growth, but you would be taxed on the money you withdraw.
However if you use a Roth IRA, you initially pay taxes, but you won't pay any taxes on the profit.
If you'd like to know more, Ted Thomas can teach you. For over 25 years, Ted's been showing students how to successfully invest in bargain real estate.
Ted Thomas offers full support and a complete training with home study courses, Q&A sessions, live tutorials, workshops & web classes, and personal coaching.
Learn the secrets of making money in real estate previously only known to the one-percenters with Ted's FREE Master Class. It costs you nothing and only takes about an hour of your time. Change your life today. Why wait?