Attending your first online property auction doesn't have to be confusing if you know the rules and do your homework. Let me show you how to prepare.
Online property auctions offer incredible opportunities to find real estate bargains for pennies on the dollar, and you can do it conveniently from any location where you have an internet connection.
You can mitigate the risks and increase your profit potential by showing up at online property auctions well prepared. Let's discuss how to vet tax delinquent real estate to find the best deals.
Today I'm answering your questions about your first online property auction, and the topics I'll be covering are:
Tax Sale Properties Are Sold Online
I'm Ted Thomas, and I've been involved in a subset of the traditional real estate business called tax defaulted real estate for more than 30 years.
These properties are single-family homes, small apartment properties, office buildings, smaller farms, and vacant residential lots just like in traditional real estate. The difference is that the property owners have failed to pay property taxes.
These properties will be seized by the county and auctioned to the highest bidder at a tax-defaulted real estate auction with the starting bid at just the back taxes.
Starting bids could be as low as 5-10 cents on the dollar. Simultaneously, the county treasurer will cancel the mortgage or the deed of trust loan.
It is not unusual for properties to be sold for 60%, 70%, or 80% or more below the tax assessed value.
Online property auctions have become more popular, although many county governments will also auction real estate and tax lien certificates at live auctions in person.
You can read more about the process of online property auctions here.
Vetting the Condition of Tax Sale Properties
Let's talk about what to do and what to avoid. My approach to this process is CYA – cover your assets. Not every property is a good deal. My number #1 rule after 30 years of watching, bidding, and succeeding in the tax-defaulted property business is that you need boots on the ground to vet the condition of these auction properties.
If you can't look at the property because you're "too busy" or "too far away," then find someone you trust to look at the property for you. Otherwise, my rule is do not bid.
That sounds easy and it is. However, online property auction buyers are anxious and mostly interested in big profits.
Many auction buyers are newcomers who have never purchased real estate, which can have many problems disclosed and undisclosed. Seasoned investors understand there is risk involved.
It's important that you view the condition of the property up close and personal. A picture on the internet will not do.
Additionally, you must recognize and understand property conditions, structure, and the neighborhood. Regarding the latter, you can fix the property in most instances, but you can't fix the neighborhood. Location is important. The new buyer will be looking at the neighborhood.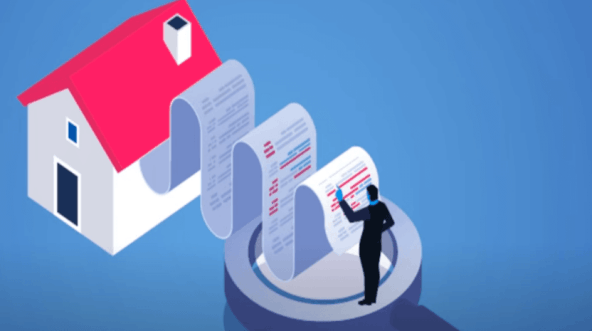 Doing Title Research Before You Bid at Property Tax Auctions
Local county officials will spend an extraordinary amount of time advising due diligence, not only live at the auction but in the online documentation.
Tax-defaulted auctions will transfer the property from the county ownership to private ownership and issue you a document referred to as a sheriff's deed, commissioner's deed, or treasurer's deed.
Be aware that regardless of what the name on the deed is, it will function as a quitclaim deed, meaning that the county does not warrant or guarantee a defect-free clear title or a property in good condition.
So do your research. Are there other liens remaining in place after the mortgage and deed of trust have been removed? Be sure because county disclaimers will advise that the county does NOT warranty any defects in the title.
Earn Big Profits Investing at County Real Estate Auctions
With the right guidance, you can build a one-person, low-hassle, work-from-home business that generates a six-figure income.
Successful investors buy real estate for pennies on the dollar at online property auctions after researching the condition and title to the property.
Marketing the property is also important. Investors should understand how to use media, like Craigslist, Facebook Marketplace, Zillow, Trulia and the Multiple Listing Service (MLS),  and have a strategy to sell to fixers, property flippers, and renovators.
Conclusion
We hope you enjoyed Ted's lesson, "Attending Your First Online Property Auction: What To Do And What To Avoid."
Before you purchase real estate at an online property auction, it's important to research the property's title, the condition of the property and the neighborhood where the property is located.
Take time to learn the suction rules, and also have an exit strategy. Know how much you intend to sell the property for before you bid on it to avoid overbidding.
Sales at online property auctions are final, so it's important to know what you're getting before you invest.
If you'd like to learn how to reap huge rewards from tax delinquent property investing, Ted Thomas provides full support and complete training with home study courses, Q&A webinars, live tutorials, workshops, web classes, and personal coaching with certified coaches.
Want to learn how to purchase bargain real estate? Would you like to buy mortgage-free property for pennies on the dollar? Or earn double-digit interest rates secured by real estate? Then take advantage of this FREE Gift.