Today I'm answering your questions about real estate investment tools for tax-defaulted property research, and the topics I'm going to cover are:
Want to learn how to purchase bargain real estate? Would you like to buy mortgage-free property for pennies on the dollar? Or earn double-digit interest rates secured by real estate? Then you don't want to miss this FREE Mini Course.
Successful Investors Use Real Estate Investing Tools
The most successful investors are using technology tools to find the best opportunities and investment returns. It's no different in the tax-defaulted property business than it is in the traditional real estate business. Research is always required.
For the past 30 years, I've been involved in tax-defaulted real estate because it's a place to buy at a bargain and then use marketing savvy to resell the property.
When I started, the majority of county governments were not online. An auction list for defaulted real estate took time to request because we used snail mail, and counties would handle the request on the "when they had time" basis. Today it's simply a matter of turning on a computer and accessing the internet.
Interactive Map and Auction Calendar for Serious Real Estate Investors
Recently, I developed a tool which I call an interactive map and auction calendar. This is all internet based, and with a cursor, you can hover over a state of the union and be able to see information about the many tax-defaulted property auctions that will be taking place in the next 30-60 days.
Members can go even further and actually research data on each one of the properties to find the minimum bid and many of the information pieces about the property.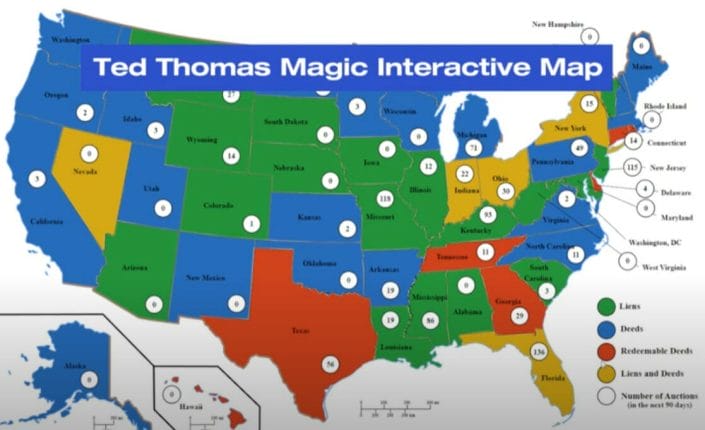 Finding Investment Property in a Good Location
There are dozens of ways to locate investment property. Many are listed for sale on dozens of private sites. That means you need to know the name of the site and what their specialty might be – single-family homes, apartments, residential land, cultivated land or agricultural land.
The key to buying tax-defaulted property is to understand the values. Much of that can be found online, however, the student must keep In mind the surrounding neighborhoods are very important. When it comes to selling, that neighborhood will be the number one priority.
As I say, I'm in the tax-defaulted property business. These properties are used and abused. Some of them are junk, and others just need clean-up and they're ready to sell. The neighborhood is the key.
Think about your competition. In recent years, we've had fixer-upper people and flippers who want to sell quickly, and there have always been renovators who prefer to buy a mediocre property then completely renovate it and make it show like a mansion.
When you buy at a tax-defaulted auction you're purchasing a property "as is". Fixer-upper people, flippers, and renovators know about changing the property. However, you must be cautious; you can't change the neighborhood.
A Multitude of Online Real Estate Research Tools
There are many real estate investment tools for researching properties.
The primary tool for the tax defaulted business is the county records.
The primary tool for selling could be any number of sites, including the MLS, Trulia, Zillow, eBay, Facebook Marketplace, and Airbnb.
Other sites you may want to be aware of include CRS DATA, which provides access to the public records and any other demographics, and more recently, sites like Homesnap, which gives their own information plus multiple listing service information.
Why do you need the multiple listing? Use it for comparables (comps). Let's not forget Realtor.com; this one site has 600 multiple listing services.
There are other websites, like Roofstock.com, which have a lot of buying and selling photos of neighborhood data. There are plenty of places and real estate investment tools.
As powerful as these online real estate investment tools are, the key with tax-defaulted property is looking at the property, boots on the ground. Either your boots or someone you trust. When you buy at a tax-defaulted auction, when that gavel comes down and you pay your money, it won't be returned.
I have a free gift for you, a special mini course that will show you how to profit with tax lien certificates and reveal the secrets of tax deed investing. Get your FREE gift today.
Buying Investment Property at a Tax Deed Auction
As I said earlier, tax-defaulted real estate is nothing more than traditional real estate except the property owner has failed to pay property taxes. Once they make that decision, they could easily lose the property, forfeiting it to the local county.
Tax-defaulted real estate will be confiscated by the county treasurer and then resold at a public auction to the highest bidder. The treasurer will cancel the mortgage or deed of trust loan.
Tax-defaulted property will have a tax-assessed value, however, the treasurer is motivated to sell the property quickly and will price the property with the starting bid in many instances at only the back taxes.
I have seen many properties with a starting bid of $100. That doesn't mean the property will sell for only $100! The highest bidder wins.
Auctions of tax delinquent real estate take place in all 3,000+ counties. To be successful at the tax-defaulted property business, you need to buy right and then sell for a profit. Purchasing properties for 10-20 cents on the dollar should create an adequate margin.
Savvy investors research the property and have already figured out at what price they could resell prior to purchasing at auction. It's important to understand your exit strategy and how much you can sell the property for. The money is made at the auction when you purchase.
Online Real Estate Tools for Fixer-Uppers
Fixer-upper people create value by improving the property. Flippers are usually trained to market and sell property quickly. Renovators modify the property from mediocre to somebody's mansion.
There are a lot of real estate investment tools for investors who fix-up properties. For example, Dealcheck makes it easier to estimate the repair cost and forecast the ultimate total bill for repairs.
Every tax-defaulted property is different. In some cases, a band-aid isn't going to work, and you will need to do some life-saving surgery.
With the right guidance, you can build a one-person work-from-home lifestyle business that generates multiples of six figures in a low-hassle business.
Conclusion
We hope you enjoyed Ted's lesson, "Real Estate Investment Tools for Tax Deed Property Research"
Regardless of your exit strategy, there are plenty of real estate investment tools for investors, and a slew of them are conveniently online. Whether you're researching a property, fixing it up, or searching for a buyer or tenant, there is a tool for you.
If you'd like to know more about tax delinquent property investing, Ted Thomas provides full support and complete training with home study courses, Q&A webinars, live tutorials, workshops, web classes, and personal coaching with certified coaches.
Learn how to reap huge rewards from tax lien and tax deed investing! Get started today by taking advantage of Ted's Free Master Class! Act now, it costs you nothing and will give you a big head start!
Ted Thomas is America's Leading Authority on Tax Lien Certificates and Tax Deed Auctions, as well as a publisher and author of more than 30 books. His guidebooks on Real Estate have sold in four corners of the world. He has been teaching people just like you for over 30 years how to buy houses in good neighborhoods for pennies on the dollar. He teaches how to create wealth with minimum risk and easy-to-learn methods.