IS BUYING VACANT LAND A GOOD INVESTMENT?
Is buying vacant land a good investment, or is it something you should stay away from? Can you generate cash flow and streams of income from investing in vacant land? Get the answers here.
Today I'm answering your question, "Is buying vacant land a good investment?" The answer is easy if you know what you're doing, but you don't know what you don't know. If you're just getting started, you have a lot to learn.
Vacant land can be massively profitable. Developers are constantly searching for land on which they can build. They want to build houses, shopping centers, industrial parks, and other projects.
I'm Ted Thomas, and I've been involved in real estate for my whole life. I started with single family homes in the neighborhoods where I lived. That business grew to purchasing 100 units, 200 units and sometimes office buildings.
In the last 30 years, I've been deeply involved in tax liens and tax deeds. I found it is one of the most profitable segments of the large real estate business.
Want to learn how you can make massive profits from real estate? Would you like to buy homes for cents on the dollar? Or earn double-digit interest rates? Learn how to secure your financial future with this FREE mini class on how to prosper beyond your wildest dreams from tax liens and deeds!
IS BUYING VACANT LAND A GOOD INVESTMENT? – PRICE AND LOCATION
Is buying vacant land a good investment? If you can buy land at the right price and you know what to do with the land and whom to sell the land to, your future is bright. Vacant land in the right location can be very profitable.
Before I finish, I'll give you an example of one of my many students who purchased vacant land to resell for profit.
Rule #1 is to buy vacant land at a price that is considerably below the market price.
Rule #2 is to understand that the location is very important.
IS BUYING VACANT LAND A GOOD INVESTMENT? – TAX LIENS AND TAX DEEDS
My expertise is tax liens and tax deeds. Is buying vacant land a good investment if you purchase the land at a tax sale? Absolutely, which I'll show you.
Tax auctions are conducted in all counties in the United States. There are over 3,000 counties and an additional 1,400 municipal governments. That means we can expect 5,000 auctions will be advertised and announced this year.
Many of the properties will be vacant land. Other properties will be single family homes, apartments, small office buildings, industrial land, and small farms.
My experience has shown approx. 25% of the properties at a tax defaulted auction are vacant land or residential parcels of land. These are properties someone doesn't want, and the property owner has defaulted and not paid the property tax.
IS BUYING VACANT LAND A GOOD INVESTMENT? – PROPERTY TAX
The legislature of every state makes the laws, which they write into statutes contained in books. Anybody can read the law at the local library or online.
The laws from the state require that the board of supervisors or county commissioners must employ a treasurer, a government official to levy taxes, collect the taxes and if uncollectible, the treasurer is mandated to seize and confiscate the property.
IS BUYING VACANT LAND A GOOD INVESTMENT? – TAX DEFAULTED PROPERTY
Ultimately, the defaulted property tax owner will be evicted from the property, and the county government will announce the property to be sold at public auction. Anyone can attend.
The auction revenue is then used by the county to pay expenses first for county employees then for the police department, firefighters and school teachers.
Thousands of properties are defaulted and confiscated by the local counties annually.
IS BUYING VACANT LAND A GOOD INVESTMENT? – BARGAIN REAL ESTATE
The county resells tax defaulted properties at auction for at least the back taxes and possibly a few fees. These are bargain properties, and the mortgage has been extinguished.
Small or large investors purchase these properties for very close to the back taxes owed.
I have a free gift for you, a 1-hour, streaming-video mini course that will teach you the secrets of one of the safest high yielding investments available and how to create massive cash flow and generate income streams from real estate.
If you've decided it's time to take charge of your financial future, then this Free Course is the best way to get yourself started on the road to success!
IS BUYING VACANT LAND A GOOD INVESTMENT? – AN EXAMPLE
So is buying vacant land a good investment? Let's see. Here's an example.
My student purchased 4.1 acres of vacant land. Being experienced, he bids low and buys the property for a low price. Next, he employs a clean-up crew to generally clean the property up.
If it's vacant land, he puts signs up by the road, and he advertises on Craigslist, Facebook Marketplace, the Multiple Listing Service, and maybe even hires a broker.
After checking values in the neighborhood, he advertises a sales price. He also advertises the willingness to accept installment purchases. The sales price is important, and the financing is even more important.
The purchase price at auction was $6,000, very close to the amount of the back taxes. Meanwhile, the tax assessed value of the property was $23,189. That leaves him with a significant profit margin because he got that property for less than 30 cents on the dollar at a tax sale.
IS BUYING VACANT LAND A GOOD INVESTMENT? – SELLING VACANT LAND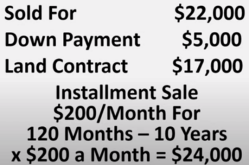 How did he sell it? He did an installment sale with a land contract. He accepted a $5,000 down payment for a property he bought for $6,000. Now he's only $1,000 out of pocket.
Additionally, he accepted $200 a month for 120 months. So over the next 10 years, he's going to get $24,000. All this on vacant land he purchased for $6,000 at a tax defaulted property auction.
You can do the same thing if just learn how to do it.
Everyone who gets involved in land learns that they can sell the land, using an installment sale. If the people don't pay, you've still got the land. You can just keep it right there and sell it again. It's a perfect way for you to make money.
CONCLUSION
We hope you enjoyed Ted's lesson, "Is buying vacant land a good investment?" The answer is, yes, it is, if you know these rules and strategies.
Price and location are important when you're buying.
Price and financing are the key when you're selling.
Price is obviously highly important since it plays a significant role in both buying and selling.
A little known way to acquire real estate for pennies on the dollar is at a tax defaulted property auction, where the bidding begins around the amount of the delinquent property taxes.
The back property taxes are only a small percentage of the assessed value, which enables you to purchase properties with a high profit margin at a tax sale, and you get the property without a mortgage.
Approximately 25% of the properties sold at these tax defaulted auctions are vacant land.
Exit strategies that work are buy low, sell low, and move on to the next property or do an installment sale.
If you sell vacant land on an installment plan, you can get all or a significant portion of the money you invested back from the down payment, so then you can buy another property and repeat the process.
Also, you can receive an income stream for years to come from the installment payments.
If they don't pay, it's land, so you've still got it. You can just sell it to someone else.
If you'd like to know more about how to get the best bargains in real estate, there's no one more qualified to teach you than Ted Thomas, America's leading authority on tax lien certificates and tax defaulted property investing.
Ted Thomas is the only one who provides full support and complete training with home study courses, Q&A webinars, live tutorials, workshops & web classes, and personal one-on-one coaching.
Get started today at no cost with Ted's FREE Master Class, that reveals the incredible opportunities available in tax defaulted real estate. The class is only about 1 hour of streaming video and contains life-changing information! You can't afford to miss it!