HOW TO BUY REAL ESTATE AT FORECLOSURE AUCTIONS
Learn how to buy real estate at foreclosure auctions. Although foreclosures come at a discount, there's a lot to keep in mind when buying foreclosure properties! 
Foreclosures, foreclosures!! What's going to happen when the pandemic is over? You'll enjoy this lesson. Hopefully you're not a victim.
Today I'm going to answer your question about how to buy real estate at foreclosure auctions. I'll tell you how you can make a bundle of money and also share a few challenges that you can expect on the way.
So if you're wondering, "How do I buy foreclosed property?" stick with me to the end. I'll share some new ideas and teach you how to make money.
This is a huge market. If you're a shrewd buyer, you can start planning now to get in on the market change. This is not unusual, and I will share with you many years of experience.
Want to learn how you can make big profits from deep discount real estate? Would you like to buy homes for pennies on the dollar? Or earn double-digit interest rates? Learn how to secure your financial future with this FREE mini class today!
HOW TO BUY REAL ESTATE AT FORECLOSURE AUCTIONS – FORECLOSURES
I'm Ted Thomas, and for many years, I bought and sold foreclosure properties and resold those properties for profits.
Foreclosures happen in the country club, and they happen in the bread and butter neighborhoods. They happen to wealthy people and to people who lose their jobs.
I know you want to make money and you want to purchase at bargain prices. Not to worry. In the next few years, you will have millions of properties to choose from across the United States.
In the next few minutes, I will describe the who, the what, the where, the when and the why of real estate foreclosure auctions.
HOW TO BUY REAL ESTATE AT FORECLOSURE AUCTIONS – A COMPETITIVE MARKET
First, understand this is a very big and competitive market. It's not easy. It's not a piece of cake. Yes, you can make money. However, it's not what you see in a 30-minute television program.
The risks are high because the investment is significant and because most investors plan to boot strap, that is, do the fix up themselves.
HOW TO BUY REAL ESTATE AT FORECLOSURE AUCTIONS – BARGAIN PROPERTY
Today I'm answering your question about how to buy real estate at foreclosure auctions, and I'm going to share ideas which will help you.
To begin with, the word "auction" inside the head of most buyers means bargains. That's OK. However, it's time to think, what is a bargain? Judgment makes a big difference.
A foreclosure auction is usually conducted on the courthouse steps. It can be active. It can be fast, and your decisions are final.
HOW TO BUY REAL ESTATE AT FORECLOSURE AUCTIONS – THE PROCESS
State laws are somewhat different. Generally, in the eastern states, they use a mortgage. In Texas, California and the western states, the lending document is a deed of trust.
The foreclosure process is nothing more than a bank or a lender attempting to recover the collateral, the security for the loan they have funded.
HOW TO BUY REAL ESTATE AT FORECLOSURE AUCTIONS – A LEGAL PROCESS
Foreclosure is a legal process. If it's a mortgage, it requires a judge to lower the gavel and force the sale. It's complicated only because attorneys make it complicated.
The process itself is simple. A bank creates a lawsuit which means expensive attorneys are involved, and that means it's a judicial process. The arm of the court is the sheriff.
Foreclosure is slow. Attorneys, sheriffs, and judges are all involved with mortgage foreclosures. Keeping it simple, the bank wants the collateral returned to them.
HOW TO BUY REAL ESTATE AT FORECLOSURE AUCTIONS – MORTGAGE VS DEED OF TRUST
Trust deeds are loan documents in many states. The process of foreclosure is much simpler and more to the bank's advantage when the loan document is a deed of trust.
Mortgage foreclosure in regular situations will take 6-9 months, sometimes 2 years.
Trust deed foreclosures will be conducted by a trustee and could be as fast as 21 days, like in Texas, or 111 days, like in California. Compared to a mortgage foreclosure, it's almost instantaneous.
I have a free gift for you, a 1-hour, streaming-video mini course that will teach you the secrets of one of the safest high yielding investments available and how to create massive cash flow from real estate.
If you've decided it's time to take charge of your financial future, then this Free Course is the best way to get yourself started on the road to success!
HOW TO BUY REAL ESTATE AT FORECLOSURE AUCTIONS – THE AUCTION
In both instances, the auction is on the courthouse steps which is where most auctions occur and will take place outside. Anyone can attend.
The auction is a result of the judge ruling that the defendant, who is the homeowner, must relinquish the property, that is, get out, and the collateral, the house, will be returned to the plaintiff lender.
HOW TO BUY REAL ESTATE AT FORECLOSURE AUCTIONS – STARTING BIDS
If the mortgage is $50,000, the bidding at the auction will more than likely start at $50,000.
If the property has a value of $150,000, there is considerable margin for profit. Obviously, you'd like to purchase and bid $50,000 for a $150,000 property.
HOW TO BUY REAL ESTATE AT FORECLOSURE AUCTIONS – OVERBIDS
That's exactly why they have an auction. The bank is hoping that you are willing to pay more than $50,000. That assures them they will be paid in full. The overbid will go to the property owner.
The challenge is that you are not the only person or entity that realizes there is a huge profit if the property is purchased at $50,000.
HOW TO BUY REAL ESTATE AT FORECLOSURE AUCTIONS – RISKS
Property may or may not be abandoned homes for auction. It's not always possible to see the inside. This creates many questions as to the condition. From experience, I can tell you that if the outside looks bad, the inside is probably worse.
Buying at real estate foreclosure auctions carries risk.
• The first risk is that you may pay too much and not be able to resell.
• The second risk is you may have purchased a property that will not sell at any price.
• And the third risk is what it will cost to prepare the property for sale.
HOW TO BUY REAL ESTATE AT FORECLOSURE AUCTIONS – SELLING FORECLOSURE PROPERTY
Here are some things to think about when you sell the property you bought at a foreclosure auction.
If you are expecting to sell for retail or market price, the property will need to be comparable with properties that are selling at market price.
Think about financing installment sales. Will a bank lend on this property in its present condition? Who will be the ultimate buyer? Can you afford the purchase price and have enough money to fix it?
What is your exit strategy? Are you willing to finance the property and give your new buyer an installment sale?
HOW TO BUY REAL ESTATE AT FORECLOSURE AUCTIONS – DAILY AUCTIONS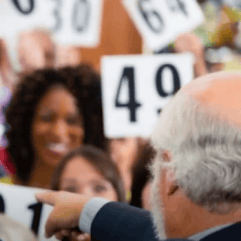 You can plan on thousands of foreclosures close to your location.
To review the status, the county government will have records, as all foreclosures, which are a legal process, must be recorded at the local county public records.
Auctions take place daily. Many days there will be multiple auctions with deputy sheriffs as well as trustees selling properties.
HOW TO BUY REAL ESTATE AT FORECLOSURE AUCTIONS – TIME OF PURCHASE
Expect to pay for the property at the time of purchase. Don't be surprised if the sheriff conducting the auction requires you to demonstrate that you have funds to purchase.
The sheriff is entitled to see that you are qualified. Many people show up just to be entertained. The sheriff doesn't want you to say that you've watched a YouTube video or attended a weekend seminar and you want a no down payment property.
So for those asking, "Do you need cash to buy an auction house?" or "How can I buy a house at auction with no money?" you will be expected to show up with the funds, whether the funds are yours or OPM (other people's money).
The objective of the foreclosure is to return the bank or lender's capital, and if they can't get the money, the bank wants the property.
CONCLUSION
We hope you enjoyed Ted's lesson, "How to Buy Real Estate at Foreclosure Auctions."
A foreclosure auction occurs when the bank or lender wants to recover the collateral on a loan they funded.
Foreclosure properties are sold at public auctions all across the USA, and the starting bid begins around the amount of the mortgage or deed of trust loan. You will be expected to show up at the auction with the funds needed to make your purchase.
A foreclosure can be an excellent deal if the amount of the loan is significantly lower than the assessed value of the property.
Keep in mind that there are risks involved. For example, you won't be able to go inside the property to inspect it before purchasing it which makes it difficult to assess the cost of preparing the property for resale.
Additionally, you may be competing with other bidders, so you will need to be disciplined. You don't want to get caught up in the frenzy and bid too much. It's best to have your exit strategy planned before you buy so that you know how much you're willing to bid.
If you want to know how to buy real estate at foreclosure auctions because you're looking for great bargains on properties, then you may find investing in tax defaulted real estate even more appealing.
Why? At a foreclosure auction, the bidding begins around the amount of the mortgage loan, which can be quite high. However, at a tax defaulted property auction, the bidding begins around the amount of the delinquent property taxes, and the mortgage is deleted.
Property taxes are only a small percentage of the assessed value of the property, so it's possible to get real estate for 10, 20, or 30 cents on the dollar at a tax sale, and you get the property without a mortgage!
If you'd like to know more about how to get the best bargains in real estate, there's no one more qualified to teach you than Ted Thomas, America's leading authority on tax lien certificates and tax defaulted property investing.
Ted Thomas is the only one who provides full support and complete training with home study courses, Q&A webinars, live tutorials, workshops & web classes, and personal one-on-one coaching.
Get started today at no cost with Ted's FREE Master Class, that reveals the incredible opportunities available in tax defaulted real estate. The class is only about 1 hour of streaming video and contains life-changing information! You can't afford to miss it!