Today I'm answering your question about buying real estate at foreclosure auctions. I can answer that quickly. The answer is, do it very carefully.
I'm Ted Thomas. For many years before I discovered the tax lien and tax deed business, I purchased and bought foreclosures, many real estate foreclosures. Then I sold them to wholesalers, people who wanted to fix them up.
That was back in the days when I had black hair and was skinny. Today I'm going to give you some insight into the real world of experience when it comes to real estate foreclosure auctions, and you'll be surprised.
I'm also going to give you some comparisons between the real estate foreclosure market and the tax lien and deed market. You'll see which one works best for you, and you can make up your own mind.
When buying real estate at foreclosure auctions, start by examining what is really going on in the foreclosure business. Now, let's spend a few minutes learning a little foundational information.
Want to learn how to get big discounts on real estate? Would you like to buy mortgage-free homes for pennies on the dollar? Or earn double-digit interest rates secured by real estate? Get started today with this FREE mini class!
Owning Your Own Home: The American Dream
The American Dream for many is to own their own home, and there are plenty of homes in the United States. As a matter of fact, builders and contractors build over 1 million new properties every year. So it's a big business.
A lot of financing is involved in these homes, and a lot of financial institutions are in the business of lending on real estate.
We all believe that to buy a house is the American Dream. It may take 30 years to do it.
There's also a dark side of the business that generates money for other people, like attorneys, sheriffs, and small business corporations that fix property. So what's happening here?
What's happening is, divorce and crises in people's lives, wind storms and hurricanes. People lose jobs. All these difficult things happen.
If someone loses a job or gets a divorce, they're probably not going to be able to make their mortgage payment. If they can't make the mortgage payment, then they're in big trouble.
Buying Foreclosed Homes: What You Need To Know
In today's economy. It takes more than one income to survive. If one income disappears, more than likely, the real estate is also going to disappear and go back to the bank, as a foreclosure.
Foreclosures are recorded nationwide. During the financial crisis of 2008-2012, millions of properties ended up in foreclosure.
What triggers a foreclosure? Non payment of the mortgage or non payment of a loan.
There are many types of foreclosure. It could be a bank foreclosure. It could be a trustee foreclosing on a deed of trust, or it could be a regular person who lends on property, and now wants to recover the collateral.
Foreclosure is big business. Let's make it simple. Let's learn how to buy at the auction.
The key to buying real estate at foreclosure auctions is knowing the margin between what the bank wants at the auction, and the value of the property, the market value, the street value.
Banks are foreclosing to recover collateral, and the bank wants all of their money. Unfortunately, the banks sometimes lend 90% or 97% of the value.
That means there's no margin between the market value and the loan value. You don't want to buy those foreclosures.
According to Zillow, and the Multiple Listing Service, if a homeowner borrows 90%, that means there is not enough margin between the loan and the market value.
So do you plan to buy at auction? You must understand margin. That means you'll have to buy older properties.
Buying Property at Foreclosure Auctions:
A Changing Market
The media business and late night television, makes foreclosure appear very glamorous. To many average people, it looks like they're making a fortune. I'm not sure that's correct.
There are times that people will make big money buying real estate at foreclosure auctions. However, markets have changed considerably over the past 10 years. Low down payments and no margin between the loan and market value make it difficult.
Places like Las Vegas and Phoenix had millions of foreclosures and saw the markets drop 70%. When the banks foreclosed, they lost money because the market to sell was below the amounts they loaned.
I have a free gift for you, a 1-hour, streaming-video mini course that will teach you the secrets of one of the safest high yielding investments available and how to create massive cash flow from real estate.
Why Banks Foreclose on Homes
Banks have a mandate to recover collateral, and real estate is the collateral for the loan. If the bank recovers a property that's not worth the market value, no one's going to make money.
The bank is going to go broke, and that's exactly what happened in 2008-2012. Banks closed because they lent too much money and the market dropped.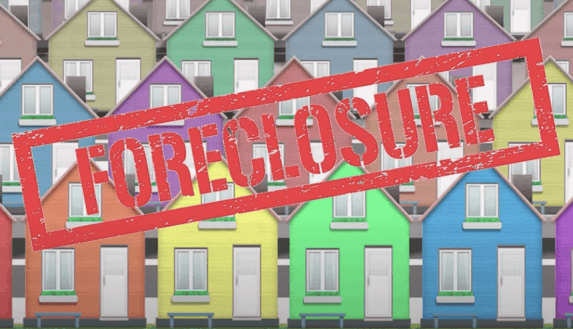 How do you make money buying real estate at foreclosure auctions? It's very difficult. As a matter of fact, 25 years ago, it was obvious what was going to happen. Banks were lending more and more.
Formally, it was traditional to loan with at least 20% down. Today, down payments are 3%.
That means the bank is taking all the risks. The buyer, the person signing the loan, has 3% at risk, while the bank has 97% of the risk.
Buying Real Estate at Foreclosure Auctions vs Tax Defaulted Property Auctions
Getting back to the foreclosure auction. Anybody can bid at the auction. How much do foreclosed homes sell for at auction? If you're buying real estate at foreclosure auctions, the minimum bid is going to be the amount of the loan.
If the loan is 97%, your chance to make money is slim to none.
Let's compare that with the minimum bid at a tax deed property at auction, which could be easily ten cents on the dollar. The difference between 10 cents and 100 cents Is 90%.
If you have a 90% markup, could you make money? That's a good example to think about. If you did buy at 10 cents on the dollar, would you do so? Well of course, you would.
Obviously, tax liens and tax defaulted properties are the way to go.
Keep in mind, a foreclosure auction means the lender is trying to recover all of the loan whether they loaned $50,000 or $500,000, and that's the starting bid.
Compare that with a tax deed auction, where the bidding begins at around the amount of the back property taxes. So the advantage all goes to the tax deed auction.
Profit on Tax Defaulted Property
Here's an example. A couple purchased a property at a tax deed auction for $8,000, and the assessed value was $40,000. They spent $4,000 fixing it up. So now the couple had invested $12,000.
They sold the property in less than 30 days, using an installment contract.
The installment payments they received totaled $52,000.
They invested $12,000 and received $52,000 over the next 10 years.
This is almost impossible in the foreclosure marketplace because of margins.
Conclusion
We hope you enjoyed Ted's lesson on buying real estate at foreclosure auctions.
Due to changes in the way financial institutions lend, most foreclosure properties don't have enough profit margin these days.
Banks may lend as much as 97%. Since the bidding at foreclosure auctions begins at the amount owed on the loan, it's become increasingly difficult to find bargain real estate at foreclosure auctions.
You may consider tax defaulted property auctions to be a much better place to find a great bargain.
At tax defaulted auctions, the bidding begins around the amount of the delinquent property taxes. So tax defaulted real estate can be purchased for 10, 20, or 30 cents on the dollar, and it's sold mortgage-free!
If you'd like to know more about how to get the best bargains in real estate, there's no one more qualified to teach you than Ted Thomas, America's leading authority on tax lien certificates and tax defaulted property investing.
Ted Thomas is the only one who provides full support and complete training with home study courses, Q&A webinars, live tutorials, workshops & web classes, and personal one-on-one coaching.
Get started today at no cost with Ted's FREE Master Class, that reveals the incredible opportunities available in tax defaulted real estate. The class is only about 1 hour of streaming video and contains life-changing information! You can't afford to miss it!