Let's talk about what to know when buying land since since in order to get the answers, you need to know the right questions to ask.
I'm Ted Thomas, and I've been involved in real estate for over 30 years. This is something you can do as a side hustle or a full-time effort.
Today I'll be discussing what to know when buying land. I can assure you, it's a handful of information and then some. I'll talk about land value, usage, financing, issues to consider, and then I'll show you where to find bargain real estate and how to profit from it.
Table of Contents:
Want to learn how to purchase bargain real estate? Would you like to buy mortgage-free property for pennies on the dollar? Or earn double-digit interest rates secured by real estate? Then take advantage of this FREE Gift.
The Smartest Way to Buy Land
What is the smartest way to buy land? I'll reveal how to buy land via a lucrative, little-known, government-mandated program that allows professionals and newcomers to get started buying real estate for 10 cents and 20 cents on the dollar.
You will be buying land, especially residential vacant building lots. However, first, let's start with the basics of what to know when buying land.
Have a Checklist Before Buying a Lot
Buying land is full of surprises. Most people buy houses, and most homes are built by developers who have experience in handling a long list of legal issues. So many of the headaches have been removed.
Buying land can really be a headache when you first start because there are so many things to remember. Newcomers, as well as those with experience, need a checklist because there are a lot of things that are happening.
If you're familiar with buying real estate in subdivisions, that's very different because everything has been taken care of prior to selling the first property.
The purchase of land, if you have money, can happen quickly. Most people start small, but even that requires some basic knowledge. Prepare yourself to be flexible, and prepare to have professionals help you. Take your business and your questions to experienced land brokers.
How to Value Vacant Land
Determining the value can be very controversial. Using comparables in the surrounding area is relatively easy, especially when you are doing business with houses.
Land value is a whole new ballgame. Making judgments regarding value is not a simple process with rural land.
Let's talk about why it's not so simple. For example, does the land have water? Electricity? Any other utilities? It could be stressful to find the land has no value because there is no water, no utilities, and it has no use.
What to Know When Buying Land to Build on
Utilities cost a lot of money to install. If there are no sewers, are you prepared to put in a septic? Are you going to drill a well, and how deep? Or are you going to pay to attach to the county water system?
Is there contamination somewhere? Did someone have a machine shop there and contaminate the soil?
What are you going to use the land for? Can you cultivate it and grow crops? Maybe you want to grow timber or trees.
Are you prepared to pay a surveyor to measure the land?
Neighbors know a lot about land. They know what happens if there is too much rain from a thunderstorm. They know if you can run cattle on the land or if the mineral rights come with the purchase. Ask neighbors what's going on and why.
Is It Difficult to Get a Loan to Buy a Plot of Land?
Do you have money to start with? Hopefully, you're not waiting for a local bank because if you're interested in land, you'll have a tough time getting money from a local bank.
I'm not a preacher telling you bad things, I'm just trying to help you avoid a lot of despair when you find out that very few people or institutions are prepared to lend on land.
I have a free gift for you that will reveal the secrets of how to purchase mortgage-free land for 10, 20, or 30 cents on the dollar and show you where to find it. Be sure to get your FREE gift today.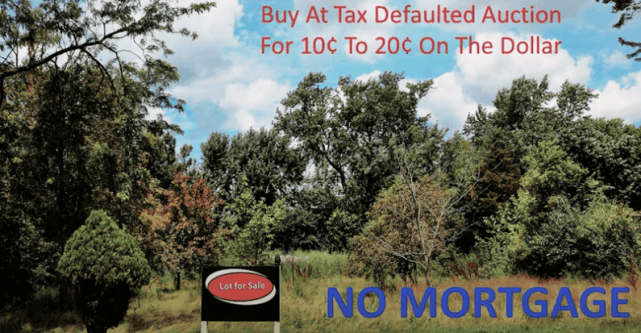 How to Buy Residential Land at a Tax Sale
Here's what to look for when buying land for investment. I really like residential vacant lots, especially if they are within a subdivision. They're very easy to appraise. I have students from outside the United States that purchase inside the USA because land is easy to evaluate within a subdivision.
For example, one student from Saskatchewan, Canada purchased a vacant residential lot in a subdivision from the tax collector.
In all 50 states, the legislature creates laws that are published online. In this case, the law is simple. Every property owner must pay property tax. If the taxes are unpaid, the county treasurer will confiscate the property and resell it at a public auction to the highest bidder and then use the money to pay the delinquent taxes.
Purchase Land for Bargain Basement Prices
The county will discount the property and start the selling process below the tax assessed value. How much below? 60%, 70% maybe 80% below the tax assessed value.
The treasurer is auctioning to quickly generate revenue to pay the delinquent taxes and is willing to auction the properties for 10 cents or 20 cents on the dollar.
Most auction buyers are searching for homes at bargain prices, and they overlook the low-priced, high-valued vacant residential lot within a subdivision. These vacant residential lots have water to the property, utilities, and they have already been surveyed, so they are very easy to evaluate.
Buying and Selling Land for a Profit
I've had many students, inside the United States and out, purchase for 20 cents or less on the dollar and then resell quickly for a good profit.
For example, a client from Saskatchewan, Canada was shocked that the value of a residential lot in Riverside, California was $229,000 and delighted when he purchased it for 15 cents on the dollar.
A local broker sold that property in less than 60 days, and generated a profit of $20,000. What's the point I'm making? Land is valuable, and residential lots in subdivisions have very high values.
Here's what to know when buying land if you want to buy it at a discount. Tax defaulted auctions are taking place annually in over 3,000 counties, and anyone with money can participate. There are more properties than there are buyers. This is a business of abundance.
Conclusion
We hope you enjoyed Ted's lesson, "What to Know When Buying Land"
Buying land that's undeveloped can come with a long list of headaches that need to be resolved, like installing utilities, a septic system and getting water to the property.
Purchasing vacant residential lots can resolve a lot of those issues, and you can acquire them for pennies on the dollar at a tax defaulted property auction.
If you'd like to know more about tax delinquent real estate investing, Ted Thomas provides full support and complete training with home study courses, Q&A webinars, live tutorials, workshops, web classes, and personal coaching with certified coaches.
You can learn how to reap the huge rewards from tax lien and tax defaulted property investing! Get started today by taking advantage of this Free Gift from Ted. Act now, it costs you nothing and will give you a big head start!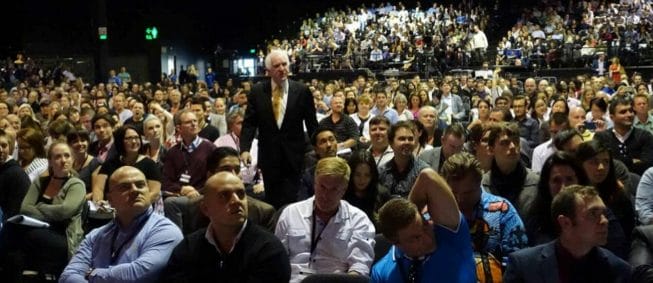 Ted Thomas is America's Leading Authority on Tax Lien Certificates and Tax Deed Auctions, as well as a publisher and author of more than 30 books. His guidebooks on Real Estate have sold in four corners of the world. He has been teaching people just like you for over 30 years how to buy houses in good neighborhoods for pennies on the dollar. He teaches how to create wealth with minimum risk and easy-to-learn methods.