What Is Seller Financing and How Does It Work?
The wise real estate investor understands that selling the property is when you prove how much money you really made.
Today I'm going to answer your question, "What is seller financing and how does it work?"
First let me say that human nature is the enemy for the investor. Most people are not disciplined and spend more than they earn. Banks and credit card companies understand that most people cannot budget, so they require automatic payments taken from your account.
Want to learn how to make big profits in real estate? Would you like to buy mortgage-free homes online for pennies on the dollar? Or earn double-digit interest rates secured by real estate? Then you don't want to miss this FREE Mini Course.
What Is Seller Financing and How Does It Work?
Installment Payments
The average person works very hard all week. However, they have very little peace of mind because the money they earn is consumed by installment payments.
It's important to understand that America buys on installment payments. The average person lives in a nice home and has a good life, however, they have a big mortgage which they must pay for 3 decades.
Of course, there are going to be crises from time to time, like sickness divorce, and bankruptcy, and these crises create big financial challenges. Credit scores crash, and many good people no longer qualify for loans.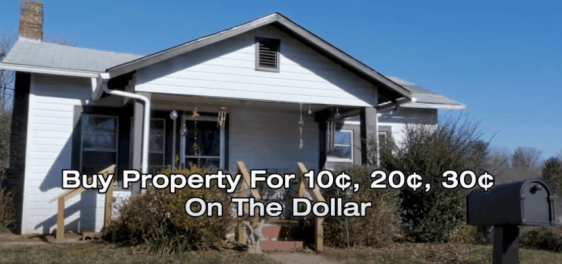 What Is Seller Financing and How Does It Work?
Tax Deed Auction Bargains
I've been in the real estate business all my life, and in the last 30 years, I discovered tax liens and tax deeds. I was very surprised at the profits and margins available at tax deed auctions.
For example, it's not unusual for investors to purchase tax deed properties for 10 cents, 20 cents or 30 cents on the dollar. The bargain pricing of properties opened many doors.
Most of these properties are used and abused. This is bread and butter real estate, not country club living. Some are fixer uppers and others are junkers. However, there are big margin deals, especially when properties are resold as installment sales.
What Is Seller Financing and How Does It Work?
Credit-Challenged Buyers
Tax auction properties are sold under the radar. The buyers are small investors and occasionally a big investor. Most of the ultimate purchasers will be credit-challenged people.
Is seller financing a good idea? Seller financing is a goldmine.
Credit scores are the bankers lending standard guidelines. Thousands of good people are turned away at the banks as unqualified. However, many of these individuals are working at excellent paying jobs.
Many are single parents trying to make it on their own and in need of a roof over their head. Fully 25% of the buyers will have previous credit problems and are not qualified at banks.
What Is Seller Financing and How Does It Work?
Being the Bank
Seller financing is perfect for these challenged buyers. They will find your street signs, Craigslist and eBay ads and respond.
Seller financing is nothing more than you lending money while you keep your security in your own name or a corporate name. So, who holds title in seller financing? To mitigate risk, the seller does.
You are helping others while you help yourself. Here's how it works.
I have a free gift for you, a special Master Class that will show you how to profit with tax lien certificates and reveal the secrets of tax deed investing. Get your FREE gift today.
What Is Seller Financing and How Does It Work?
Buying Property at a Tax Deed Auction
My client shows up at a tax deed auction and finds many single-family homes on the list published by the county treasurer. Many properties have been assessed by the tax collector.
The auction will start at the minimum bid and will end with the highest bidder. Savvy buyers don't overbid because they know there will soon be another auction.
Let's assume my student purchases a property with a tax assessed value of $80,000, and my student is the highest bidder at $8,000. What happens next?
What Is Seller Financing and How Does It Work?
Selling Property
The student places ads on Craigslist, Facebook Marketplace and dozens of other electronic sites.
The property should also have signs revealing that it is for sale and it could be an installment sale. Signs will attract the right buyer. The price and installment sale will make it happen quickly.
Your advertisement and announcements must offer a low down payment and installment payments. That's what people want.
What Is Seller Financing and How Does It Work?
Profit Margin
What is seller financing and how does it work? Let's review. The tax assessed value was $80,000, and the student investor purchased for $8,000. That's a lot of margin.
Purchasers always want a deal so give yourself a competitive advantage. If the neighborhood justifies the $80,000 tax assessed value, your competitive advantage is that you can sell quickly at a lower price.
For example, with an $80,000 assessed value, sell for $50,000, accept a $5,000 down payment and installment payments of $650 a month, which is probably less payment than a local apartment. The buyer will see the immediate advantage.
What Is Seller Financing and How Does It Work?
Takeaway
How do you structure a seller financing deal? Once again, let's review.
The tax assessed value of the property is $80,000
Sell it for $50,000
Accept a $5,000 down payment
Offer an installment sale for the remaining $45,000
Accept payments of $650 per month
$650 x 12 = $7,800 annually plus taxes and insurances
A 10-year term at $7,800 annually = $78,000
Add down payment of $5,000
The student investor collects $83,000 over 10 years.
Student investor paid $8,000
The profit is $75,000
That's an amazing ROI. All of the initial investment is returned in 6 months or less, then you receive 9 ½ years of $650 a month.
Now you know what seller financing is all about and how it works.
If you'd like to know more about investing in tax delinquent property, Ted Thomas provides full support and complete training with home study courses, Q&A webinars, live tutorials, workshops, web classes, and personal coaching with certified coaches.
You can learn how to reap the huge rewards from tax lien and tax defaulted property investing! Get started today by taking advantage of Ted's Free Master Class! Act now, it costs you nothing and will give you a big head start!