TAX LIEN INTEREST RATE BY STATE – 16%
Are you curious to know about the tax lien interest rate by state, specifically which states offer 16%? Different states have different rates, so you want to make sure you're starting off on the right track!
Learn which states you can start investing in that offer a 16% return!
I'm Ted Thomas, and for the last 3 decades I've been involved with tax liens and tax deeds.
This is an amazing business of abundance.  It's little known, and it generates cash flow.  It takes a little studying because the rules are different in each state.  
It's safe, and it's secure.  If you go slow and you're patient and accept new information, everything is available. No secrets. 
Want to learn how you can make big profits from deep discount real estate? Would you like to buy nice homes for cents on the dollar? Or earn double-digit interest rates? Then you won't want to miss this FREE mini class.
TAX LIEN INTEREST RATE BY STATE – TAX LIENS
The state legislature of each state makes the rules and mandates the auction process and how it should be conducted.
The collection of tax liens and tax deeds is a priority for the county treasurer.  After all, this is how county employees and a lot of other people get paid.  
The treasurer is authorized to levy taxes according to the rates and the amounts computed by the tax collector or tax commissioner.  Once the tax is levied, it needs to be collected promptly.
TAX LIEN INTEREST RATE BY STATE – TAX DELINQUENT PROPERTY
If the tax is not collected, and the property owner refuses to pay, the treasurer is authorized by state law to seize the property and sell the property at a public auction. 
Many of those auctions are on the courthouse steps.  Now with the internet, many are also online.  
I have a gift for you. Be sure to take advantage of it. Learn how to make huge profits from tax lien certificates and tax defaulted property investing with this FREE streaming video Mini Course.
TAX LIEN INTEREST RATE BY STATE – 16% TAX LIENS
I'm often asked about the tax lien interest rate by state.
A question I hear a lot is specifically which states offer a 16% tax lien, and why is this possible?  The correct answer is many pay 16%.
How can that happen?  Because many counties will have auctions that allow revenue or the bidding process to start much higher than 16%.
TAX LIEN INTEREST RATE BY STATE – REVERSE AUCTIONS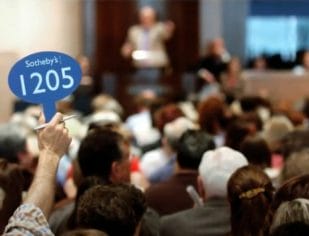 These are reverse auctions, and as the bidding progresses, it goes lower and lower.  
For example, Florida is a bid down state for tax liens, meaning that each bid is lower than the maximum of 18%.  Continuing the example, 18%, 17 ½%,  17%, 16 ½%, 16%, and the bidding may go as low as ¼%.
If you're asking yourself why someone would bid so low, the answer is, I'm not sure.
Possibly the bidder wants to be the lowest bidder in the hopes of a subsequent auction, and they're trying to have a position on title. That's a complex answer.
I recommend to my students to stop bidding at 5% or 8% if the maximum is 16%.  
TAX LIEN INTEREST RATE BY STATE – A SAFE AND SECURE INVESTMENT
Educated investors recognize that tax liens are safe and secure investments. Your money is invested directly with the local county government.
Many times, this is a county official like a treasurer. In some states, it might be an ex-officio sheriff or even a county employee acting as an ex-officio sheriff.  These are all just names the government has given tax collectors.
In all instances, the sale is really an auction and will be structured and have auction rules which must be reviewed prior to the sale, as law enforcement will be present in many instances.
TAX LIEN INTEREST RATE BY STATE – TAX LIEN INTEREST
Many investors avoid purchasing tax liens because they think the rates of interest at auctions are too low and not up to certain investors' desired returns.  I'm not sure those investors have a long-term view or perspective.
For example, let's do a little 4th-grade math.  The math reveals that over time, tax liens are an excellent investment when you choose the right venue or location. 
Banks have been paying very low rates on passbook accounts and CD accounts.  However, local governments have been paying maximum interest rates of 16% in Arizona and even higher in other states.  
The key to success is research.  For example, don't bid at all by learning to purchase over the counter.
TAX LIEN INTEREST RATE BY STATE – ROLLING OVER 16% INTEREST
Let's use the example of 16% certificates over a period of time.  
If the investor purchases $2,000 in tax liens, and the investment stays outstanding for one year, the investor will have earned 16%. That's $2,000 plus 16% interest.
If those funds, both the principal and the interest, are reinvested and can earn 16%, and if that happens continuously for 19 more years, the small $2,000 investment will now have grown to $38,922. That's the long-term perspective. 
Obviously, you would be somewhere between the $2,000 and $38,922 depending upon how diligent you were at your purchasing.
This requires diligence and paying attention.  However, the investment is safe and secure.  Compared to other opportunities, the investment looks good in my judgment. 
TAX LIEN INTEREST RATE BY STATE – ROLLING OVER 24% INTEREST
So, let's take another look. If the $2,000 was invested in a high interest situation, like Iowa, where tax liens pay 24%, the money will grow a lot quicker.
At the end of the first year, the property owner would owe the same $2,000 plus 24% interest.
Should the investor reinvest the $2,000 plus 24%, in other words principal plus interest, commonly called rolled over, then at the end of 20 years, it could be as much as $147,729!
TAX LIEN INTEREST RATE BY STATE – YOUR RETIREMENT
That's a long-term perspective, but if you think about it, people retire at 65, and according to the Census Bureau, people live for about another 15 to 20 years.
A small savings account is not going to make it. The long-term perspective makes a lot of sense.
In other articles I have explained tax deeds, which in some states, are actually redeemable deeds with fixed rates of return of 20% or 25%. Consider that money invested and rolled over for 20 years.
TAX LIEN INTEREST RATE BY STATE – OFFLINE AND ONLINE AUCTIONS
Nationwide, investors could expect 5,000 scheduled auctions in a normal year.  This number of auctions is a little overwhelming, so you'll need to start small.
Tax liens and tax deed auctions also take place online as well as offline.
Sometimes the county will conduct an auction live in a large room, and they'll video the auction. Other times, the county will hold the auction outside, maybe under a big tent.
It's not unusual for large auctions to take place at the fairgrounds where they have large buildings for cattle and agricultural displays.
TAX LIEN INTEREST RATE BY STATE – AUCTION RULES
All auctions have rules. The bidders are required to know and understand the information.
The auction information is located on the county website and is also printed in handouts. Also auctions are always advertised in the local newspaper.  
The bidding process, more than likely, will be different from location to location.  By that I mean, the county immediately next door could have a different bidding system. 
It's always one that is preferred by the local treasurer and county commissioners.  If you don't know the rules and understand, I suggest you keep your hands deeply in your pockets.
This is a business of abundance, and there are plenty of auctions. However, if you don't follow the rules, it will be very painful financially.  
TAX LIEN INTEREST RATE BY STATE – THE FINAL BID
Auctioneers accept only one final bid. The auctioneer determines the final bid no matter how vocal or loud the participant may be. The auctioneer works only for the official county treasurer.  
Unfortunately, many participants make big mistakes at the auction. I can assure you, this is not a TV show. This is serious, and it's costly if you don't plan and know what you are doing.
The auction room is not a good place for prayer or hope.  If you are hoping or praying for a good deal, I can assure you that that's a poor business strategy.
TAKEAWAY
We hope you enjoyed Ted's lesson, "Tax Lien Interest Rate by State – Which States Offer 16% Tax Liens?"
Perhaps you've read the book The 16% Solution, and you're interested in learning more about tax lien certificates. You've definitely come to the right place.
Tax lien certificates are a safe, secure, and predictable investment.
The tax lien interest rate by state varies. Depending on the state, the rate could be 16%, 18%, 24%, even 36%. In some states, the rate even varies by county.
Arizona pays 16% on tax lien certificates, though it's possible to get 16% in one of the higher-paying states due to the reverse auction process, where the bidding starts at the highest interest rate, then the rate is bid down.
If you don't want to go through the down bidding process, or even attend an auction at all, then over the counter tax lien certificates may be more to your liking.
If you'd like to know more about tax lien investing, there's no one more qualified to teach you than Ted Thomas, America's leading authority on tax lien certificates and tax defaulted property investing.
Ted Thomas is the only one who provides full support and complete training with home study courses, Q&A webinars, live tutorials, workshops & web classes, and personal one-on-one coaching.
Get started today at no cost with Ted's FREE Master Class. It's only about 1 hour of streaming video and will open your eyes to the incredible opportunities available in tax lien certificates and tax deed investing.