Purchasing investment property doesn't have to be expensive if you know where to buy.
Today I'm answering your questions about purchasing investment property, and the topics I'll be covering are:
Want to learn how to purchase bargain real estate? Would you like to buy mortgage-free property for pennies on the dollar? Or earn double-digit interest rates secured by real estate? Then take advantage of this FREE Gift.
Are You Ready to Own Rental Property?
Want to know to save big when purchasing investment property? Today I'm going to explain why you should seriously consider buying real estate at a tax defaulted property auction, where you can find mortgage-free properties for cents on the dollar.
Investment property is a dream for thousands of people. They want cash flow and revenue to take care of themselves and their family. Let's talk through this a little bit and figure out if you're really ready.
Are you ready to be a landlord? Have you put aside some down payment money to do this? How much did you put aside? $10,000, $20,000, $50,000? I'm asking these questions because you're going to have to figure out how you're going to make a down payment on the property. Are you looking for a return on investment? What are you willing to accept?
What do you know about management? Are you willing to evict someone? Think about that. Some people won't pay rent. So you might be in the business of management and eviction.
What about marketing? Can you market the units that you're going to have for rent? A lot of people want investment property. That means you're going to have to find tenants and collect rents, and that's not an easy job.
I was involved in the apartment business, and I'm not talking about two and four apartments. I'm talking about 12 to 14 acres with 200 or 300 units on it. That required a lot of management and a lot of financial savvy and marketing all the time. Even if you're buying a small two or four unit investment property, though it's easier, you're still going to be busy.
Is It a Good Time to Buy Investment Property?
Before you invest, what's the trend? Is the market going up or down? Is the economy growing and robust, or is it down? You need to know these things before you invest your money.
Is there a lot of unemployment? What if unemployment makes a tenant unable to pay? If there's a lot of unemployment, it might not be the best time to buy a rental property.
Banks are in the business of lending money, but they might not have money or might be very choosy and you may have difficulty qualifying. Why? Because the federal government might have a policy of tight money and slow the banks down from lending.
There are a lot of things to think about if you're going to be purchasing investment property. Now let's talk about how to save big money when you're purchasing investment property.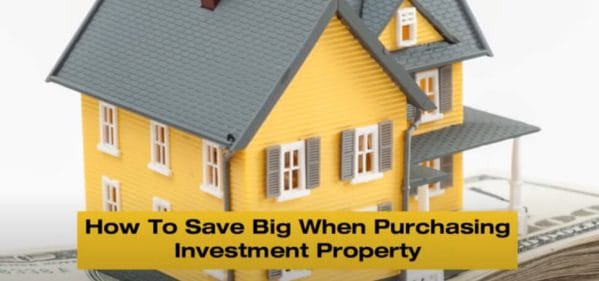 What's the Best Way to Buy Investment Property?
My name is Ted Thomas, and I've been involved in the real estate business for many years. However, for the past 30 years, I've specialized in tax lien certificates, and tax defaulted property. Why? Because I can buy mortgage-free properties for 10 and 20 cents on the dollar.
I'm going to give you some insights into this business because this is a way to get into some revenue property and save a lot of money on the purchase price.
This is not a glamorous business with glamorous property. We're going to buy slightly used and abused property. We want to buy it low to be able to sell it low and do that relatively quickly so that we can generate revenue, or keep it as rental property that brings in money monthly.
Across the United States, there are over 3,000 counties that all sell tax defaulted properties. They advertise them in the newspaper and on the county website. These properties once belonged to people that didn't pay their property tax, and they ultimately forfeited that property because the treasurer took action against them.
Non-payment of property tax has a big time consequence. The county treasurer is ultimately going to confiscate the property and resell it at an auction if they can't collect the property taxes.
Buying Cheap Investment Property Without a Mortgage
Tax defaulted property has a tax assessed value, but they don't sell it for that. They sell it for the back taxes at a tax defaulted property auction. It's a public auction. Anybody can go there, and the highest bidder will get the property.
When the property is auctioned, the mortgage or deed of trust is wiped out. That's going to make a big difference if you're trying to save money when you're purchasing investment property.
When you purchase properties at 10 and 20 cents on the dollar, you can easily rent them, or resell them for 60 or 70 cents on the dollar, and bring in a nice profit.
All tax assessed properties will be discounted significantly. They'll have an assessed value but sell at auction for maybe 60%, 70% or 80% below that. If you want to save big when purchasing investment property, I'm going to recommend that you look at tax defaulted property.
You can buy for 10 cents on the dollar, 20 cents on the dollar. Even if you pay 30 or 40 cents on the dollar, you're way under the market.
An Example of Creating Wealth Through Real Estate
How do you go about selling a property? You can put it on Facebook Marketplace, Craigslist or the Multiple Listening Service (MLS). You can use eBay, Zillow, or Trulia. All the online marketplaces will help you sell your property.
I'm going to show you an example right now.
One of my students near Tampa, Florida bought a single family home and invested $9,100 with the tax collector at the auction. He got the deed to that property. He checked the area to make sure he knew what the pricing was. He found comparable properties (comps) worth up to $150,000.
Keep in mind, he only paid $9,100 for this property that turned out to be worth a lot more than that.
What did he do? He sold it to a tenant. The tenant offered to fix it up, plus put $5,000 down and make monthly payments.
My student sold the property for $150,000 and accepted the down payment monthly installment payments. That's a giant profit. Talk about saving big when purchasing investment property. He got a property worth somewhere around $150,000 and only paid $9,100.
You Can Start Investing in Real Estate With Little Money
This is a way to buy real estate and save big money on purchasing investment property.
The markets are different everywhere you go. If you can't afford a big upscale property, that's okay. Start out small. You don't have to start out buying in the country club, but you've got to get yourself started. You can start small and move your way up.
Here's a perfect example of starting small. Some investors want to buy in bread and butter areas, also called working class neighborhoods, and they want to buy these properties as cheaply as possible. There are going to be plenty available.
This is a typical example, a property worth $100,000 according to the tax assessor, selling at auction for $10,000. That's 10 cents on the dollar.
Instead of trying to get the retail price for it, the investor said, "I'll sell it below that." He bought it low, and now he's going to sell it low for $65,000. That price attracts fixer-upper people, property flippers, and people who want to buy via an installment sale.
The investor sold the property for $65,000 and accepted an installment sale. He took $10,000 down and accepted payments of $700 a month for 10 years. The property cost him $10,000, and he's going to get $84,000 in monthly payments, plus $10,000 down. That's $94,000 for a property that only cost 10 cents on the dollar.
Now, that's what I call saving big when purchasing investment property!
Conclusion
We hope you enjoyed Ted's lesson, "How to Save Big When Purchasing Investment Property."
Purchasing investment property doesn't have to put you into a negative cash flow situation when you can buy real estate at a tax defaulted property auction for pennies on the dollar and get the property without a mortgage.
If you'd like to learn how to reap huge rewards from tax delinquent property investing, Ted Thomas provides full support and complete tax lien training with home study courses, Q&A webinars, live tutorials, workshops, web classes, and personal coaching with certified coaches.
Get started today by taking advantage of this Free Gift from Ted. Act now, it costs you nothing and will give you a big head start!
Ted Thomas is America's Leading Authority on Tax Lien Certificates and Tax Deed Auctions, as well as a publisher and author of more than 30 books. His guidebooks on Real Estate have sold in four corners of the world. He has been teaching people just like you for over 30 years how to buy houses in good neighborhoods for pennies on the dollar. He teaches how to create wealth with minimum risk and easy-to-learn methods.