HOW TO INVEST A LITTLE MONEY AND MAKE A LOT
Learn how to invest a little money and make a lot in just a few simple steps! There are low-risk options to build your wealth securely. Let me show you how to safely grow your money.
Everyone wants to make money. It's the American dream. Today I'll answer your question about how to invest a little money and make a lot and give you a process to make money in a hidden market.
If you're wondering, "What can I invest my money in to make more money?" you are about to be surprised and delighted.
My student investor, Bob, learned then followed directions, and he did it so many times, he ended up with more than 7 figures in his ROTH IRA account.
After reading this article, you are not going to be rich by next Friday. However, if you follow along with these blogs, in a short period of time, doing a simple, easy-to-learn side hustle, you will do very well.
It certainly won't happen this week, although this is a program that could make you financially independent.
Want to learn how to invest a little money and make a lot? Ted Thomas shares what made him and so many of his students successful in the field of alternative real estate investing. Live the life of your dreams. Learn how with this FREE mini class!
HOW TO INVEST A LITTLE MONEY AND MAKE A LOT – RAGS TO RICHES
In America, everyone likes the rags to riches story, and we strive to start small and grow rich step by step.
You can do this, and it will work for you. I'll tell you how, and I'll cover an amazing story that I watched many times in the past 30 years.
In this instance, it's a story of an investor who started out with less than $3,000 and purchased a single-family home valued by the tax collector at $45,000.
The investor purchased the property for $2,902 at a tax defaulted auction. The margin for profit is the margin between $2,902 and $45,000.
HOW TO INVEST A LITTLE MONEY AND MAKE A LOT – TAX SALES
This is happening across America. Not necessarily with the same amounts, but I'm sure you're getting the idea.
The tax assessor makes an estimate of value. The treasurer attempts to collect taxes, and when they are unable to do so, they confiscate and sell properties. In this instance, the property is sold at auction for pennies on the dollar.
I don't know what you'll pay at auction. I do know if you don't get in the game, you will miss the profits on every property.
Tax auctions are definitely the world of the weird. If you're wondering, "How can I invest small money and get rich?" I have clients who have purchased single family homes for as low as $316.
HOW TO INVEST A LITTLE MONEY AND MAKE A LOT – TAX DEFAULTED PROPERTY
I'm Ted Thomas, and I've been a teacher and a guide, revealing the step-by-step process of making money at tax defaulted real estate auctions for 30 years.
It all started when I discovered this hidden, almost secret, government-mandated and administered program.
I was shocked and delighted to find that across the United States over 3,000 counties had unwanted properties that owners failed to pay property taxes on.
I have a free gift for you, a 1-hour, streaming-video Mini Course that will teach you how to invest a little money and make a lot, acquiring alternative real estate for pennies on the dollar to earn a secure passive income, residual income, and generate massive cash flow! Get started today!
HOW TO INVEST A LITTLE MONEY AND MAKE A LOT – PROPERTY TAXES
The state legislature in all states requires property owners to pay property taxes and establishes values on each property.
The county uses the property tax money to pay the police department, school teachers and firefighters. Local hospitals as well as fixing the roads are functions that must be paid for with property taxes.
Some property owners fail to pay property taxes.
The legislature is where the laws are made, and the legislature will instruct the board of supervisors and county commissioners to have the treasurer levy taxes, collect taxes, and if the tax is uncollectable, the treasurer seizes the property.
HOW TO INVEST A LITTLE MONEY AND MAKE A LOT – DELINQUENT PROPERTY TAX AUCTIONS
The treasurer then is authorized to sell the property seized to the highest bidder. These auctions are public. Anyone can attend.
The local government does not want the property because the local government already owns the schools, administration buildings, and parks. They don't want more property. They want the overdue past due taxes.
To collect the past due taxes, the government auctions the delinquent property for close to the back taxes which may only be 5 or 10 cents on the dollar.
The treasurer, as part of the auction process, will cancel, wipe out the mortgage or deed of trust loan. It's the law.
HOW TO INVEST A LITTLE MONEY AND MAKE A LOT – BARGAIN REAL ESTATE
Imagine you are buying for 10 cents on the dollar, and the property has a tax assessed value of $100,000. This type of thing happens regularly.
For a moment, let's back up to my student who purchased at a live auction for only $2,902, and the tax assessed value was $45,000.
For some reason, no other bidder stepped forward and increased the $2,902 maximum bid, and the treasurer lowered the gavel. Going once, going twice, going three times.
Keep in mind, the auctioneer only wants to be assured of collecting the back taxes.
Later after cleaning up inside and out, trimming the bushes and greening the grass, the investor sold the property for $45,000 and accepted installment payments of $500 a month for 10 years.
HOW TO INVEST A LITTLE MONEY AND MAKE A LOT – LET'S DO THE MATH
The purchase price was $2,902, and the selling expenses, clean up and paint were $5,000.
The selling price was $45,000, so that's a $37,098 profit on the property.
However, the new buyer agreed to pay $500 a month for 10 years. 120 months x $500 = $60,000
So that's an additional profit of $15,000 and at total profit of over $52,000.
CONCLUSION
We hope you enjoyed Ted's lesson, "How to Invest a Little Money and Make a Lot."
There are small investments that make money. Big money! Most people wouldn't think that it would be possible to invest in real estate with little money, but it is for those who know one of the best kept secrets of the industry.
Tax defaulted property is the hidden gem of the real estate market. At a tax sale auction, you can purchase property for 10, 20, or 30 cents on the dollar and get the property without a mortgage.
One of Ted's students bought a house for less than $3,000 at a tax sale and quickly sold it for a $52,000 profit. In another instance, a student who's now a Ted Thomas coach, bought a property for $67 and sold it for $22,500.
Deals like this happen every day all across the USA, and there's no reason why you couldn't make this happen too!
If you'd like to learn more about how to invest a little money and make a lot from deep discount real estate, there's no one more qualified to teach you than Ted Thomas, America's leading authority on tax lien certificates and tax defaulted real estate investing.
Ted is the only one who provides full support and complete training with home study courses, Q&A webinars, live tutorials, workshops & web classes, and personal one-on-one coaching.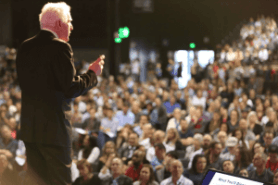 Get started today at no cost with Ted's FREE Master Class, that reveals the incredible opportunities available in bargain real estate. The class is only about 1 hour of streaming video and contains life-changing information! You can't afford to miss it!