INVESTING WITH LITTLE MONEY
You can start investing with little money. Most people think they need a lot of money to invest, but that's not true! Find out how to grow your money safely and securely.
The idea that you want to start investing is good.  It's really a great idea.  However, starting isn't what most people are interested in doing.
I find that newcomers consider lifestyle more important than making money.  They prefer a fancy apartment or even a new house.  They love to travel and entertain, and they don't want to scrimp and save.
Lifestyle is important.  Many youngsters appreciate driving a BMW, but a lot of young people want to wait until later to invest.
My name is Ted Thomas, and I've been involved in alternative real estate investments for the past 30 years.  My first career as a pilot flying airplanes was challenging. I count my blessings everyday as I was able to travel and live a lifestyle that enabled me to see much of the world, and I was getting paid to do so.
Today I'll answer your question, "How can I start investing with little money?"
Want to learn how you can make big profits in real estate even if you're investing with little money? Would you like to buy homes for pennies on the dollar? Or earn double-digit interest rates? Learn how you can secure your financial future with this FREE mini-class!
THE BEST WAY TO START INVESTING WITH LITTLE MONEY
How do you start investing with a small amount of money, and where is the best place to invest money right now?
Just over 30 years ago, I discovered a little-known and highly lucrative process. I was shocked because the returns on the investments appeared to be safe and secure and a person could start with $1000 or less.
In a world where daily we are bombarded with newscasters on the radio, television and the internet, constantly talking about billionaires and getting rich, that's all fine. However, what about the guy or gal who doesn't have big money from stockholders to get started, the person with $1,000, $5,000, or $10,000?
Everyone isn't going to be like Amazon founder Jeff Bezos, or Microsoft Bill Gates, build a public company using stockholders' money and be rewarded with billions.
A lot of people would like to start out small, learn the fundamentals, and over a period of time have freedom and live comfortably.
Here's a solution which is considered by many to be safe and secure, but first, let's establish some rules for investing.
Rule #1 – Don't lose money.
Rule #2 – Refer to rule #1.
You don't need to be famous like Warren Buffet to understand what you just learned. You do need to be aware of risk.
INVESTING WITH LITTLE MONEY IN REAL ESTATE
30 years ago, I discovered tax lien certificates and tax-defaulted property. This was an all-new investment strategy to me. However, it had been available for decades.  It's amazing how much you don't know.
I learned about this government-controlled and administered program and the rewards it produced. I was astonished.  For example, I could invest with the county, a local government, and depending on the state, earn 16%, 18%, 24%, up to 36%.
Folks, I can assure you I never looked back.  This government system has been in use by local counties and municipal governments for over 200 years.
You can benefit legally and ethically, earn high rates of return, and your checks will come from the government.  It's okay to test the market and start with $1,000 or less.  It doesn't matter if you are a new investor or if you've been investing for 25 years.
INVESTING WITH LITTLE MONEY IN TAX LIEN CERTIFICATES
Government tax lien certificates are issued on tax defaulted properties in almost half of the counties of the United States.  Not to worry, there are enough of them for everyone.
If you're wondering, "How can I start investing with little money?" my answer is you can learn about these government certificates that are issued in approximately half of the counties in the United States.
What's going on?  Why do local governments issue tax lien certificates?  Here are the reasons.
The state legislature makes the laws requiring all property owners to pay their fair share of the county bills.  Property owners who fail to pay property taxes will be placed on a list of defaulting property owners.
The local county treasurer will issue a default notice and simultaneously notify the public of an auction online or offline or both.
If this is interesting to you, I have a free course that can benefit you even if you're investing with little money. It's a gift from me to you that will teach you the secrets of tax lien certificates and how to profit in tax deeds. Be sure to take advantage of it today!
INVESTING WITH LITTLE MONEY AND EARNING HIGH RETURNS
Depending on the state, the certificates will pay outrageous interest rates to those who purchase these government-issued certificates.  The rates could be as low as 12% and as high as 36%.
States sell tax lien certificates. These are very benevolent tax collectors.  They allow the property owner to stay on the property. The purchaser of the certificate will earn interest, however, they will not get immediate possession of the property.
If at a later time, after the auction, the property owner comes forward and pays the taxes, this action is called redeeming or redemption.
In order to redeem, the property owner must pay 100% return of capital plus the high interest rate, then the investor gets their money back plus that high interest rate.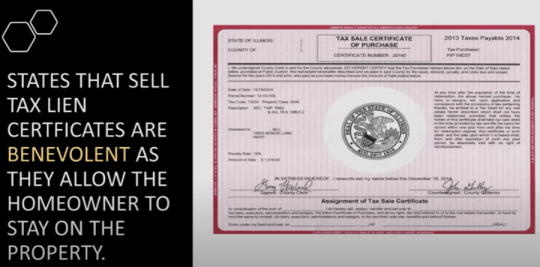 INVESTING WITH LITTLE MONEY AND ACQUIRING REAL ESTATE
You're probably saying to yourself, "Wait a minute, what happens if the property owner does not come forward to buy back the certificate and redeem?"
The answer is…
If the property fails to pay property tax, the county tax collector will transfer the property from the previous owner who defaulted to the tax lien certificate holder.
INVESTING WITH LITTLE MONEY AND GETTING PROPERTY WITHOUT A MORTGAGE
My point is if you don't get paid your money back plus interest, you will get the property.  It's the law.  Additionally, when you get the property, the treasurer will have cancelled the mortgage lien or the trust deed loan.
For example, If you paid the taxes on a property assessed at $100,000 and the amount you paid was $3,000, you will have directed your money to the government county treasurer.
If the property owner ultimately pays the taxes, you will get paid your money back plus a high interest rate.
If the property owner fails to pay the property tax and the principal you invested, the law in every state allows the treasurer to transfer the property to you.
Of course, this sounds unbelievable, but it is happening in every county in the United States.  The counties confiscate and seize tax defaulted property then resell those properties at auctions to the highest bidder, and anyone can attend.
CONCLUSION
We hope you enjoyed Ted's lesson, "How Can I Start Investing With Little Money?"
There is a little-known and highly lucrative way to invest even if you don't have a lot of money. Tax lien certificate investing pays interest rates of up to 36%, and if you don't get paid, you get the property without a mortgage.
Is it worth investing with little money? At these interest rates, yes.
About half the states sell tax lien certificates on properties in arrears on property tax payments. These certificates are sold at auctions at the local level by counties and municipalities.
If you purchase a tax lien certificate, and the property owner pays the taxes plus the interest, then you get all your money back and the high rate of interest, which could be 16%, 18%, 24% or even as much as 36%.
95% to 97% of the time the certificate will be redeemed, and you'll get the interest. Otherwise, you'll get the property, and the mortgage or deed of trust is wiped out.
Tax lien certificates are sold in a variety of amounts. You could purchase one for as little as $50 or as much as $50,000 or more. There's something for everyone regardless of budget, and tax lien certificates are an excellent way to begin investing with little money.
Tax lien certificates are safe and secured by real estate. It's not often you find a safe investment that pays outrageous returns, and that's what makes tax lien certificates stand out as an amazing investment, Even better, you can start tax lien investing with little money.
If you'd like to learn more about investing with little money and turning it into big profits, there's no one more qualified to teach you than Ted Thomas, America's leading authority on tax lien certificates and tax defaulted property investing.
Ted Thomas is the only one who provides full support and complete training with home study courses, Q&A webinars, live tutorials, workshops & web classes, and personal one-on-one coaching.
Get started today at no cost with Ted's FREE Master Class, that reveals the incredible opportunities available in tax defaulted real estate. The class is only about 1 hour of streaming video and contains life-changing information! You can't afford to miss it!