Learn how to do seller financing like a pro. Ted Thomas will reveal the advantages of seller financing properties. Don't miss out, and start implementing this strategy now! 
Seller financing deals happen every day of the week.  Once you start selling with this type of loan, everything will happen quickly. Your sale will have you putting money in your bank in days, not months and years like everyone else.  
The difficult, slow money banks and title companies all work and overwhelm the buyer with appraisals and home inspections.
Want to learn more about bargain real estate? Would you like to buy nice homes for pennies on the dollar, and without a mortgage? Or earn outrageous interest rates secured by real estate? Then you don't want to miss the FREE Master Class.
SELLER FINANCING TO SPEED UP THE SALE
At times, the real estate market booms, and other times, the market is slow.  Real estate professionals, like appraisers and home inspectors, have difficulty finding work in bad markets.  However, in good markets, they slow down the sales process. 
Bankers must approve. Title companies must approve, and home inspections must give good news.  Everything seems to stop when the sales process begins. 
Meanwhile, you, the seller, who was very excited about your bargain basement purchase and your wonderful job of fixing up the property, are out of money and have a family to take care of. 
Anything that slows down the selling process will hurt your profit picture. 
The good news is there is a solution.
YOU ARE THE BANK
Today I'll explain how to do seller financing deals.  I have some real insights to pass along to you.
Seller financing works and it works fast.  You can be your own bank and make a bundle doing so. I'm going to give you examples in just a moment. 
I have a free gift for you, a streaming video mini course that will teach you the basics of tax lien certificates and how to make big profits in tax defaulted property. You don't want to miss this. It's costs you nothing, and you have so much to gain.
YOU GET TO MAKE YOUR OWN DEALS
Newcomers to real estate are surprised to find out that they can make a deal and their own transactions, and it's not difficult.
Everything will happen rapidly.  For the entrepreneur and maverick, this is a big advantage that they quickly learn to take advantage of.  
The big guys with big money have standardized the real estate business to include massive banking loan operations, appraisals, loan brokers, title companies and many others.
Once they can standardize the process, they computerize it, throw money at the challenge and advertise it.  
SELLER FINANCING ON TAX DEFAULTED PROPERTY
Tax defaulted real estate is unique.  Just about every property is a little different.  It's very difficult to standardize. It's very difficult to finance. 
This is perfect for the little guys.  The little guy can bypass the banking syndicates completely.  
If you can sell your property directly and not have to wait weeks or even months for a broker to get the job done, your client does not have any requirement to wait for a bank approval or a home inspector.  
The selling process can be very slow, and the regular real estate system as well.
FINANCING WITHOUT THE MIDDLEMEN
I have clients that sell within days because they do the sales process themselves. They provide the financing. They don't require home inspections, and they don't require the services of outsiders.
For example, using Zillow, we find that the average home is now valued at $250,000 to $300,000 in the United States. That's pretty much confirmed with the Multiple Listing Service. 
Most brokers would request a 6% commission which simply means that 6% would be deducted from the selling price.  
Before you jump to any conclusions, I love brokers. Why do I love brokers? Because they bring me clients. If they bring me a client, I'm happy to pay them a commission. 
Meanwhile, I figure out how to sell it myself.  I might use Zillow, or I might use Facebook Marketplace or Craigslist or eBay. I might use Redfin. You're getting the idea. I can use all of them. 
THE PROFITABILITY OF SELLER FINANCING
So let's talk about how to do seller financing.  I spent a few minutes explaining the sales process.  Now, I'll spend a few minutes explaining the financial process. 
I teach all my students – buy low, sell low, and do it fast.  
I buy at tax defaulted property auctions at 60%, 70%, or 80% below the tax assessed value. I don't have challenges selling because I'm not selling it retail.
SELLER FINANCING AS A WHOLESALER
Let's use as an example a property of $100,000 value at auction. If I purchase at 20 cents on the dollar, I know I have invested $20,000. 
If the property is valued at $100,000, I'll put it on the market for $50,000 or $60,000, and I immediately have a competitive advantage. I'm way below the market.  
Earlier I mentioned all the sources for selling. All of them cost pennies, but real estate brokers whom I like want dollars. I want to do business with everyone. 
HOW TO ATTRACT BUYERS
Today I'm answering your question about how to do seller financing deals, so let's talk about the challenges.  
The 2 biggest challenges are:
Selling
Getting financing  
I won't have trouble selling because I'm under the market.  So, where does the financing come in?  I'll give you a little background.
SELLER FINANCING FOR BUYERS WITH LOW FICO SCORES
The banks don't like to lend to people with poor FICO credit scores.  They refuse to lend to anyone or any couple with a low FICO score.  
25% of the market has low FICO scores. Why?  Divorce, bankruptcies, illness, and the other crises of life. Millions are unable to find a lender.
With signs and low priced advertising, I let the market know installment sales are available. 
Newcomers are afraid that the market won't come to them, but you'll be overwhelmed with people who want low down payments and low monthly payments, like a couple that's just getting started.  
USE THIS SUCCESSFUL STRATEGY
How does seller financing work? The key is low payments and low down payments.  In many cases, my students add to their price. You can let at top interest rates with whatever your start allows. 
Here's a seller financing example, and this time in more detail.
Let's say the tax assessed value was $100,000, but you went to the tax auction and bought it for 20 cents on the dollar. Are you a happy camper? You got a $100,000 property for $20,000. Look at the margin you've got!
If you want to go for the $100,000, go for it, but what I'm going to do is get the thing sold this afternoon.
How am I going to do that?
I'm going to do an installment sale and sell that property for $50,000. I'm going to put it on Craigslist, eBay, Facebook Marketplace, and I'm going to put it on Zillow. I'll put huge signs out front saying, "Installment Sale" and "Must Sell."
SELLER FINANCING WHERE EVERYBODY WINS
I'm going to take a seller financing down payment of $5,000. That's way low. Everybody else wants high, but I want way low.
All those people will come to me, and they'll have $5,000. Then I'm going to say, "I want payments of $450 a month for 10 years."
Folks, that's all the people care about is that payment. They're going to get in for $5,000, and now they're going to make payments to you.
I'm going to take those $450 payments for 10 years time, that's 120 months, that's $54,000.
So, I'm really not selling it for the $50,000 you see there. I'm going to get $54,000, plus the $5,000 down payment for a property valued at $100,000 that I purchased for $20,000.
Now I've sold the property for about 60% of value, and I didn't have to worry about brokers or loan brokers, a home inspection, an appraisal, or anything. I got the thing done right away and made money, and the buyer got a great deal.
Now, I don't have to settle for $450. I could have said, "Put $5,000 down and pay me $550." Do the math. This works!
CONCLUSION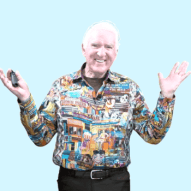 We hope you enjoyed Ted's lesson, "How to Do Seller Financing."
Since tax defaulted property can be bought for cents on the dollar, you have a significant profit margin that enables you to wholesale the property for a quick sale or make even more money by doing an installment sale.
In the latter case, you're the bank, cutting out the middlemen that cost you money and cause delays.
There are plenty of buyers with low FICO scores who are able to purchase a property if you can offer it to them at a price they can afford without the need to take out a bank loan, which they wouldn't qualify for anyway.
The only thing that matters to these buyers is the down payment and the monthly payments. If they can afford that, they'll jump on the opportunity to buy a home that's seller financed by you.
In the end, the buyer gets a home they can afford. You sell quickly and make a nice profit, and everybody wins!
Then you move on to the next property and do it again, creating cash flow for yourself and helping buyers who would otherwise be unable to purchase a home.
Now, that's how to do seller financing! The best way to create wealth is by helping others achieve their dreams too!
If you'd like to know more, there's no one more qualified than Ted Thomas, America's leading authority on tax lien certificates and tax defaulted property investing, to teach you how to do this.
Ted Thomas is the only one who provides full support and complete training with home study courses, Q&A webinars, live tutorials, workshops, web classes, and personal one-on-one coaching.
If you'd like to learn how to earn lucrative profits in real estate, you can get started now at no cost by taking advantage of Ted's FREE Master Class. This life-changing mini course is only about 1-hour of streaming video.
Learn today from the comfort of your home how to make your dreams of financial independence come true!