HOW DOES OWNER FINANCING WORK?
Owner financing is beneficial for both the buyer and the seller! But how does owner financing work? Learn exactly how this works and the best ways for you to do this!
Today I'll answer your question, "How does owner financing work?"
Most investors are so hungry for cash flow that they often pass right by this very profitable part of the real estate business.
I have a number of students that follow my system of using owner seller financing, and the results have been exceptional.
Want to learn how make big profits from bargain real estate? Would you like to buy mortgage-free homes for pennies on the dollar? Or earn double-digit interest rates? Learn how with this FREE mini class!
HOW DOES OWNER FINANCING WORK? – DEFINITION
This is a capsulized condensation of owner financing.
The party owning the property agrees to sell, usually with a stipulated down payment. Plus the owner will either employ an attorney or a title company to create accurate paperwork to make the contract legal.
The contract is really a promissory note and agreement to pay installment payments. When the payments are completed, the owner seller will transfer the deed (title) of the property to the new owner.
HOW DOES OWNER FINANCING WORK? – ADVERTISING
So, how does home owner financing work? Here's an example.
To begin, let's assume you own a rental home, and you want to sell. Traditionally owner sellers contact a real estate agent to do the process. That's fine. However, it will have a cost.
I'm not negative on brokers or agents. Many are excellent and will accomplish the selling process very quickly.
Owners who are willing and motivated to make money will find their advertising is very effective if they mention owner financing. Many buyers will be attracted to the property as a result of owner financing. Let's take a moment and explain this process.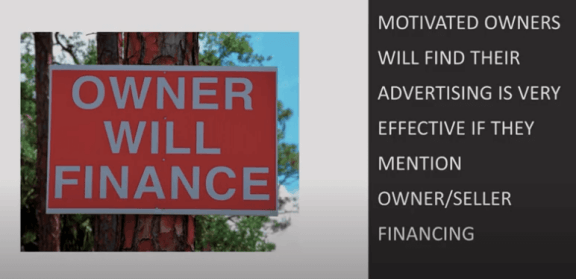 HOW DOES OWNER FINANCING WORK? – A SPEEDY PROCESS
First let me tell you, owner financing when it's done correctly, speeds up the selling process.
If you are wondering why, the simple answer is there is no waiting for a bank loan approval. That could take weeks of time. Additionally, there is no waiting required for a home inspection which also could take time.
In the current market place, appraisers are scrutinized and receive maximum oversight and review. This means the process will take more time, and most appraisers will evaluate the property at lower than normal value.
HOW DOES OWNER FINANCING WORK? – BUYERS
Most importantly, owner financing opens up a whole marketplace of buyers who have been shut out of the financing market.
These are people who are recently divorced or maybe someone in their family was sick and they have major medical bills, so they paid the doctor and not the mortgage.
Many of these people are poor money managers. Unfortunately, they pay bills late, and they ultimately end up with poor FICO credit scores. Banks and lenders reject their applications.
HOW DOES OWNER FINANCING WORK? – VETTING BUYERS
I'm not saying be a charity lender and take on the burden of financing to help the poor. I am saying many of these are good people, and they are overlooked. It would be wise to reconsider.
Savvy sellers are willing to finance, and they will check out these poor credit score clients.
The big question is, do they have a good job? Have they been employed for a long time? Can they verify earnings?
HOW DOES OWNER FINANCING WORK? – THE CONTRACT
Savvy owner financers sell using a contract which has been created by a real estate attorney or a title company. The contract should be reviewed prior to the transaction with the buyer.
How do you structure an owner finance deal? Typical owner financing terms are the sale price, the down payment and monthly installment payments, the interest rate, and duration of the contract.
The contract allows the new buyer full freedom of ownership. It also authorizes the new buyer's access to the property and requires them to pay installment payments, taxes and insurance on time.
HOW DOES OWNER FINANCING WORK? – THE INTEREST RATE
How much interest does owner financing charge? Since it's not unusual for buyers to have substandard credit ratings, they can expect the seller to charge more interest than a bank or traditional lender would charge.
Owner financing sells, and the documentation is a contract, not a mortgage or a trust deed loan.
This process is referred to as a contract for deed. This type of contact has been in use for hundreds of years, and title companies and attorneys will have many unique versions of the contract.
HOW DOES OWNER FINANCING WORK? – PROFITS
Owner financing is 100% legal and ethical, and those who use these contracts earn generous dollars because they receive higher sales prices and high interest on the contract.
For example, let's say the owner seller has purchased a property at auction. More than likely, that means the property sold for a bargain price, possibly a 60%, 70% or even 80% discount.
Learn how you can secure your financial future with this FREE mini class on bargain real estate investing. It's a gift from me to you. Be sure to take advantage of it today!
HOW DOES OWNER FINANCING WORK? – THE PROCESS
When the owner seller desires to sell the property, little or no negotiation will take place regarding the installment sale. The new buyer is excited, happy and willing because financing is the biggest problem in buying real estate.
1 – The owner seller agrees to sell using an installment sale.
2 – The buyer agrees to be responsible for a down payment and installment payments for years.
3 – It's not unusual for new buyers to not have a down payment.
What's the solution to the down payment issue?
HOW DOES OWNER FINANCING WORK? – DOWN PAYMENT
Let's talk about owner financed homes with no down payment. What is the process?
The owner seller creates a contract, and it has installment payments. However, the installment payments in the first years are significantly higher than in the subsequent years.
In the first years of the contract, the buyer can build in a down payment, $500 or $1000 a month, whatever is negotiated.
At the end of 2 years, at $500 a month, the new buyer has paid a down payment of $12,000 plus the taxes and insurance. At that point, the payment drops to a normal amortized rate.
HOW DOES OWNER FINANCING WORK? –TAKEAWAY
We hope you enjoyed Ted's lesson, "How Does Owner Financing Work?"
Owner financing can be a win-win situation for both a seller who wants to make a speedy sale and earn a passive income and a buyer who is credit challenged and unable to obtain a loan from a traditional lender.
Instead of getting financing from a bank, the seller is the one who provides the financing and receives the down payment, interest, and installment payments.
The contract can be obtained from a title company or an attorney.
A prudent seller will continue to hold onto the deed to the property for the duration of the contract in order to mitigate risk.
Many buyers may be unable to make a down payment. A solution is to build the down payment into the contract by initially requiring larger monthly installment payments then reducing the payments after the amount needed to cover the down payment is received.
Owner financing is profitable for both the buyer and the seller. The buyer's payments are going towards the purchase of a property instead of being thrown away on rent. Meanwhile, the seller is profiting on both the price of the sale and the owner financing.
When it's done right, everyone wins.
If you'd like to learn more about how to profit from alternative real estate, there's no one more qualified to teach you than Ted Thomas, America's leading authority on tax lien certificates and tax defaulted property investing.
Ted Thomas is the only one who provides full support and complete training with home study courses, Q&A webinars, live tutorials, workshops & web classes, and personal one-on-one coaching.
Get started today at no cost with Ted's FREE Master Class, that reveals the incredible opportunities available in tax defaulted real estate. The class is only about 1 hour of streaming video and contains life-changing information! You can't afford to miss it!