HOW DO REAL ESTATE TAX SALES WORK?
Bidding at tax sales is easy, profitable and an excellent way to get into real estate if you don't have a lot of money! But how do real estate tax sales work? Ted Thomas explains the process and everything you need to know.
Today I'm going to answer your question, "How do real estate tax sales work?"
I'm Ted Thomas, and this is a really interesting business. Only a few people actually research and learn about tax sales which are government-controlled and mandated auctions.
The word auction rings a large and loud bell inside the heads of bargain hunters. I've noticed many of the auction buyers are so excited that they don't do their homework. Like a lot in life, if you don't do your homework, you could waste a lot of time and money.
Want to learn more about bargain real estate? Would you like to buy nice homes for pennies on the dollar, and without a mortgage? Or earn double-digit interest rates secured by real estate? Then you don't want to miss this FREE Mini Course.
HOW DO REAL ESTATE TAX SALES WORK? – A BIG BUSINESS
The first thing to understand is that tax deeds and tax liens are a very big business across the United States. You can expect 5,000 auctions to be conducted for tax defaulted real estate and tax lien certificates.
Almost anyone can afford to attend the auctions, and in some instances, property will be sold for less than $500.
What is a tax lien? How do real estate tax sales work? I'll show you. Note that this article is primarily about tax defaulted real estate. If you're interested in tax lien certificates, read more here.
HOW DO REAL ESTATE TAX SALES WORK? – TAX DEED AUCTIONS
Property taxes work well for the local counties because the county collects money from private owners to operate the county. When private property owners fail to pay taxes, the county holds tax auctions.
Investors like tax deed auctions because the county sells the tax delinquent property to the highest bidder. The brilliance of the auction is it will start at a very low price usually close to the back-delinquent taxes.
HOW DO REAL ESTATE TAX SALES WORK? – MORTGAGE-FREE PROPERTY
Tax defaulted auctions sell tax deeds. When a tax deed is sold, the county wipes out the mortgage. By law, the process of the auction deletes the mortgage from the property records.
I will repeat that. In every state and county, the mortgage is wiped out, that is, it's deleted from the property records of the tax defaulted auction or tax lien auction.
The new owner, the highest bidder, takes ownership of the property mortgage-free. It's the law.
The mortgage is not destroyed, torn up, burned or thrown out. It's just removed from the property records.
The county has power, full authorization from the state legislature, to delete the mortgage from the property records, so the new owner receives the property mortgage free.
The mortgage which is a promissory note was signed by a person or persons, and they still owe the mortgage to the lender, not the new buyer.
HOW DO REAL ESTATE TAX SALES WORK? – RAISING REVENUE
The local government or county is trying to generate revenue. The county has confiscated the property, but the county actually doesn't want it; they want revenue.
So the county announces a tax sale. It's really a tax auction. In most instances, the auctioneer will be a county employee. However, the county does not want the property.
HOW DO REAL ESTATE TAX SALES WORK? – AN OPPORTUNITY
You're probably wondering why you haven't heard about this before. Everything you're reading today is legal, and it's currently happening in every county across the United States.
This is an opportunity for you to make money when you know how.
Thousands of property owners nationwide default on property taxes. These are not necessarily bad people or deadbeats.
Many own property, and they pass on without heirs. If the county doesn't confiscate the property, we would have thousands of abandoned properties deteriorating.
I have a free gift for you, a 1-hour, streaming-video mini course that will teach you the secrets of one of the safest high yielding investments available and how to create massive cash flow and generate income streams from real estate.
If you've decided it's time to take charge of your financial future, then this Free Course is the best way to get yourself started on the road to success!
HOW DO REAL ESTATE TAX SALES WORK? – ASSESSED VALUE
Property taxes are paid based on a tax assessment of the property's value.
Everyone pays the same rate of tax. A small property with a small value has a small tax. A fancy house in the country club with a high value pays its proportion of taxes. Everyone pays the same rate.
HOW DO REAL ESTATE TAX SALES WORK? – QUALITY OF TAX SALE PROPERTIES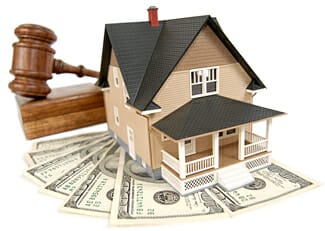 From my observation, tax auction buyers are usually successful at purchasing properties I would grade as C or D. Of course, the country club properties are A's and B's.
It's rare for the A's and B's to be great deals. People pay big money for those properties.
The C's and D's are cleaned up and resold into the market to people who want starter homes or are willing to do fixer uppers or have income appropriate to the low price.
HOW DO REAL ESTATE TAX SALES WORK? – CREATING VALUE
My point is the opportunity is to take what the government is offering, which is basically unwanted real estate, and create value with minor improvements and clean up.
Figure out installment purchasing. Understand how to take care of people with credit issues that cannot afford a $300,000 home.
HOW DO REAL ESTATE TAX SALES WORK? – LOW PRICES
How do real estate tax auctions work? The answer is to your advantage; these auctions are a great way to pick up real estate at low prices because the county is not in the property business. They are in the administration business.
The county needs revenue.
They have many county bills to pay.
The county wants the property on the tax roll; they want annual payments from every property possible.
The revenue from property taxes pays for county employees to build schools, pay teachers, the police and sheriff, fund the fire department, and maintain the legal system, I'm sure you get the idea.
HOW DO REAL ESTATE TAX SALES WORK? – FINDING A TAX SALE
The auction takes place at a county facility. It could even be the courthouse steps. It's always publicly announced in the newspaper and on the county website where you can also get a tax lien properties list.
Auctions may be conducted by private companies, which would be normal for highly populated counties where there are hundreds of properties to be sold at the auctions.
In the low-population counties, the county employees will leave their desk and become the auctioneers under the direction of the county treasurer.
HOW DO REAL ESTATE TAX SALES WORK? – PURCHASING OVER THE COUNTER
Many properties will receive no bids. These properties are being sold at just the back taxes. They are unwanted.
Understand that those leftover properties are still for sale and can be purchased over the counter directly from the county.
If you have a way to sell those properties in the market, there's a huge opportunity. There are gems to be found among over the counter tax lien properties, and you don't have to bid on them.
CONCLUSION
We hope you enjoyed Ted's lesson, "How Do Real Estate Tax Sales Work?"
A tax sale is a bargain hunter's dream! At a tax deed auction, you can purchase real estate for pennies on the dollar of the assessed value and get the property without a mortgage.
The bidding begins around the amount of the delinquent property taxes, which are only a small fraction of the property's assessed value, enabling you to acquire real estate for 10, 20, or 30 cents on the dollar.
These are unwanted properties that can be cleaned up and sold as starter homes or to people who want fixer uppers.
Because you got the property at a deeply discounted price, your large profit margin enables you to sell the property fast at an attractive discount and still make a big profit.
Tax sales are public auctions held by counties all across the USA, and they occur both online and offline. Counties advertise the auctions in the local newspaper and on their website.
Tax sale bargains are an opportunity that no savvy real estate investor would want to miss out on! If you'd like to know more, Ted Thomas can show you how to do this.
For over 25 years, Ted's been teaching students the secrets, strategies, and safest ways to profit from tax deed investing.
There's no one more qualified than Ted Thomas, America's leading authority on tax lien certificates and tax defaulted property investing, to teach you how to do this profitably.
Ted Thomas is the only one who offers full support and a complete training program on how to buy property with delinquent taxes with home study courses, Q&A webinars, live tutorials, workshops, web classes, and personal coaching.
If you'd like to learn how to create massive cash flow and streams of residual income from deep discount real estate, you can get started today at no cost by taking advantage of Ted's FREE Master Class on America's best kept secret, tax lien and tax deed investing.