HERE'S WHY INVESTING IN REAL ESTATE IS A GOOD IDEA
Learn why investing in real estate is a good idea! If you're hesitating about investing in real estate, then this is your sign to stop worrying. Don't let your hesitation stop you from making big money in this industry! 
A lot of people like real estate so you're in good company.  I've been involved in real estate investments since 1970, and there's definitely something for everyone.  
Many start with condominiums and single family homes.  The challenge is keeping rentals filled with tenants who will pay on time. 
When markets are in turmoil, it always affects the lowest end of the market.  Since 2006, there have been huge dips or depressions in the real estate market. Most of that is caused by easy money.
I'm Ted Thomas. Today I'm explaining why investing in real estate is a good idea, and I'll show you a great example of guaranteed money with checks coming from the county.
Very few real estate investors even know about this business.  Just keep that in the back of your mind, and I'll show you guaranteed returns of 20%.
Want to learn how you can make big profits from deep discount real estate? Would you like to buy nice homes for pennies on the dollar? Or earn double-digit interest rates? Then you won't want to miss this FREE mini class.
WHY INVESTING IN REAL ESTATE IS A GOOD IDEA – REAL ESTATE UPS AND DOWNS
Real estate, in the good years, can be tremendously profitable.  Gross rents in the apartment business move up rapidly with the economy.  When the tide comes in, and the economy is good, apartments are a money machine. 
Keep in mind, the tide will go out, and the markets will tumble.  Empty apartments are painful to the pocketbook. 
Small apartments are relatively easy.  Big apartments can be a management nightmare.  All of the problems of life and humanity are concentrated in that property. 
Large properties require management teams and administrative home offices.   However, entrepreneurs who can manage will find this a powerfully profitable business. 
You'll find it interesting to know, the federal government lends money across the United States on large apartment properties. They do this to help cities provide housing regularly. 
WHY INVESTING IN REAL ESTATE IS A GOOD IDEA – HUD PROPERTIES
The Wall Street Journal and other financial publications and websites will have large apartment projects for sale from the federal government and an agency with HUD (U.S. Department of Housing and Urban Development). 
Ask yourself why would HUD be selling property? They are lenders.  I'll sum it up in one sentence. It's tough to manage large apartments. 
If you're interested in making big profits from real estate, I have a free gift for you, a 1-hour, streaming-video mini course that will teach you the secrets of tax lien certificates and how to create massive cash flow from tax deeds.   
WHY INVESTING IN REAL ESTATE IS A GOOD IDEA – A HARD ASSET
Here's another reason why investing in real estate is a good idea.  Inflation will continue to rise.  Governments will continue to print money.  Unions will continue to demand more.  Politicians will demand more social programs. 
The point is, rents will rise.  More importantly, real estate is a hard asset.  These assets usually rise in value or in parallel with inflation.  
I'm not qualified to discuss farms and agriculture or cattle and ranches. These are specialty markets like land, forest, and timber.  It's all real estate. It generally holds value over long periods. There are dozens of unique categories. 
WHY INVESTING IN REAL ESTATE IS A GOOD IDEA – TAX DEFAULTED PROPERTY
For over 200 years, states and local counties have found the need to confiscate and seize real estate from owners who have defaulted on property taxes.  
Suddenly, for newcomers, one man's garbage can become another man's gold. 
Ask yourself, what is the county going to do with single family homes, residential buildable lots, and apartments that produce no tax revenue?  Logically, they are going to sell it and do so fast.  At low prices with no mortgages. 
WHY INVESTING IN REAL ESTATE IS A GOOD IDEA – PROPERTY TAXES
For 25 years, I've been guiding newcomers as well as experienced real estate investors in a market that is not so well known, and it's certainly not glamorous.  It can be summed up by saying local governments will not tolerate nonpayment of taxes.  
The law in all states requires property owners to pay their share of the county expenses.  Those expenses become property taxes.  
In a moment I'll show you an example of tax lien certificates and tax defaulted auction properties being sold to consumers, that's you, for 70%, 80%, and sometimes 90% below the tax assessed value. 
Imagine for a moment purchasing such a property and receiving a return guaranteed by law.
WHY INVESTING IN REAL ESTATE IS A GOOD IDEA – SEIZED PROPERTY
In the United States, there are more than 3,000 county governments, those governments are funded with property taxes. Anyone who owns real estate must pay taxes.  If they don't pay, there will be severe consequences.
The legislature of each state authorizes the local county treasurer to levy taxes, collect taxes, and if uncollectable , confiscate the property, sell that property at a public auction, and use the revenue to pay the delinquent property tax.  
WHY INVESTING IN REAL ESTATE IS A GOOD IDEA – TAX LIENS
Two systems are in place. Approximately half of the states and counties are benevolent and flexible. These counties issue tax lien certificates which they sell at auction. These are safe, secure investments for any investor.
The incentive to buy the certificate is money. The local government will ensure guaranteed payment which could be 16%, 18%, 24% and sometimes 36% interest. 
A tax lien certificate allows the homeowner to stay in the property. The homeowner is not evicted. This gives the homeowner time to become reemployed or recover from sickness, time to resolve whatever the problem is.  
WHY INVESTING IN REAL ESTATE IS A GOOD IDEA – TAX DEEDS
The states and counties that don't sell tax lien certificates are not so benevolent. They sell tax deeds.  In a tax deed state, nonpayment of taxes will result in multiple legal notices of default and a 100% loss of the property. 
The county will have given notice which is due process, then they will confiscate the property and sell it at a public auction.  It's possible to purchase these unwanted properties for pennies on the dollar online and offline.
WHY INVESTING IN REAL ESTATE IS A GOOD IDEA – AUCTIONS
In Georgia, for example, the county government will auction defaulted properties in 159 counties every month.
These auctions are administered by the county treasurer. The auctioneer could be assigned by the treasurer and called an ex-officio sheriff.  
WHY INVESTING IN REAL ESTATE IS A GOOD IDEA – AN EXAMPLE
Here's an example of why investing in real estate is a good idea.
Mr. J, one of my clients, learned the details of tax lien certificates and tax deed properties.  In Georgia, he purchased 4 single family homes.
They were not in the country club. These were not A+ properties. They were Cs and Ds at the tax defaulted auction.  
The law in Georgia states the investor will be paid a minimum penalty return of 20% any day from day 1 to day 365 when the property owner comes forward and pays the delinquent taxes. 
If they don't come forward within 365 days, the investor has the option of taking the property.  If the investor is paid, any day from day 1 to day 365, the investor earns 20%. 
In this case, the investor purchased the deeds on 4 properties for approximately $120,000. When they all paid off, he received all of his money back plus $24,000, a 20% return.  Just another reason why investing in real estate is a good idea.
CONCLUSION
We hope you enjoyed Ted's lesson, "Why Investing in Real Estate Is a Good Idea."
Real estate is a hard asset that tends to appreciate with inflation. It remains valuable.
There is a particular real estate niche that's highly profitable and not affected by the ups and downs of the market. That is tax delinquent property investing.
When a homeowner doesn't pay property taxes, the county will take serious steps to collect those taxes. There are two systems in place to accomplish this, tax lien certificates and tax deeds.
About half the states will sell tax lien certificates. They won't evict the homeowner. Instead they'll allow someone else to pay the taxes by auctioning a tax lien certificate. These certificates can pay interest rates as high as 36%.
95% to 97% of homeowners will pay the back taxes, and the tax lien certificate holder will get all their money back plus the high interest. If the homeowner doesn't pay, then the certificate holder gets the property without a mortgage.
In a tax deed state, the county will confiscate the property, evict the homeowner, and sell the property at a tax defaulted property auction, also called a tax sale.
At tax deed auctions, it's possible to purchase properties for pennies on the dollar, and get the property without a mortgage.
If you'd like to know more about tax delinquent real estate investing, there's no one more qualified to teach you than Ted Thomas, America's leading authority on tax lien certificates and tax defaulted property investing.
Ted Thomas is the only one who provides full support and complete training with home study courses, Q&A webinars, live tutorials, workshops & web classes, and personal one-on-one coaching.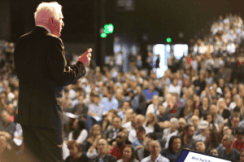 Get started today at no cost with Ted's FREE Master Class. It's only about 1 hour of streaming video and will open your eyes to the incredible opportunities available in tax defaulted real estate.