What Is Seller Financing Real Estate?
Today I'm answering your question, "What is seller financing real estate?" Many people are concerned about starting their investment program late in life, but this seller financing program is perfect for late starters.
Home owners who use seller financing may secure income for 10 to 20 years. The consequence of seller financing is nothing more than an installment sale granted by the owner.
Want to learn how to make big profits in real estate? Would you like to buy mortgage-free homes online for pennies on the dollar? Or earn double-digit interest rates secured by real estate? Then you don't want to miss this FREE Mini Course.
What Is Seller Financing Real Estate?
Is Seller Financing a Good Idea?
Seller financing allows the owner substantial income in a favorable tax atmosphere, as the seller pays taxes on each payment rather than on a lump sum.
To further this explanation, a CPA, attorney or other professional will be required.
This method of making money is something most sellers do not take advantage of using. If you're open minded, and willing to accept profits that add little or no work, you will have a money strategy that's been available to sellers for many decades.
What Is Seller Financing Real Estate?
I'm Ted Thomas, and I've been a real estate investor for decades. I started with single family homes, and that business grew into 50-unit apartment properties then later into commercial real estate.
About 30-years ago, I discovered tax lien and tax deed real estate. This is a government-mandated and maintained system that auctions property for 60%, 70%, or 80% or more discounts.
This was a big surprise to me, and I could easily see the margins between the purchase price and the selling price were huge. I never looked back.
What Is Seller Financing Real Estate?
Selling Property Yourself
What is seller financing and how does it work? This is something I'm involved with every day, and my student investors earn big paychecks providing seller financing with terms of 10 and 20 years.
Let's understand and learn by example exactly what seller financing really is.
Mr. and Mrs. Property Owner want to sell. Traditionally, they call a broker realtor and ask the broker to advertise and list the property for sale.
In the world of seller financing, legally and ethically, you could do the same sale process. However, it might be more productive and profitable to sell the property yourself and control your own marketing and sales.
What Is Seller Financing Real Estate?
What Are the Benefits of Seller Financing?
Seller financing will usually generate many responses because there is a large market that does not want to wait for a bank loan officer to approve a loan and ask many questions.
In other words, seller financing allows the buyer to qualify immediately when the seller says yes or no. Seller financing may happen quickly. No waiting for appraisals or delays for home inspections.
It's just the seller and the buyer agreeing to a contract which is really a promissory note that stipulates monthly payments. There is no waiting for approvals.
What Is Seller Financing Real Estate?
Use an Attorney or Title Company?
Of course, you could use an attorney to be sure the paperwork is done correctly. However, it is just as valid to use a local title company which might be significantly less expensive.
Title companies are qualified and competent to advise you and guide you through the process.
I've just given you 3 suggested ideas. The money for the attorney or an appraisal or home inspection will come from your selling price. This is all simpler than it sounds.
I have a free gift for you, a special Master Class that will show you how to profit with tax lien certificates and reveal the secrets of tax deed investing. Get your FREE gift today.
What Is Seller Financing Real Estate?
What Is an Example of Seller Financing?
Seller financing is nothing more than a seller accepting a down payment based on the percentage of the selling price and the seller accepting installment sales until the loan is completely paid.
For example:
Selling price $150,000
Down payment $15,000
Installment payments $135,000 balance due
The seller could choose to use a contract for deed which is simply an IOU promissory note that covers the down payment, installment payments and for what term – 10 or 20 years.
What Is Seller Financing Real Estate?
Contract and Terms
In the real estate world, the bigger the down payment, the less the risk of default. However, the bigger the down payment, the more the buyer wants a lower interest.
These are simple concepts which are honorable and ethical and require acceptance of buyers and sellers. In other words, a real estate purchase agreement with seller financing is a negotiation.
Title companies will have amortization schedules and contracts valid in your state. There will also be truth and lending documents. Additionally, most states require seller financing real estate for sale contracts to contain real estate disclosure of problems.
All financing will require compliance with truth and lending laws. The necessary documents will be commonplace to attorneys and title companies. All states require disclosure documents.
What Is Seller Financing Real Estate?
Profits
The money is what most students want to know about. You can do this and have income for 10 to 20 years.
The process of seller financing is widely used, but the rules may differ slightly from state to state.
For my student investors, I've been positioning the buying and selling process for decades. It doesn't matter how old you are. Sellers and buyers benefit, otherwise this would not work.
What Is Seller Financing Real Estate?
Flexible Sellers Will Enjoy Secure Profits
Buyers with poor FICO scores are unable to obtain financing at local banks or lenders. They are rejected. However, many of these buyers are good credit risks as they have good jobs and earn good money.
Sellers who are flexible and willing to adjust by modifying down payment requirements and the term of the installment payments, i.e. 10 years, 15 years or 20 years, will enjoy secure profits on the sale.
They will be able to maintain security of the property as the seller using seller financing will retain the title/deed to the property until all payments are completed.
This is important. Who holds the deed in owner financing? The seller does.
What Is Seller Financing Real Estate?
Profits Earned on Interest
Imagine in our previous example, you as the seller are using seller financing and receiving payments. If those payments were structured as interest only, you would be collecting interest on $135,000.
So if that interest was 10%, your annual rate of return in dollars would be $13,500. In 10 years, you would have earned interest only $135,000, and the buyer would still owe $135,000. That's how lucrative seller financing can be.
Many of the installment contracts will double your money over the period of the installment sales. Add this profit to the profit generated on the sale and you'll be astonished.
What Is Seller Financing Real Estate?
Conclusion
We hope you enjoyed Ted's lesson, "What Is Seller Financing Real Estate?"
When a property owner finances the real estate sale, this is called seller financing.
Not all buyers can qualify for a bank loan despite having the income to make the payments.
With the help of a title company or attorney, savvy sellers will draw up a contract and the terms of financing, like down payment, installment payments, interest, and duration of the contract to sell the property themselves.
This is an excellent way to earn the seller an income stream for years to come and a lucrative profit can be made from the seller financing in addition to the profit from the sale of the property.
If you'd like to know more about tax delinquent property investing, Ted Thomas provides full support and complete training with home study courses, Q&A webinars, live tutorials, workshops, web classes, and personal coaching with certified coaches.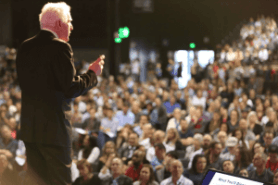 You can learn how to reap the huge rewards from tax lien and tax defaulted property investing! Get started today by taking advantage of Ted's Free Master Class! Act now, it costs you nothing and will give you a big head start!