WHAT IS OWNER FINANCE FSBO?
What is owner finance FSBO, and how can you make a lot of money from it? It's not complicated, and once you understand how to do it, you'll see that it's a great way to generate cash flow and streams of income.
I'm Ted Thomas, and I've been involved with alternative real estate investments for the last 30 years.
Successful investors learn about real estate, and they use many techniques and strategies to buy real estate, which is where you make your money. They also learn how to sell real estate so they can keep the money.
To start with, it's best to use as many outsiders as possible when it comes time to sell. It's very easy to buy, however it takes a genius at work to sell. I'll explain this in more detail.
Today I'm answering your question, "What is owner finance FSBO?"
FSBO is for sale by owner, and financing usually means installment sales, like mortgages, trust deed loans and contracts for sale. Let's eat this elephant one bite at a time.
Want to learn how you can make massive profits from real estate? Would you like to buy homes for pennies on the dollar? Or earn double-digit interest rates? Get started today with this FREE mini class on how to prosper beyond your wildest dreams from tax liens and deeds!
WHAT IS OWNER FINANCE FSBO? – FOR SALE BY OWNER
What is owner finance FSBO, and how do you do it successfully? FSBO is something that most people think is going to be easy, easier than having a broker sell the property. What they haven't figured out is what it really takes to sell the property themselves.
Success always leaves a trail. My suggestion is hire the broker and do all the work yourself. Help the broker. Use as many advertising systems as possible.
For example, you can use Craigslist, Facebook Marketplace, and dozens of electronic websites. You can even find multiple sites for selling real estate, like Redfin, Zillow, Trulia, and the multiple listing service (MLS). I'm sure you're getting the idea.
Ebay is great, especially if you can write a good ad and use many pictures, outside signs on the lawn and in the neighborhood, particularly if you offer to finance the property.
WHAT IS OWNER FINANCE FSBO? – SELLER FINANCING
So what is owner finance FSBO, and is owner financing good or bad? Owner financing is a good way to sell a property quickly without deeply discounting the price.
Financing makes a difference. Sellers who will take small down payments and installment payments will receive major traffic.
Most owner financing by the seller will earn higher interest than the banks or other institutional lenders.
The key for a seller is a low-price installment sale and flexible down payments. Many buyers struggle with down payments.
My experience has been with selling tax defaulted properties. These are less than pristine properties. Many are used and abused, and some are junk. Don't waste your time on junk.
I have a free gift for you, a 1-hour, streaming-video mini course that will teach you the secrets of one of the safest high yielding investments available and how to create massive cash flow and generate income streams from real estate.
It's time to take charge of your financial future, and this Free Course will show you how to get started on the road to success!
WHAT IS OWNER FINANCE FSBO? – SELLING A PROPERTY
What is owner finance FSBO, and how can it benefit you? Is owner financing a good idea for the seller? For starters, sellers who use installment sale contracts will receive more inquiries than those who do not offer installment sale contracts.
Selling is something you can do. Most sellers just call a broker. There is nothing wrong with that. However, if the broker isn't active and isn't willing to spend money on media, they may not be successful.
Life is always 80/20. The 80% is average or less, and the 20% are the superstars. While the 80% is sitting at Starbucks, the 20% is knocking on doors.
Why is a broker successful? You must figure that out before you hire the broker.
Selling a property as an owner is okay. There are dozens of media you can utilize to expose your property. Media requires you to spend money, however, media attracts clients, so what if you have to pay the broker?
WHAT IS OWNER FINANCE FSBO? – ADVERTISING A PROPERTY
To sell a property, you can place ads on Craigslist, use the multiple listing service, newspapers, television, and radio.
You can give flyers to people you know and send descriptive flyers to people in the neighborhood. Place ads on massive signs, bandit signs around the neighborhood, and use Zillow, Trulia, Redfin and the broker.
My point is marketing will capture customers. You must capture their names. Don't wait for the broker to sell the property. You may be disappointed.
If you bought the property for the right price and you expect to sell, you must work at it.
Buyers want a deal. Price is important. Installment sales are important.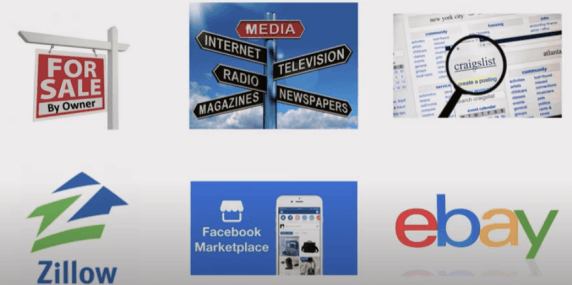 WHAT IS OWNER FINANCE FSBO? – LET'S REVIEW
Let's review. Tax deeds are sold at local government auctions. These are properties that are unwanted. The previous owner walked away and didn't pay the taxes.
Too much authority is given to outside advisors. You may need help. It's easy to hire a coach who has sold properties.
Don't take advice from anyone that hasn't already acquired a high net worth or hasn't completed multiple deals.
Ask yourself why you should work for wages of small money all your life when you can acquire this skill and good capital assets that will work for you whether you work or not.
Understand that financing is a good start. You can do this. Thousands before you have followed these steps.
For more information, see Who Holds Title in Owner Financing?
CONCLUSION
We hope you enjoyed Ted's lesson, "What is Owner Finance FSBO?"
FSBO means for sale by owner, and owner financing, also called seller financing, is when the owner of the property acts as the bank and sells the property via an installment sale.
There are multiple venues from Craigslist to Zillow where a seller can market a property for sale by owner, then the seller offering owner financing creates the contract and sets the terms. Typical owner financing terms include down payment, installment payments, and interest.
If you'd like to learn more about investing in real estate, there's no one more qualified to teach you than Ted Thomas, America's leading authority on tax lien certificates and tax defaulted property investing.
Ted Thomas is the only one who provides full support and complete training with home study courses, Q&A webinars, live tutorials, workshops & web classes, and personal one-on-one coaching.
Get started today at no cost with Ted's FREE Master Class, that reveals the incredible opportunities available in tax defaulted real estate. The class is only about 1 hour of streaming video and contains life-changing information! You can't afford to miss it!