What is a short sale in real estate? – terms explained in plain English
The process of selling a house for less than what is owed on the mortgage is the definition of and answer to what is a short sale in real estate.
That's really all it is by the textbook definition. If the house has a $100,000 mortgage and it sells for $95,000, that's a short sale. The sale leaves a $5,000 deficit, which is part of the short sale. The deficit can be any amount.
The actual process of the short sale is a far more detailed.
It starts with the homeowner and the house which has an underwater- which means the value of the mortgage is more than the value of the property. The homeowner has to be in a position where making the loan payments will either be difficult or impossible.
What is a short sale in real estate? It requires the sale price of the house to be less than what's owed. If either of these two conditions are not met, then a short sale can't happen.
Let's take a closer look at these two criteria.
Want to know more about bargain real estate? Get the FREE Safe Haven Investor System course (a $197 value).
WHAT IS A SHORT SALE IN REAL ESTATE? – MAKING PAYMENTS
You qualify for a short sale if you have real reasons for not being able to make your house payment on time and consistently. Reasons a bank will find acceptable are:
Lost job
Salary or wage cut
Medical expenses
Involuntary transfer to another location
When you look at and understand what is a short sale in real estate, you don't have to be behind on mortgage payments, but that helps. Getting behind does hurt your credit, so try to avoid this if you can.
If you know hard times are coming, start talking to the bank before you get behind on payments. Some banks will require that you miss payments or are late before they'll begin to discuss a short sale.
If you are already behind on payments can can't make up the lost ground, then you're in a good position to discuss a short sale at least from this angle.
Some reasons the bank will not accept for a short sale are:
Poor spending decisions
A baby on the way
Bankruptcy
Taking on more unnecessary loans
Writing for BankRate, Jennie Phipps, says a hardship letter to the bank is an excellent idea.
She offers this advice, "The seller must explain why he or she cannot continue making payments. The sadder the story, the better. A seller who is simply tired of struggling probably won't be approved, but a seller with cancer, no job and an empty bank account may."
WHAT IS A SHORT SALE IN REAL ESTATE? – HOUSE VALUE
A short sale is "available even if the home's market value is less than the total amount owed," states a report at M&T Bank.
What is a short sale in real estate means the sale price comes up short of meeting the amount owed on the home loan. Why would a home have a mortgage that is more than what's owed?
During the 2008 housing bubble, a lot of people refinanced their house when values kept rising.
Some people bought a house when the market was high. When the market collapsed and housing prices dropped, a lot of people were left owning a house that cost them more than it is worth.
Local depressions can drive what is a short sale in real estate. If a community suddenly loses a major employer and people leave town to find work, housing prices may drop. If there's no one to live in the homes, then the prices will go down. The law of supply and demand holds true in housing.
Damage can lower a home value. If a house has extensive termite damage, the repair costs may well push the sale value of the home below what is owed. Take a home without any damage and in good shape.
It has a value of $100,000. The home has a $90,000 mortgage. It's not underwater.
Take another home with the same mortgage and initial same value, but it needs a complete new roof, not just shingles or metal. This will cost $20,000, which would have to be borrowed.
Instead of just owing $90,000 on the home, the homeowner has to add a new roof cost. Repairs means he or she will owe $110,000 on a $100,000 home. This qualifies the home for a short sale, if the homeowner can't make the payments on the new loan.
Here's more information on what is a short sale in real estate,
For details about navigating the short sale process, read this primer.
CONCLUSION
What is a short sale in real estate? It's when you sell your house for less than the amount you owe on your mortgage, but only after receiving approval from your lender.
In order to qualify for a short sale, you must be unable to make your mortgage payments for a reason that the bank finds acceptable. Try to contact your bank before you fall behind on payments to avoid further damage to your credit rating.
You can only do a short sale if your mortgage is underwater, in other words, if you owe more than the value of your home.
This can be caused by a sudden drop in home values due to a housing bubble, but costly damage to the property, like termite damage, could also put the value of a home underwater.
We hope you enjoyed "What Is a Short Sale in Real Estate?" If you'd like to know more about discount real estate, Ted Thomas is a specialist in distressed properties and has over 30 years of experience investing in foreclosures, short sales, and tax defaulted properties.
Ted offers full support with home study courses, live tutorials, Q&A sessions, web classes, workshops, and one-on-one coaching programs.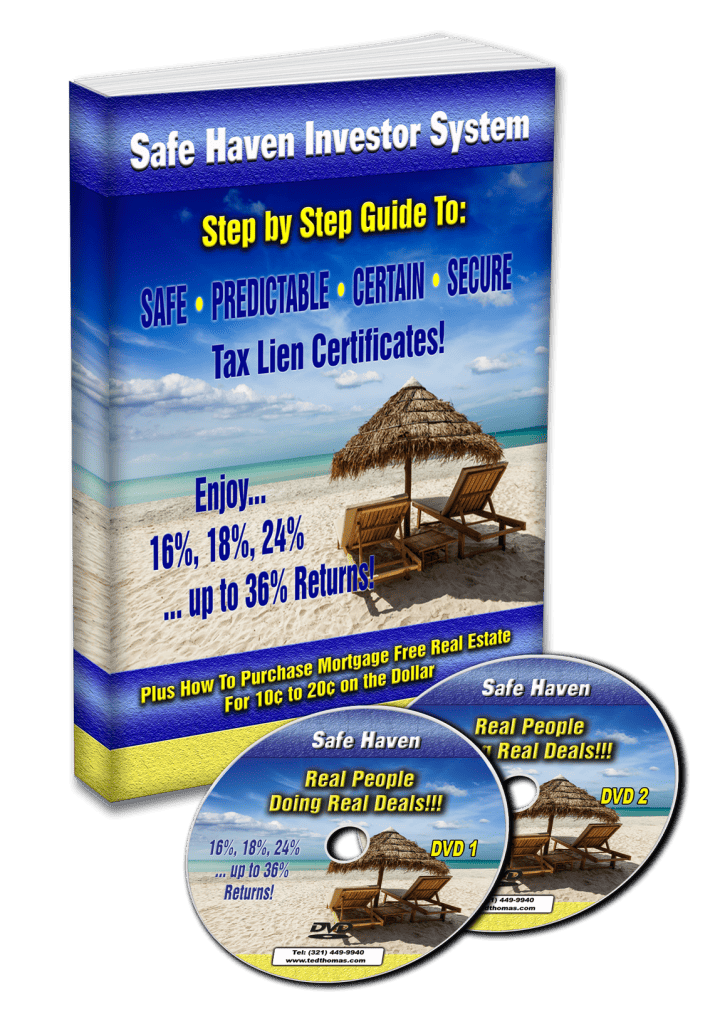 If you're serious about bargain real estate and want to start today, Ted Thomas has a FREE gift for you, the Safe Haven Investor System course (valued at $197).
Safe Haven is 2 hours of streaming videos and a 100-page illustrated manual that teaches you all about tax lien & tax deed investing so that you get the best real estate bargains. Act now, and get your FREE Safe Haven course today.
Follow me on:



Share my blog here: