Some Things to Think About Before Starting a Business
Today I'm answering your question, "What Business Can I Start From Home?"
Before you hit the ground running, take time to evaluate and develop your future plan. That means thinking about what your skillset is and what you want to do for the future.
Want to learn how to purchase bargain real estate? Would you like to buy mortgage-free property for pennies on the dollar? Or earn double-digit interest rates secured by real estate? Then you don't want to miss this FREE Mini Course.
Create a 5 or 10 Year Plan for Your Small Business Goals
Do you already have a financial plan? How will this business influence the rest of your life? Do you plan to start, make a quick profit, and sell? Or do you plan to start and build and build?
It's probably a good idea to ask yourself, where do you plan to be in 5 or even 10 years? It's up to you to develop strategies, a step-by-step plan so that you arrive 5 or 10 years in the future.
My recommendation is to put it in writing so you can have a guide and a roadmap to help you stay focused.
Low Cost Business Overhead
Ask yourself, how much money would you need for the business to take care of your family and for whatever training you will need to run this business?
You don't need a fancy office or an assistant. Many successful entrepreneurs start with an old desk, a smartphone, and a corner of a garage or small bedroom. It's important that you're away in a quiet place from your family.
Starting from home is clearly what most startups think about doing. The reality is it's the cheapest way, and having a cell phone and answering it yourself is certainly the best communication.
How to Make a Business Plan for a Small Business
The internet is awash with business plans written by people who certainly have good intentions and an excellent education, however most have never been in business. Think about that! Would you fly from Atlanta to Seattle with a pilot who's never flown that airplane or that route?
My estimate is that fully 90% of the templated business plans that you can get for free on the internet are not worth the paper they're printed on.
Business plans are a must. Let's talk about the nitty gritty. When it comes down to business planning, let's get started on the right foot.
How Is Your Home Business Going to Make Money?
Knowing what is going to create revenue is the most important element to the business. For some reason, everyone gets involved in non-critical items.
How will you make revenue? What are you going to do about marketing and sales?
Who is your client? What problem are you solving for that client? Entrepreneurs solve problems. It's all about what you can do for the customer.
Unfortunately, many plans take up a lot of time and don't answer the question, where is the revenue coming from and where are the clients coming from?
First Steps to Starting a Small Business
Today I'm answering the question, what business can I start from home?
First, make sure you have a support system. That means experienced people that you can turn to with questions. People who have experience in the real world of business will make a huge difference.
If you're looking for a career that allows you freedom and personal satisfaction, you must have skills, preferably skills or crafts that will help others. The market wants to know what you're going to do for them.
Along the way to be in business, the local government is going to request money for licenses and permits. As you saw from those business plans you read, people discuss de-zoning plans, work outlines, state rules, county rules, legal descriptions, trade licenses, and construction permits.
All of this takes time and effort, and it takes time away from generating revenue. You must generate revenue. You must understand how to sell your problem-solving product or service.
Starting a Small Investment Business from Home
For those asking, "What business can I start from home?" Here is some wisdom from an old salt who has spent 30 years as an entrepreneur and small business advocate and guide.
I'm about to share with you a brief lesson on the product and service I discovered 30-years ago. You could follow in my footsteps and find that purchasing at 10 to 20 cents on the dollar and marketing and re-selling for 60 to 70 cents on the dollar is quite profitable.
What am I talking about? I'm talking about a little-known business that's highly lucrative, always works and is a subset of the traditional real estate business.
I have a free gift for you, a special mini course that will show you how to profit with tax lien certificates and reveal the secrets of tax deed investing. Get your FREE gift today.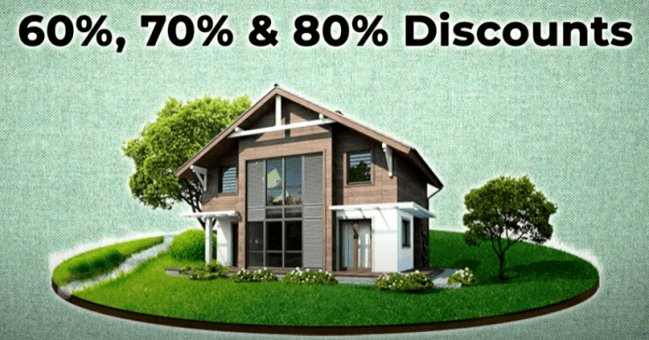 Making Big Money With a Small Business From Tax Lien and Tax Deed Investing
Everyone knows about traditional real estate, homes, residential vacant buildable lots, small apartments, and small farms. Well, I discovered a subset of traditional real estate, which isn't very glamorous, however it is quite profitable. It's tax liens and tax deeds.
These are properties that are tax delinquent because the owners have failed to pay local property taxes. If property taxes are unpaid, the county confiscates and resells the property at a public auction for pennies on the dollar, usually giving 60%, 70% even 80% or more discounts off the tax assessed price.
My point is these properties can be purchased for 10 to 20 cents on the dollar.
So if you're wondering, what business can I start from home? Savvy investors purchase real estate for 10, 20 or 30 cents on the dollar and sell for 60, 70 or 80 cents on the dollar, and they can do it online working from home.
Conclusion
We hope you enjoyed Ted's lesson, "What Business Can I Start From Home?"
Many of Ted's students have become financially independent working from home investing in tax defaulted property.
If you'd like to know more about tax delinquent real estate investing, Ted Thomas provides full support and complete training with home study courses, Q&A webinars, live tutorials, workshops, web classes, and personal coaching with certified coaches.
You can learn how to reap the huge rewards from tax lien and tax defaulted property investing! Get started today by taking advantage of Ted's Free Master Class! Act now, it costs you nothing and will give you a big head start!
Ted Thomas is America's Leading Authority on Tax Lien Certificates and Tax Deed Auctions, as well as a publisher and author of more than 30 books. His guidebooks on Real Estate have sold in four corners of the world. He has been teaching people just like you for over 30 years how to buy houses in good neighborhoods for pennies on the dollar. He teaches how to create wealth with minimum risk and easy-to-learn methods.