Learn How to Make Money on Tax Deed Sales
I'm Ted Thomas. Today I'm answering your question about how to make money on tax deed sales. I'm not only going to teach you that, but we're also going to talk about some inside tips on making money as we go along.
This is a business of plenty and opportunity. There are too many auctions for you to even think about, but I'm going to explain it as I go along.
You're going to see that there's abundance in this business. If you want to make money, you'll be able to do so.
Want to learn how to make massive profits in real estate? Would you like to buy mortgage-free homes for pennies on the dollar? Or earn double-digit interest rates secured by real estate? Then you don't want to miss this FREE Mini Course.
How to Make Money on Tax Deed Sales:
Tax Liens and Tax Deeds
Half of the states will sell tax lien certificates, and you don't end up with a property; you just have a piece of paper that affords you certain rights to the property.
The other half of the states sell the actual property at a tax defaulted auction, also called a tax deed sale.
We're going to talk about how to make money on tax deed sales. Open up your mind, let this information in, and you'll understand what's going to take place.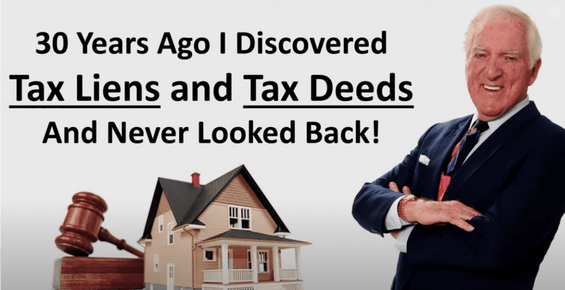 How to Make Money on Tax Deed Sales:
Property Tax
Local counties are all funded with property tax.
That simply means that property taxes fund the police department, fire department, and make sure the school teachers get paid. Someone's got to fix the roads and maintain the county buildings, and that costs money.
Generally speaking property taxes are 1% or 1 and a half percent. Not a big tax.
How to Make Money on Tax Deed Sales:
High Tax States
There are states that have "out" populations, people moving out. One of the reasons states have out populations is because of high taxes.
You've probably heard of people leaving states like New York and New Jersey because their taxes are so high.
People just abandon the properties. I'm not sure you want to buy those abandoned properties, but you're going to take a look and see that throughout New York, they'll have many tax deed auctions.
How to Make Money on Tax Deed Sales:
Tax Deed Sale Bargains
There are going to be too many properties for them to sell, so what do they do to get rid of the property? First, the county will announce the auction and publish their tax delinquent properties for sale list in the local newspaper and on the county website.
At the auction, for a tax defaulted property, they start the bidding at a very low price, close to the back taxes and the fees that are owed.
That means you can buy a property from the local government for 10 cents, 20 cents, or 30 cents on the dollar without a mortgage.
The county government has confiscated those properties, but since they don't want anymore property, they put them back out to sell them. They just want to get rid of them.
If it's a good property and you know how to resell it, wow! Think about how well you'll do.
How to Make Money on Tax Deed Sales:
Mortgage-Free Property
In addition to selling properties for pennies on the dollar, the county is going to wipe out the mortgage. They're just going to wipe the slate clean.
They don't destroy the mortgage, the person who signed it, the signatory, is still going to have to pay it. However, it will be taken off the property.
When you buy a property at a tax deed auction, you're buying a property that's free and clear of encumbrances.
How to Make Money on Tax Deed Sales:
Tax Deed Auctions
They're going to sell the property at the auction to the highest bidder, but the starting bid could be very low.
Could they have many properties? I've been to many auctions with 200 or 500 properties for sale. Sometimes I'll go to Los Angeles, and they'll have 1,500 to 2,500 properties that they're selling for the back taxes with no mortgage.
I have a free gift for you, a special Master Class that will show you how to profit with tax lien certificates and reveal the secrets of tax deed investing. Get your FREE gift today.
How to Make Money on Tax Deed Sales:
Selling Tax Deed Property
So, what are we talking about today? We're talking about how to make money on tax deed sales.
Well, if you could buy for a 60%, 70%, 80% or more discount, could you mark it up a little bit and make money? That's what every merchant in the world does.
You can buy these properties mortgage-free for 20 or 30 cents on the dollar, and then you can sell them for anything you want.
How to Make Money on Tax Deed Sales:
Online Tax Deed Sales
People say to me, "Ted, can I buy over in California when I live in Massachusetts?"
Well, you can do anything you want because we can do it all online today. Tax defaulted properties can be bought online and offline.
All of the county records online will allow you to bid if they do online bidding. However, some of the states don't do online bidding. For example, you can't buy in Georgia online. You have to actually go and participate in the auction.
How to Make Money on Tax Deed Sales:
Property Investment in USA for Foreigners
5 years ago, we pioneered buying it online. Now we have people from Canada, Bangkok, Singapore, Paris, France, Mexico City, you name it, buying online.
We can teach you how to get online and buy properties in the good old USA because the government only cares if you have the money.
In a nutshell, people come in with the money. They buy the property. The highest bidder gets it with no mortgage, and this is a common thing.
Conclusion
The bidding at tax deeds sales starts around the amount of the back property taxes owed, making it possible to get incredible bargains. You can purchase tax deed properties for 10, 20, or 30 cents on the dollar.
Additionally, the mortgage or deed of trust loan is extinguished from the property, so not only can you get real estate at a tax deed sale for a bargain, but you also get it mortgage-free.
With such a large profit margin, you could make $25,000 to $50,000 from a single transaction when buying and reselling tax deed property.
If you'd like to know more about how to get the best bargains in real estate, there's no one more qualified to teach you than Ted Thomas, America's leading authority on tax lien certificates and tax defaulted property investing.
Ted Thomas is the only one who provides full support and complete training with home study courses, Q&A webinars, live tutorials, workshops & web classes, and personal one-on-one coaching.
Get started today at no cost with Ted's FREE Master Class, that reveals the incredible opportunities available in tax defaulted real estate. The class is only about 1 hour of streaming video and contains life-changing information! You can't afford to miss it!