HOW TO INVEST 1 MILLION IN REAL ESTATE
Do you want to know how to invest 1 million in real estate without the risk? The real estate market may seem like a roller coaster, but here's a much safer way to make money! Learn how you can make the most out of your million with this proven strategy!
Today I'll be answering your question about how to invest 1 million in real estate.
I'm Ted Thomas, and I've been investing in real estate since 1970.  I started as an investor in single family homes and purchased those homes from builders while they were under construction, basically, new homes in a new subdivision. 
I soon added condominiums to my investment portfolio, and then I graduated to small office buildings and apartment properties of 50 to 300 units.  
HOW TO INVEST 1 MILLION IN REAL ESTATE – THE MARKETS
Today the real estate business isn't what your grandfather told you.  It's not buy and hold. That works for your home, but investment real estate is significantly different. 
Markets move up and down. I'm sure you've heard others talking about the bulls and the bears of the stock market. With the metals market, like gold and silver, it's the same, up and down. 
30-years ago, I discovered a steady market, government auctions of tax liens and tax deeds.  There were only a few speculators, and every year there was a new batch of distressed properties to evaluate and buy for pennies.  
I have a free gift for you. It's a streaming video mini course that will teach you how to profit from tax lien certificates and tax deeds. Be sure to take advantage it today!
HOW TO INVEST 1 MILLION IN REAL ESTATE – LOW RISK AND HIGH PROFITS
Let's talk about how to invest 1 million in real estate.  I'll take a different approach to this question because I know most people don't have millions to invest.
I'm going to show you a simple process on how to make $1,000,000 in a low-risk environment with a highly rewarding system that's practically recession-proof. 
HOW TO INVEST 1 MILLION IN REAL ESTATE – A LITTLE-KNOWN INVESTMENT
This little-known system was created by state governments over 200 years ago.  I've proven and tested the system myself, and for my students for over 25 years.
I'm about to give you an example that's very realistic and something that you'll want to learn and develop as a skill.  
As I said, this was created by state legislatures coordinating with local county governments.  Everything you are about to learn is mandated by law. 
HOW TO INVEST 1 MILLION IN REAL ESTATE – A PROFITABLE OPPORTUNITY
You are about to see opportunities for you to make hundreds of thousands of dollars and do so with small investments. 
This is a stable marketplace, unlike the stock market or the precious metals markets, plus we have coaches and facilitators to guide you so you can become an expert at tax lien certificates and tax deeds. 
HOW TO INVEST 1 MILLION IN REAL ESTATE – A REALISTIC APPROACH
I'm going to start with an example of a real-world person.
This is not going to be like one of those TV shows that starts with an average house that is magically transformed into a spectacular mansion-like home in 29 minutes. 
It won't be hosted by a pretty woman smiling and visiting with dusty contractors and people smashing down walls, breaking up fireplaces and rehabilitating buildings.  
HOW TO INVEST 1 MILLION IN REAL ESTATE – HERE'S WHAT WORKS
Today you'll see what is working in dozens of counties and for hundreds who learn about this almost secret government controlled and mandated business.  Students learn to make big money with small investments. 
I know you want to make a lot of money, and many of you don't have a lot of money.  This is not a glamorous business. You won't brag about this except to people who want to copy your successful money-making.
In this business, there's a never-ending supply of these properties.  You will need to learn to research and find them. To help you with that challenge, I've created proven and tested systems. 
HOW TO INVEST 1 MILLION IN REAL ESTATE – TAX SALES
Nationwide, the government will conduct over 5,000 tax auctions this year, online and offline.  My point is there is plenty for everyone.  
Let's get into the nitty-gritty of making money.  This will require simple math, and I'll pass on foundational material that will work and make this easy. 
If you've watched TV, you now realize the real estate shows are entertainment. You do not want to follow what they are doing because they are showing you how to spend money, not how to make money.
I'll say that again. TV shows you how to spend money. We are going to learn how to make money. 
Want to learn more about bargain real estate? Would you like to buy homes for pennies on the dollar, and without a mortgage? Or earn double-digit interest rates secured by real estate? Then you don't want to miss this FREE Mini Course.
HOW TO INVEST 1 MILLION IN REAL ESTATE – AN EXAMPLE
Mr. B, my student, attended a government tax deed auction.  This will sound and appear like a miracle.  He's about to make big time money and do it quickly with a very small investment. 
At the auction, Mr. B watched others purchase single family homes at prices that were very close to the back-delinquent taxes.  These properties are sold with starting bids of 60%, 70%, or 80% below the tax assessor's value.
HOW TO INVEST 1 MILLION IN REAL ESTATE – A MORTGAGE-FREE PROPERTY
When the properties are sold, the treasurer of the county will extinguish, that is, wipe out the mortgage. It will be cleared from the property records. They take many of the other encumbrances off of the property as well.
So, the properties are sold with no mortgage and for pennies on the dollar. It's the law in every state.  
Now it's time for our 4th-grade math. 
HOW TO INVEST 1 MILLION IN REAL ESTATE – SELLING A PROPERTY
Mr. B purchased a property for $10,000.  The assessed value was $50,000 for a 3 bed plus 1 bath home.  After the auction, Mr. B drove by Home Depot and purchased "For Sale" signs and continued his drive.  
Not bad. He purchased a used and slightly abused single family home in a working-class neighborhood.  Let's see if he can sell it. 
HOW TO INVEST 1 MILLION IN REAL ESTATE – SELLER FINANCING
After using Home Depot signs, CraigsList, eBay and Facebook Marketplace, his telephone began to ring.  His signs and his advertising always included "Installment Payments Accepted."
America loves installment payments.  This is especially attractive to buyers with poor credit scores.  Approximately 25% to 35%, depending on who's counting, of the people have credit problems, poor FICO scores. 
These buyers are bargain hunters, and financing is a must.  They are eager to deal.  They cannot pass credit checks from banks or lenders. They need help. 
HOW TO INVEST 1 MILLION IN REAL ESTATE – HOW DOES SELLER FINANCING WORK?
Mr. B doesn't spend a lot of money trying to sell this property. The next thing you know because traffic is generated by his advertising, someone comes in and offers $350 a month. Well, that kind of sounds like a car payment, doesn't it?
This is a little house, so he said, "All right. I'll sell it to you for $350 a month, however, you'll have to sign a contract that you'll pay me." We call that a contract for sale. It's nothing more than a promissory note.
$350 a month at the end of the year is $4,200 in income. Let's think about this. He invested $5,000. By the end of the year, he's going to get $4,200 of it back. That's about an 80% return where I come from.
Now, he's going to get 10 more years of that. So let's see, $4,200 a year for 10 years is $42,000. So, he took a $5,000 investment and created $42,000 dollars in income. How would you like to have $42,000 in income?
HOW TO INVEST 1 MILLION IN REAL ESTATE – A SYSTEM THAT WORKS
This system works that way again and again and again. This guy started out with a $5,000 investment. How do you think his family's going to feel about that? Pretty darn good.
What if he does this 2 or 3 or 5 times a year? I've got one student who's done it 60 times in 6 years. That's right. He's no longer a student. He started out as a student, and now he's a coach.
HOW TO INVEST 1 MILLION IN REAL ESTATE – TAX DEFAULTED PROPERTY BUSINESS
So the tax defaulted property business allows you to buy property at 60%, 70%, and 80% discounts. If you're buying for 20 cents on the dollar, are you going to be able to sell it for 50 cents on the dollar? Well, I think so.
As I said, I have one client that's done 60 of those properties in just 6 years. He didn't have any money to start, so he used his credit cards.
If you don't have much money, you can follow the same program. If you have a handful of dollars, you could accelerate the process and get to your million-dollar goal quickly.
SUMMARY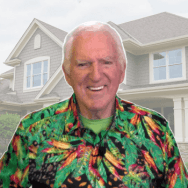 We hope you learned a lot from Ted's lesson on how to invest 1 million in real estate. Or if you don't have a million dollars, using Ted's system can be a big stepping stone to help you achieve your financial objectives.
With tax defaulted property investing, you can buy properties for 10, 20, or 30 cents on the dollar and sell them fast by offering them at a discount. Due to the large profit margin, you can buy low and sell low for a quick sale.
You can attract a lot of interested buyers by selling a property as rent to own on an installment plan. Many Americans have poor credit scores, but still have enough income to purchase a home, especially when you're selling at a low price.
For example, a tax deed property with an assessed value of $50,000 that was purchased at a tax sale for $5,000 could be sold on an installment plan of $350 a month for 10 years and bring in $42,000! Ted can show you how to do this.
For the past 25 years, Ted Thomas has been guiding, teaching, and coaching newcomers as well as experienced investors, and he can give you an insider's perspective and all the foundational material of tax liens and tax deeds. 
Ted Thomas is the only one who offers full support and a complete training program with home study courses, Q&A webinars, live tutorials, workshops, web classes, and personal one-on-one coaching. 
If you'd like to learn how to create massive cash flow from deep discount real estate, you can get started today at no cost by taking advantage of Ted's FREE Master Class on America's best kept secret, tax lien and tax deed investing.