Today I'm answering your questions about how to buy income property, and the topics I'm going to cover are:
Want to learn how to buy income property for huge discounts? Would you like to buy mortgage-free property for pennies on the dollar? Or earn double-digit interest rates secured by real estate? Then you don't want to miss this FREE Mini Course.
Real Estate Investing for Bargain Hunters
Real estate sounds so easy! Just buy a house, put a "for rent" sign on the front lawn, and collect rent and someone else will make you wealthy. If you believe that, I'm sure you believe in Santa Claus too.
I'm Ted Thomas, and I've been in a subset of the traditional real estate business for decades. My viewpoint of real estate comes from a bargain hunter's perspective.
The subset of real estate that I am referring to is income property, and I'll explain how to buy income property for pennies on the dollar.
A Little-known Real Estate Investment That Works
What you're about to learn is not for everyone. It's not glamorous and probably won't be featured in the Sunday supplement of the local newspaper with a lot of pretty pictures.
It's predictable in both good and bad real estate markets and abundant. There is plenty for everyone who wants to be involved.
Let's talk about how to buy income property.
30 years ago, I discovered a little-known, but highly lucrative, segment of the traditional real estate market. It's referred to as tax defaulted properties which are available in all 3,000+ counties across the United States.
The Challenges of Investment Property Management
Before I get too deep into this topic, I want to mention that most newcomers want to buy houses and grow their net worth while they're waiting for the markets to appreciate in order to generate cash flow and then buy more real estate.
There's more to it than buying a house and putting up a sign. For example, there are local housing rules, and the federal government has laws regarding tenants, tenant's rights and even more restrictions involving deposits and rental payments. Most people do not know the rules.
My point is real estate requires management. It's necessary and sometimes not fun, and not every property is good for rental income.
It is no joke when people say location, location, location. It certainly is important. Properties in bad neighborhoods are difficult to manage.
I have a free gift for you, a special mini course that will show you how to profit with tax lien certificates and reveal the secrets of tax deed investing. Get your FREE gift today.
Investment Property Financing and Cash Flow
The challenge isn't going to be buying; it's going to be the prices and financing. Both will be high. Real estate is not cheap even in down markets, and most newcomers want to finance, in other words, use someone else's money.
The combination of high real estate pricing and high-interest loans plus property maintenance can easily lead to negative cash flows.
A deal like that doesn't make sense because you must feed the property to pay expenses every month, like the mortgage and maintenance, until the rents rise, which may be 3-7 years.
If there is no cash flow or surplus for contingencies, properties fall into disrepair and frequently default. Suddenly it's a nightmare, not a dream come true.
It's time to put on your thinking cap and resolve the challenge of high purchase prices, high interest, and all the rules to follow to be a landlord before you invest.
There are millions of rental units nationwide. Depending upon who is counting, it could be as high as 14 million. This all translates to, do you have the money to take care of maintenance and handle the mortgage and tax payments? Not everyone does.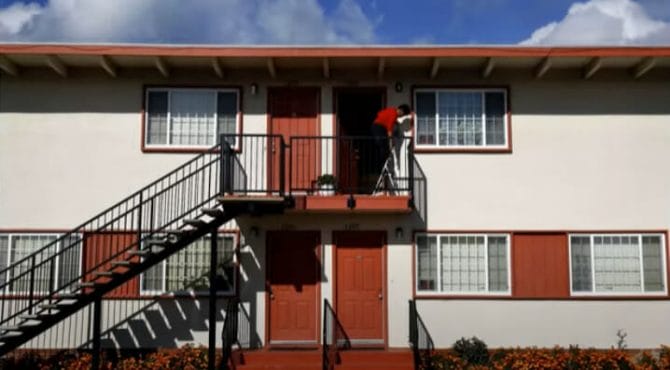 Investment Properties Purchased for Pennies on the Dollar
If you want to know how to buy income property at amazing discounts, I have a solution you may want to consider.
I'm about to switch markets and show you a hidden market that's filled with real estate. These properties are homes, small apartments, small office buildings, sometimes farms, and residential buildable lots. They're all owned by property owners who have failed to pay property taxes. They have defaulted on their commitment and are willing to forfeit the property.
Failure to pay property taxes has consequences. The county treasurer will seize the property and sell it at a public auction where starting bids are as low as pennies on the dollar.
This public auction will cancel the deed of trust loan or the mortgage.
The treasure will start the bidding at the back delinquent taxes, which could be as low as 60%, 70%, or 80% or more below the tax assessed value.
Passive Income From Seller Financing Investment Property
Here's an example of how to buy income property at bargain basement prices to generate cash flow and passive income.
Bill B, my student in Michigan, purchased more than 30 auction properties sometimes for as low as 10 cents on the dollar.
He is an educated tax defaulted property investor and knows that 25% of bank loan applications at local banks are turned down and rejected. The rejections are due to low FICO scores.
Bill advertises installment sales on his signs, which he places on lawns. People who drive by discover those signs, and many are in desperate need of an installment sale. They've been divorced or bankrupt, but they now have good jobs and the ability to pay.
Bill sells his somewhat used and abused tax defaulted properties as 'handyman specials.' His risk is low. He only sells with a contract of sale and installment payments, and he continues to hold the deed until the client has made the final payment.
It is not a glamorous business, however, Bill does not worry. He's receiving installment payments on dozens of properties.
Conclusion
We hope you enjoyed Ted's lesson, "How to Buy Income Property"
If you'd like to know more about how to buy income property for pennies on the dollar, Ted Thomas provides full support and complete training with home study courses, Q&A webinars, live tutorials, workshops, web classes, and personal coaching with certified coaches.
Learn how to reap huge rewards from tax delinquent property investing! Get started today by taking advantage of Ted's Free Master Class! Act now, it costs you nothing and will give you a big head start!
Ted Thomas is America's Leading Authority on Tax Lien Certificates and Tax Deed Auctions, as well as a publisher and author of more than 30 books. His guidebooks on Real Estate have sold in four corners of the world. He has been teaching people just like you for over 30 years how to buy houses in good neighborhoods for pennies on the dollar. He teaches how to create wealth with minimum risk and easy-to-learn methods.