In "Quiet Title Vs Quit Claim Deed," the topics I'll be covering are:
Want to learn how to purchase bargain real estate? Would you like to buy mortgage-free property for pennies on the dollar? Or earn double-digit interest rates secured by real estate? Then take advantage of this FREE Gift.
The Difference Between a Quitclaim Deed and a Quiet Title Action
I'm Ted Thomas, and for the past 30 years, I have been involved in the tax defaulted real estate and tax lien certificate business. Today I'm answering your questions about a quit claim deed as compared with a quiet title report or action.
There is certainly a big difference between a quiet title vs quit claim deed. To start with, a quiet title action is a legal proceeding. While a quit claim deed is a way to give your interest to someone else, for example, giving away your interest in a property.
There is no joking around when it comes to a quiet title action. It's a sometimes lengthy legal process that can take months to be completed, and you definitely need a qualified, experienced attorney. What you're doing is removing someone else's interest in your property, and this is a challenge. Follow along with me, and I'll give you an example.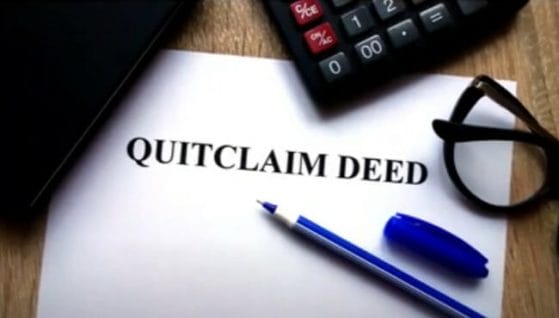 The Transfer of Property Deeds at Tax Defaulted Auctions
In the business of evaluating tax defaulted real estate, which is sold at public auctions by treasurers in over 3,000 local counties, the tax defaulted property auction is a break in the chain of title. The chain of title must have no breaks if the new buyer plans to own and pass on the property.
The county treasurer will confiscate real estate for unpaid property taxes and sell the property at a public auction with a starting bid that could be as low as the back delinquent taxes – 10, 20, or 30 cents on the dollar.
The properties will be sold considerably low the tax-assessed value as much as 60%, 70%, and 80% below the tax-assessed value. My business is purchasing tax-defaulted auction real estate at bargain prices and then reselling the properties.
I have a free gift for you that will show you how to profit with tax lien certificates and reveal the secrets of tax deed investing, and I'll also include an auction list. Get it all now for FREE.
Examples of Quitclaim Deeds Issued by Counties
Prior to the auction, the property being purchased more than likely had a mortgage loan and other encumbrances. The tax-defaulted auction cancels the mortgage or deed of trust loan. However, purchasing a tax deed from the county does not warrant or guarantee clear title.
The treasurer will issue a deed to the winning bidder. It may be called a sheriff's deed, commissioner's deed, or a treasurer's deed. However, more than likely it will act as a quit claim deed even if it has one of the above names.
In other words, the county is taking no responsibility for the condition of the property or for any defects in the title.
An Example of Quiet Title Action
I bought a tax deed at auction on a property and assumed my exit strategy would be a sale at $350,000-$400,000. I purchased the property for $140,000 and later sold it for $280,000 because the real estate market dropped before I could sell it.
What happened? The county issued me a quit claim deed so the title and the condition of the property was my problem. I hired an attorney, who was actually a judge that was retiring, and it took 13 months before a different judge would issue a quiet title.
This issue caused me many extra expenses due to the 13 months of holding costs. However, in the end, I solved my problems and made a profit.
Why did I do a quiet title action? In my experience, no new buyer will purchase your property until a qualified, experienced attorney quiets the title because the new buyer will require title insurance to guarantee no break in the chain.
A Comparison of a Quit Claim Deed Vs Quiet Title
Now let's compare a quiet title vs quit claim deed which is one person giving away whatever they think they might own. Meanwhile, a quiet title is a legal process requiring a judge to issue a court order.
You can and should read the local statutes and auction rules for wherever you plan to buy tax-defaulted properties.
Every tax-defaulted property is different. In some cases, a band-aid isn't going to work, and you will need to do some life-saving surgery, which is why you need understand the difference between a quiet title vs quit claim deed.
Conclusion
We hope you enjoyed Ted's lesson, "Quiet Title Vs Quit Claim Deed."
The difference between a quiet title vs quit claim deed is that a quiet title action is a legal process that ensures a chain of title with no breaks in it, while a quitclaim deed is a way to transfer a property that relieves the one signing the property over of any responsibilities for the condition of the property or defects in the title.
If you'd like to learn more about tax delinquent property investing, Ted Thomas provides full support and complete training with home study courses, Q&A webinars, live tutorials, workshops, web classes, and personal coaching with certified coaches.
Get started today by taking advantage of this Free Gift from Ted. Act now, it costs you nothing and will give you a big head start!
Ted Thomas is America's Leading Authority on Tax Lien Certificates and Tax Deed Auctions, as well as a publisher and author of more than 30 books. His guidebooks on Real Estate have sold in four corners of the world. He has been teaching people just like you for over 30 years how to buy houses in good neighborhoods for pennies on the dollar. He teaches how to create wealth with minimum risk and easy-to-learn methods.
Ted Thomas is not an attorney at law and is not giving legal advice or legal opinions. This information is not intended to be anything but a discussion and a learning experience. Investors should consult a qualified attorney when it comes to real estate purchases whether it's purchasing, holding, or selling, but certainly regarding quiet title and quitclaim deeds.