Today's lesson is about over the counter tax lien certificates, and you're going to find out it's pretty simple.
The topics I'll be covering are:
Want to learn how to purchase bargain real estate? Would you like to buy mortgage-free property for pennies on the dollar? Or earn double-digit interest rates secured by real estate? Then take advantage of this FREE Gift.
What Are Tax Lien Certificates?
What are over the counter tax lien certificates, and how do they work? I'm Ted Thomas, and I've been involved in the tax lien certificate business for over 30 years.
In the United States, there are over 3,000 counties. All of those local governments have a state legislature that makes rules. The rules in each state require them to collect property taxes. Property owners must pay property tax. If they don't, there are going to be consequences
They're going to do something about it, and they'll seize the property in many cases. However, in about 1,500 counties they'll issue a tax lien certificate. You can look all those up online. Those counties could confiscate the property, but they'll do that afterwards if they can't collect on the certificate.
The states that sell tax lien certificates are very benevolent because they don't throw the property owner off the property. When the person is in default on a tax lien certificate they can remain on the property even though they're in default. That means you don't have any ownership.
All you bought with the tax lien certificate is a piece of paper that allows you to collect money. The property will stay in default until the owner comes forward and pays the tax plus the outrageous interest rate that has accrued.
Tax lien certificates are sold at auction. You can find auction announcements and tax lien property lists on the county website or in the local newspaper.
Anyone can buy a tax lien certificate. The money that you pay the county for the certificate is used to pay the county's bills. It's used to pay the firefighters, police, school teachers, and county employees and for infrastructure like libraries and hospitals.
Where to Find Property Tax Liens for Sale Over the Counter
Today we're talking about over the counter tax lien certificates. How do they work? To start with at the live auction, they're going to try to sell the tax lien certificate. If they can't sell it, they'll wait until the next auction and try to sell it there. They might try to sell it two or three times.
If they still can't sell the certificate, the county is going to transfer that certificate from the auction list over to a different list called, "Surplus Lands," "Forfeited Lands," or "Defaulted Tax Liens Unpaid." They have nothing else to do but hold the certificate. However, the certificate remains for sale, and it will be sold over the counter.
Over the counter tax lien certificates will be at the treasurer's office. You can walk into the office up to the counter and ask to buy properties that didn't sell at a tax defaulted auction. They'll give you a list of tax lien certificates that haven't sold, and you can pick out whatever one you want. It will have a number. Every property has a tax number that will lead you to the property.
You need to look at the property before you buy it. What if it's in a bad neighborhood, or near a dump or next to a chicken farm? You might not want any of those properties because nobody is going to redeem them. There are many worthless properties, and some of them have tax certificates. You don't want a worthless property because you're never going to be able to sell it.
I have a free gift for you that will show you how to profit with tax lien certificates and reveal the secrets of tax deed investing. Be sure to get your FREE gift today.
How to Buy Over the Counter Tax Liens
The certificate still has value. It still has the ability to make you money if you buy the right certificate. This is an alternative investment, and anybody can buy tax certificates.
In a nutshell, over the counter tax lien certificates are certificates that did not sell, so the county put them on another list. They're not trying to hide them. They're there. You can go get the list and look through it. You can research every property, and the county is happy to sell over the counter tax lien certificates.
What will they sell it for? For the same price they would've sold it at the auction, except now there's no bidding on the certificate. Whatever you bid, and you're going to have to make at least a minimum bid, there won't be anybody there to bid against you. So that might be a really good way to do business, especially if you know you're buying a property that has a lot of value.
Some counties will have thousands of certificates that have never sold, and they can be found at the county records.  For example, Florida has an abundance of tax lien certificates, and there are plenty of over the counter tax liens in Florida. Anybody can get the list, and believe me, they're ready to sell them.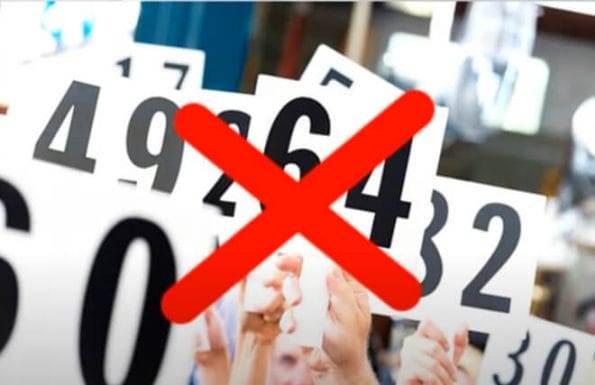 Can You Pay Someone's Taxes and Get Their House?
If you buy an over the counter tax lien certificate, you have to go through the same process that you would if you bought it at a regular auction. If the people don't come in and pay, in other words, if they don't redeem it, then you're going to end up with the property with no mortgage and no deed of trust on it.
Remember, you're not buying real estate when you buy a tax lien certificate. What you are buying is the right to get revenue. You're purchasing a certificate that generates revenue. If the certificate goes unpaid, then that's a whole different story because then the county asks you to do a foreclosure process. In that case, you're going to take over the property.
Buying an over the counter tax lien certificate could be a very inexpensive way to buy a property. Think about that.
You could buy a property for 10 or 20 cents on the dollar without a mortgage or deed to trust loan on it, and then you could sell it for 50 or 60 cents on the dollar. That would be a nice margin there, wouldn't it? You're buying it at a low price, selling it a little higher and making yourself a nice profit. Nothing wrong with that.
What are over the counter tax lien certificates? They're the same as regular tax lien certificates, except they were left over, and you're buying them directly at the county office. Could you do that online? In many counties, you're going to be able to do that.
Beat Inflation by Investing in Property Tax Liens
If you're looking for decent ROI on your nest egg, it's going to be tough to get them from traditional investments in high inflation markets. The problem is the bank rates are way down. You can't just put your money in the bank with inflation going up. Regular investments aren't working so well.
Tax lien certificates are an alternative investment that pay returns of 16%, 18%, 24%, and even up to 36%.
If you don't understand tax liens and deeds then you've got to start doing that. You need to follow a very specific system.
This is a business, and you can make real money. Once you learn how to do it, you could be doing the same thing for the rest of your life. So you need to learn this.
Conclusion
We hope you enjoyed Ted's lesson, "Over the Counter Tax Lien Certificates: What Are They and How It Works"
Over the counter tax lien certificates are surplus certificates that did not sell at auction. You can walk directly into the county office and purchase them over the counter without having to compete with other bidders.
As with any tax lien certificate, if the over the counter tax lien certificate is not redeemed, you get the property mortgage-free. Therefore, make sure you do your due diligence on any tax lien property before you buy the certificate.
This can be a very inexpensive way to acquire real estate. You can read about a young couple who acquired a property and made a 6-figure profit in How to Buy Over the Counter Tax Liens Arizona.
If you'd like to learn how to reap huge rewards from tax delinquent property investing, Ted Thomas provides full support and complete training with home study courses, Q&A webinars, live tutorials, workshops, web classes, and personal coaching with certified coaches.
Get started today by taking advantage of this Free Gift from Ted. Act now, it costs you nothing and will give you a big head start!
Ted Thomas is America's Leading Authority on Tax Lien Certificates and Tax Deed Auctions, as well as a publisher and author of more than 30 books. His guidebooks on Real Estate have sold in four corners of the world. He has been teaching people just like you for over 30 years how to buy houses in good neighborhoods for pennies on the dollar. He teaches how to create wealth with minimum risk and easy-to-learn methods.