LEARN WHY REAL ESTATE IS BETTER THAN STOCKS
Learn why real estate is better than stocks. Real estate and stocks are the top two places where savvy investors grow their money, but an increasing number of people are turning towards real estate! Find out why.
Today's article presents us with a common question, and that question is, "Why is real estate better than stocks?"
So is real estate a good investment? I'm a real estate advocate, and I've been involved in an alternative subset of real estate for the past 30 years. I'll explain why as we move on.
I'm Ted Thomas, and for the past 30 years I've been involved in tax deeds and tax liens. This is a little-known real estate niche, however it's highly lucrative for many who take the time to learn the idiosyncrasies of tax liens and tax deeds.
Want to learn how you can make big profits from bargain real estate? Would you like to buy nice homes for pennies on the dollar? Or earn outrageously high interest rates? You can live the life of your dreams. Learn how with this FREE mini class!
WHY REAL ESTATE IS BETTER THAN STOCKS – EDUCATED INVESTORS
The stock market is filled with unique formulas, standards and rules, and both stocks and real estate deal with investments that require educated investors.
Don't kid yourself if you think you're going to make money, and it's going to be easy in the future. It's not going to be like putting money in the local bank.
This doesn't mean you are doomed and in for a life of despair and scratching for crumbs. It does mean it's going to be different.
In my opinion, it's going to be volatile, up and down like the stock market has been for the past few years, because the market is sensitive to the daily news, good and bad.
WHY REAL ESTATE IS BETTER THAN STOCKS – REAL ESTATE
30 years ago, I discovered tax deeds and tax liens as a category of real estate.
Prior to that, I was involved in renting single family homes. I outgrew that business and started purchasing 50-unit apartment buildings. That grew to 100 and 200-unit apartment projects and office buildings.
Housing has always been an important part of the economy.
WHY REAL ESTATE IS BETTER THAN STOCKS – PROS AND CONS OF RENTALS
The tax advantages from owning large apartments and commercial real estate are attractive.
What's unattractive is that the regulations of apartments can be crushing and restrictive. However, making money is not difficult; as the rents continue to rise, the building value continues to rise.
Depending on your age and when you started in life, you may recall low rent payments and low housing prices.
As the prices continue to rise, holding real estate with fixed rate mortgages can be a cash flow generator. That's the good news.
The opposite news is that local counties and governments want to regulate apartments and destroy the initiative for investors.
Generally, slowly at first, leverage of small down payments, rental increases and fixed loans make the business of cash flow possible. It's all work and takes a lot of management.
WHY REAL ESTATE IS BETTER THAN STOCKS – QUICK CASH FLOW
I discovered a business that generated lump sums of cash in short periods of time.
It was possible to generate profits quickly. Not in decades, but in months, unlike the slow profit potential of homes, small apartments and office buildings and without the many levels of management required for apartments and rentals.
WHY REAL ESTATE IS BETTER THAN STOCKS – TRADITIONAL INVESTMENTS
If you are looking for decent returns on your nest egg, there aren't many traditional ways to do that right now.
Banks, for example, are paying very low interest rates.
WHY REAL ESTATE IS BETTER THAN STOCKS – STOCKS
The experts, financial advisors, CPAs, financial planners, investment advisors, all suggest that long term, the stock market will generate 7-10% annually. Keep in mind, that's their estimate.
The challenge with stocks is you are investing your money with no control, no say so, maybe no knowledge of the company or the management or the product. You're basing your decision on a written document called a prospectus.
WHY REAL ESTATE IS BETTER THAN STOCKS – COMPANY MANAGEMENT
You wonder if the CEO or the CFO really care about the assets. Are they going to install good, hard-working management?
Stocks require you to have an enormous amount of faith in the company's objective and plan for the future.
After all, companies do go broke. Companies do sell to other companies. From time to time, companies downsize. Companies also go out of favor with the very emotional investors.
WHY REAL ESTATE IS BETTER THAN STOCKS – REAL ESTATE VS STOCKS
Do you have the insight or the intuition? Are you farsighted enough to pick an Apple stock or a Microsoft stock at the opening IPO?
Maybe you are a conservative investor and you only purchase company stocks that produce dividends, or are you a bond investor and willing to accept fixed interest rates?
Does real estate beat the stock market? I'm leaning more and more to real estate where I can see, plan and touch profit before I buy. Imagine knowing an opportunity and estimating the profit before you've made your purchase.
I have a free gift for you, a 1-hour, streaming-video Mini Course that will teach you how to invest in real estate tax liens to earn a safe, secure passive income, and also how to create massive cash flow from tax deeds.
Take charge of your financial future today. Get this Free Course and you'll see why real estate is better than stocks!
WHY REAL ESTATE IS BETTER THAN STOCKS – TAX DEFAULTED PROPERTY
Earlier, I mentioned an alternative market in real estate. Let's call it a subset that's different from traditional real estate.
County governments are all taxing districts. That's where the treasurer working for the county is authorized to levy taxes on all real estate within the county. Most property owners pay the few percent annual tax.
Some property owners default; they do not pay. This triggers a default notice from the treasurer/tax collector.
The state legislature has enacted rules. Simple rules stating that all property owners must pay a wealth tax which they call a property tax.
WHY REAL ESTATE IS BETTER THAN STOCKS – TAX DEFAULTED PROPERTY AUCTIONS
The legislature has authorized and mandated the county treasurer to levy tax, attempt to collect tax, and if no collection is possible, confiscate the property and resell it to pay the taxes.
Public auctions of these properties take place at least annually, sometimes monthly.
Property is sold for huge discounts at these auctions. 60%, 70%, and 80% discounts are not unusual.
The county does not want the property. The county already owns the administration buildings, parks, roads, schools and more.
WHY REAL ESTATE IS BETTER THAN STOCKS – STARTING BIDS
The starting bid at auction is usually the delinquent taxes.
So properties are sold at public auctions for as low as 5 cents, 10 cents, 20 cents or 30 cents on the dollar of the assessed value, and the starting bid is the back taxes.
WHY REAL ESTATE IS BETTER THAN STOCKS – MORTGAGE-FREE PROPERTIES
Additionally, the legislature has authorized the treasurer to cancel the mortgage or deed of trust loan.
Millions of properties are sold this way annually in the United States.
WHY REAL ESTATE IS BETTER THAN STOCKS – DISCOUNT REAL ESTATE
If you could buy a residential property for 25 cents on the dollar, would that be in your best interest? How many would you buy?
If you tried to buy for 25 cents on the dollar in the stock market, you would be refused.
It goes without saying, you need to think differently and control your future and your destiny by analyzing different investments.
CONCLUSION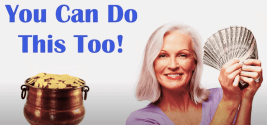 We hope you enjoyed Ted's lesson, "Why Real Estate Is Better Than Stocks."
Both real estate and stock market investing require educated investors, but an increasing number of investors are turning towards real estate.
Experts estimate that the stock market could generate 7-10% annually for savvy investors. However stocks can be volatile, and the stock market investor has little control. As little as a rumor could bring your stock crashing down.
With real estate you have much more control. It's tangible, an investment you can reach out and touch. Real estate can be highly profitable, generating large lump sums quickly or streams of income for years.
Investing in real estate can be even more profitable if you know how to capitalize on one of the best kept secrets that Ted Thomas learned 30-years ago, tax defaulted property investing.
All across the United States, counties hold auctions where tax delinquent properties are sold. Starting bids begin around the amount of the back property taxes owed, and real estate can be purchased for pennies on the dollar at these tax sales.
Additionally, the county wipes out the mortgage or deed of trust loan.
Imagine purchasing a property mortgage-free for 10, 20, or 30 cents on the dollar, selling it lightning fast for 50 or 60 cents on the dollar, and pocketing the cash, or selling it via an installment sale with seller financing and receiving regular income for the next decade!
There are millions of tax delinquent properties available all throughout the USA, and auctions are increasingly being held online. You can do this from your home.
This is something you can do with the right knowledge. Ted's students do it all the time.
If you'd like to learn more, there's no one more qualified to teach you how to invest in tax delinquent property than Ted Thomas, America's leading authority on tax lien certificates and tax defaulted property investing.
Ted Thomas is the only one who provides full support and complete training with home study courses, Q&A webinars, live tutorials, workshops & web classes, and personal one-on-one coaching.
Get started today at no cost with Ted's FREE Master Class, that reveals the incredible opportunities available in tax lien certificates and tax defaulted property. The class is only about 1 hour of streaming video and contains life-changing information! You can't afford to miss it!