Why Do People Want to Become Entrepreneurs?
Why do people want to become entrepreneurs? I'm Ted Thomas. I've been an entrepreneur for over 30 years, and I run my business from a small office in my home. Just because the office is small does not mean that your revenue has to be small.
Today I'm answering your question, "Why do people want to become entrepreneurs?" and the short answer is because #1 they want to be rich, and #2 they want to be famous in that order. Those are the most cited reasons for entrepreneurship.
Or, perhaps, they don't fit anywhere else. Maybe they only work alone. Some people don't get along with others, but they're really talented.
Want to learn how to achieve financial freedom? Would you like to buy mortgage-free homes for pennies on the dollar? Or earn double-digit interest rates secured by real estate? Then you don't want to miss this FREE Mini Course.
Starting Out as an Entrepreneur
I'm not going to sugarcoat this. After 30 years of observing, I have a different opinion from most entrepreneurs.
I'll start with rule #1, and that is don't quit your job. You don't know what you don't know. I realize you are excited, smart, and determined and ready to get started, but first, read rule #2 and that is – review rule #1.
Why do people want to become entrepreneurs? The average new entrepreneur expects to be making money quickly and they think everything will go well. However, much of being an entrepreneur is out of your control.
So You Want to Start a Business? Here's the Reality
Research will show something different than what you envision. According to the Small Business Administration, fully 80% of all start-up businesses will fail by the end of the first five years. Of the survivors, 80% will close up before they reach the 10-year point.
I'm not a preacher of doom, but I can tell you failure is high. You must make sure you have enough reserves.
Of course, some of the businesses will make it, and so can you. Just don't quit your job until you have enough money to take care of yourself and your family if your business doesn't work.
My Experience as an Entrepreneur Investor in Alternative Real Estate
More than 30-years ago, I discovered a business that was right under my nose that I overlooked for decades.
It was mandated and administered by the government in all 50 states and involved traditional real estate, houses, vacant residential buildable lots, small apartments, and small office buildings.
The business I discovered was a subset of traditional real estate, and it involved tax-defaulted property. The property owners failed to pay the property tax.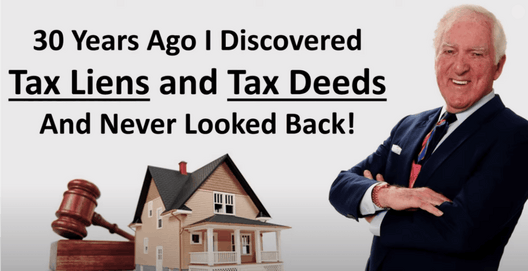 What if you could purchase property from the local government for 10, 20, or 30 cents on the dollar? When I finally realized that I could buy for pennies on the dollar and sell for whatever price I wanted, I kicked myself for not noticing earlier.
In a moment, I'll reveal how you can take advantage of this system and earn $25,000 or even $50,000 in one transaction.
I have a free gift for you, a special Master Class that will show you how to profit with tax lien certificates and reveal the secrets of tax deed investing. Get your FREE gift today.
Entrepreneur Investors Buying Bargain Real Estate
Tax defaulted real estate is sold in more than 3,000 counties, and the county government will auction to the highest bidder. The properties are sold with the starting bids very close to just the back taxes.
The small population counties will have dozens, maybe even hundreds, of delinquent properties for sale, and large population counties will have hundreds or sometimes thousands of properties to auction.
These properties are sold for 60%, 70%, or even 80% below the tax assessed value and without a mortgage or deed of trust loan. The auctions are public, and anyone is allowed to attend and bid.
As an entrepreneur, imagine becoming a new owner of a property that you can resell after only paying 10-20 cents on the dollar for it.
An Example of Entrepreneurship in Real Estate Investing
For example, the county auction list reveals a property with a tax assessment of $200,000, and the tax collector starts the bidding at 10 cents on the dollar.
Other savvy bidders may show up, and the highest bidder will win the property. Let's assume you're the highest bidder at $50,000. You have now paid 25 cents on the dollar for this property. How would you sell it?
Craigslist is almost free and eBay costs pennies. For the Multiple Listing System, you just pay the broker a small fee. Signs on the property cost next to nothing.
Real Estate Entrepreneur Tips and Strategies
For more than 25 years, I have shown entrepreneurs how to do this. 63% of my clients are women. You might ask why so many women would do this? The answer is because I teach people to buy low and sell quickly, and that is rare.
Most real estate people want to buy, fix up, and resell. I suggest you resell to those fixer people. They're always hunting for a property to rehabilitate.
Entrepreneurs can use their own strategies. For example, buy low and sell low. What does that mean? When you advertise on Craigslist, eBay, and sites like Zillow, and Trulia, the tax assessed value is still $200,000.
You offer to sell it slightly used and abused for $99,000 to attract fixer-upper and bargain hunters. You paid $50,000, what's left over? Your profit!
Why do people want to become entrepreneurs? Because entrepreneurs who utilize sound strategies can become successful beyond their wildest dreams.
Why Do People Want To Become Entrepreneurs: Conclusion
We hope you enjoyed Ted's lesson, "Why Do People Want to Become Entrepreneurs?"
Riches and fame are the 2 most common reasons that people seek to become entrepreneurs. However, the reality is much different from the dream.
That doesn't mean the dream is out of reach. With his outside-the-box strategies to alternative real estate investing, Ted Thomas has made financial freedom very real in the lives of many of his students.
If you'd like to know more about alternative real estate investing, Ted Thomas provides full support and complete training with home study courses, Q&A webinars, live tutorials, workshops, web classes, and personal coaching with certified coaches.
You can learn how to reap the huge rewards from tax lien and tax defaulted property investing! Get started today by taking advantage of Ted's Free Master Class! Act now, it costs you nothing and will give you a big head start!