Before we cover the question of "What are tax deed sales?" we first have to make sure everybody knows where we are at on our journey. Our last article covered the first part of a journey towards financial freedom, and this week we're going to ask the question that is the second part of that journey, "What are tax deed sales?"
When we ask that question, let's distinguish the difference between tax liens and tax deeds.
Tax lien sales are where local governments sell certificates on back taxes owed on the property. In some rare cases, and in certain states, tax liens can lead to owning the property. But if that's the goal (property ownership), we really should steer towards tax deeds.
In the case of tax deeds, instead of paying interest on the certificates, many states actually sell the property. For example, if you're in California, they don't sell certificates, they actually sell the property, and the starting bid can be as low as the back taxes, plus some administrative fees.
So for the higher-risk, willing-to-do-more-work kind of people out there, instead of just a decent return on their investment with a tax lien certificate, they can get even higher returns.
What they want to do is buy the property and get a quick profit. So the answer to the question "What are tax deed sales?" is tax deed sales are something that can change your life. You can see great returns on your profit.
What Are Tax Deed Sales and How to Profit
We asked, "What are tax deed sales?" to one of the foremost experts in the country, Ted Thomas.
Ted explains, "They're going to buy a property for $1,500. Let's quickly sell it for $3,000, and make $1,500. They are going to double their money, that's the idea. If you buy a house that's worth, say, $80,000 or $90,000, and you buy it for $10,000, I'm going to teach you – buy it low and sell it low. 
"Everybody else is going to say, buy it low and sell it high. I'm going to say – buy that house for 10 to 50 cents on a dollar, and then sell it for a smaller profit quickly. Then get down to the bank with the money, because that's what buys your next property.
"People have bills! But they're going to have to pay all those bills. Because if we are trying to get to financial freedom, we all have to pay off our debts, which can often carry very high-interest rates that we suffer with. The point is, I'm in the cash flow business. I'm really teaching them a cash flow generator. The thing I like about this whole thing, it generates cash. That's what I like."
"What are tax deed sales?" – Puff Darlin
Someone who had asked Ted Thomas, "What are tax deed sales?" was Puff Darlin, who bought more properties than she would've dreamed possible. 
In her own words: "In my first year, I bought seven different properties. I bought an office condo, I bought a residential property, I bought a lot. I bought a boat slip for yachts. Just like this property right here, I bought this at a tax auction. I paid a little over $5,400. $5,418.03, and I sold it less than a month later for over $70,000. I love Ted! His system is the best!"
Ted Thomas says, "Now think about this. There are going to be 2.5 million tax auctions this year…2,500,000. You can't get to them all!"
"What are tax deed sales?" – Caryn Russell
Another student who had asked Ted Thomas, "What are tax deed sales?" began to make enough money to change her life. Caryn Russell stated, "Every month, we probably go to tax deeds sales, and there are anywhere from 110 to 140 properties that they're putting up the tax deeds for sale. That's exactly how I got this one, right here behind me. 
"I bought this from the tax deed for $11,000. Ended up owning the property. I'm going to rent it out for $750 a month, so I'll have it completely paid off inside of 15 months- Even though somebody's already offered me $40,000 to buy it, I'm going to keep it as a rental property because I know in 3-4 years, this house is going to be worth $80,000."
What Are Tax Deed Sales and Is It Legal?
Ted Thomas: "It's absolutely legal. It's in the Statutes, it's in the rules for every state and every county in America."
"You consulted with several attorneys, right?"
Ted Thomas: "Oh, more than one. As a matter of fact, I have taught a lot of attorneys. I actually have people in this program that I showed how to do it. They've gone out and done it, and they bought houses for less than $10,000 worth $100,000, 10 cents on a dollar."
"What are tax deed sales?" – Attorney Robert Shemin
When asked, "What are tax deed sales and is it legal?" Attorney Robert Shemin explained, "It's absolutely legal, and Ted is absolutely correct. It's kind of funny because a lot of attorneys and real estate experts around the world go to Ted Thomas to ask him questions and to verify what's going on in the rules because he is known as probably one of the experts in the world on tax liens. It's an honor to be here answering questions about Ted's program."
To confirm the legality and legitimacy of tax deed sales, go here.
What Are Tax Deed Sales and How to Participate
Many people might be intimidated when it comes to participating in a tax deed auction and wonder, "Is it easy to go to an auction? I don't have to be a realtor or a lawyer?"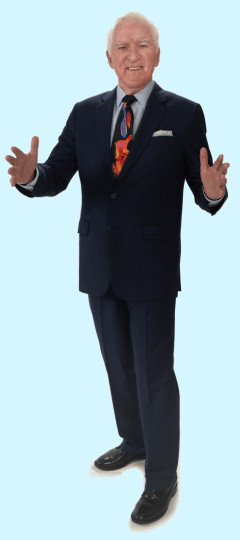 Ted Thomas describes the physical auction like this, "You walk in and raise your hand. That's all. This program was invented over 100 years ago. If you can read and write, you can do this! I'm serious!"
Is that possible in today's foreclosure crisis?
Ted Thomas says, "Can you believe that because of the foreclosure crisis, that there are hundreds of thousands of tax deed sales in Florida alone? A Florida tax deed sales list, that is available for free, could turn out to be your ticket to early retirement and a whole new life.
"Everybody's worried about selling stuff. Lots of foreclosures can sell right now. You could sell those tomorrow afternoon. But you have to price it right!"
"You don't think people are afraid to buy now?" Why should I ask, "'What are tax deed sales?' when there are foreclosures, and plenty of other investments out there? Isn't there a shortage of buyers for the properties that I would be selling?"
What Are Tax Deed Sales for Bargain Hunters?
Ted Thomas quickly explained, "No! There isn't, because the bargain hunters are out there. They're like vultures circling to buy. They really are. You see, you can sell anything at the right price. Let's say we buy a property, 10 cents on a dollar, and we only sell it for 40 cents on a dollar. We make a huge profit, and we're still way under the market value.
"You're not going to get foreclosures for 10 cents on the dollar– you're not going to buy a real estate owned from the bank for 10 cents on the dollar. You're not going to do a short sale, all those things that everybody's advertising.
"These properties, starting bid is the bad taxes. So if it's $100,000, and it was $10,000 in taxes, that's where the bidding would start. If there was $2,000 in bad taxes, that's where it would start.
"You don't even have a mortgage to pay. When they sign that property over, they're going to give you a deed which is a transfer, it's just a piece of paper. They're going to hand that to you at the auction. The treasurer is going to sign it.
"You'll own the property, and by law, the mortgage is wiped out. That is in the law in all counties… It's not unusual for people to invest $500, $2,000, $5,000 and get a house. Not unusual at all."
What Are Tax Deed Sales and People Whose Lives Were Changed
Darren Olstad asked Ted, "What are tax deed sales?" and it changed his life. 
In his own words "For example, when I went to Texas with my partners, we purchased a deed for $6,000. It turned out to be worth $123,000. So, right there, we had built-in equity of conservatively $100,000, but potentially a lot more. Something that we could rent out immediately because it was a beautiful single-family home. 
"It was a brick home, the alarm was on when we first went into the house. I mean, it was ready to move in, which to me was really the proof in the pudding that the system works. It helps you buy properties for pennies on the dollar."
Ted Thomas added, "You can buy in any state you want to buy. Let me open this up to the world because this is an Internet world now. We have clients that we actually teach to buy online.
"I taught a class in Australia on the Internet. I taught people in Australia can buy right here in Florida, California, anywhere they want, because they can do that on the Internet. 
"So you can go anywhere you want, you can come from outside of the country, or you can come from anywhere in the United States to buy this. I have hundreds of clients that come from Canada. They come to the States and buy these properties. Some people buy because they want those high-interest rates; other people actually want the property.
"We can show you how to do this with your computer in the comfort of your own home."
Another one of Ted's students commented, "As a matter of fact, we ended up buying a piece of property that was a fairly good sized property. The total amount was $4,500. It was assessed by the county at $29,500. We currently have that listed for sale, and once that money comes in, I'm going back to the tax certificate sale, and buying even more because this has created an AWESOME additional stream of income for us."
Ted Thomas has another client named Bob who asked, "What are tax deed sales?"
Ted explains what happened next, "Bob's a guy that likes to go out. When I say he likes to go out, he's a Forester. He actually works outside; he loves to buy open, vacant land. He loves to buy timber, things like that. When this guy started out, he bought his first one for less than $2,000. He sold it, made a profit, and he said – wow! This is a business he wants to get in. Now he's done over 100 deals, just in the past ten years. He's like doing one every single month."
"What are tax deed sales?" – Bob Schumacher
Bob Schumacher added, " I'd have to say the best dollar-for-dollar deal I've done on a piece of land happened in Oklahoma. I bought a tax lien on a 25-acre piece of land. The tax lien was only $67.12. You'd think that nobody would ever abandon a piece of land for that small of a tax bill, but things like that do happen. I ended up getting the tax deed to that property. I eventually sold that piece of land for $23,500. It's not going to happen every time, but if you go out enough times, you'll strike gold every once in a while."
This is a predictable, certain, and secure way to make the extra money you need, and it's guaranteed by law.
As Ted Thomas says, "If you'd like to learn to profit with tax certificates, and earn fantastic returns on your money, or get valuable properties for a few cents on a dollar, and own them FREE and CLEAR with no monthly mortgage payment, then come to me and see for yourself.
"You could live in these homes yourself and never make another house payment again, or you could rent them out for a lifelong monthly income, or simply sell them for amazing profits.
"When someone forfeits that property, the government wipes out the mortgage. It's the law. It's the law in every county and in every state in America. This is free and clear, with no mortgage."
"What are tax deed sales?" – The Hernandez Family
Another one of Ted's students, Janina, asked that magic question, "What are tax deed sales?" It changed her life forever, in ways she never thought possible.
Janina Hernandez explains, "When we heard, we thought it was too good to be true, to be able to buy homes for bad taxes. Once we found out that was true, then we bought a 45 ft. coach, and we decided to retire from our jobs, get out of the rat race and go make some money. Live a different lifestyle. Live free. That's why we're doing tax deeds."
Her husband Cesar had also asked Ted the same question, "What are tax deed sales?"
Here's how Cesar said their life changed. "With this, we can drive, get on our bus, travel all over the country, find those tax liens and deeds, and have a great time doing it."
Janina Hernandez added, "We obviously started buying, and for instance, this house, we bought it 20 cents on the dollar. We're going to profit over $39,000 when we sell this one."
Some people think, "It sounds really good. Almost a little too good."
Ted Thomas explains how this limited thinking causes a lot of people to miss out on golden opportunities, "Well, that's the problem with it. You see, everybody is – oh, it's too good to be true. I couldn't make this up, couldn't be on television if we did that. I've been writing books about this – the first book I did was almost 20 years ago. 
"If you can do this, any county, any state, and you can start out with a little book. That's all you need to start. I took a friend who's an entertainer. She had no experience in real estate, no business experience, I took her to Oklahoma. It was a small town, and she got started there. She ended up getting a property for pennies on the dollar."
"What are tax deed Sales?" – Lynn Rose
Her name is Lynn, and let's listen to what happened when she asked, "What are tax deed sales?" Instead of being intimidated, she listened to Ted's advice and turned his information on tax deed sale properties into big profits.
Lynn Rose explains, "So, I've decided to travel to a typical all-American town, here in Bartlesville, Oklahoma to truly test out Ted's system. Let's go see what kind of properties you can buy at a tax certificate auction. Inside the courthouse, it's hectic. The auction is about to start. My plan is to bid on those properties that I've checked out and researched the way Ted teaches." 
That day the auctioneer said the words that would change Lynn's perspective, "Next property, number 10773. It's a two-acre on the circled map. The starting bid is $770.65. Is there a bid? There is. I have a bid for $770.65. Is there $1,000? $770.65 on the floor, any other bids? Going once. Going twice. Sold. Your number, please."
Lynn Rose: 12. 
Outside the courthouse, Lynn was ecstatic, "I was like, Woo-hoo! I did it! Oh, it was so fun! I just raised my little hand, and I got the property I wanted. Just $770.65. It has a tax assessed value of more than $10,000. It seems pretty obvious! I'm going to really make a good profit on this deal. After all, I only paid less than 8 cents on the dollar for this property."
When you ask the question, "What are tax deed sales?" just know that it is a predictable, certain, and secure way to make the extra money you need, and it's guaranteed by law!
More testimonials from students who asked, "What are tax deed sales?"
Bob Schumacher: "All I can say to you is, if you have somebody that's trying to hold you down, don't listen to them. Don't let them stop you, because this does work."
Darren Olstad: "I paid $50 for two deeds, in particular, one was $52, the other one was $50. The tax lien was only $67.12."
"What are tax deed sales?" – Bill Williams
Bill Williams said, "The first time I went to an auction, I was very nervous. I had butterflies in my stomach, I was very uncertain of what I was going to do. But, I was secure in knowing that A) I have gone through Ted's material. I understood what was involved, B) that everything that I was doing was through the county government, where I turned their free tax deed sales list into thousands of dollars of profit.
"Following Ted's system, I bought a tax deed for $2,400, and within a year, I doubled my money selling that property for $6,000. Buying a tax deed property can definitely be very profitable."
Anybody can do this, it just takes a little bit of study, and a little bit of diligence to go to the auction. Of course, you have to know some terminology and technical information. There are essential terms like redemption deed and redeemable deed that are going to be in your working vocabulary. 
Well, we all know no good thing comes without effort. But can you imagine how successful investments' main downsides turn out to be tax implications of adding someone to a deed, quitclaim deed tax, or some other tax that is a result of making more money? That sounds like a really good side effect, doesn't it?
"What are tax deed sales?" – Anthony LaBello
Anthony LaBello: "When I first saw Ted's program, the tax liens and deeds, I really had some questions I was unsure. I always figured there was some hidden stuff, but just following his program, it was really easy. If you learn how to do this now, you can do it for the rest of your life."
"What are tax deed sales?" –  In Conclusion
What are tax deed sales? They're a way to make massive income that could change your life. You can get houses, land, condominiums, office buildings, and so much more for pennies on the dollar, and make profits selling them quickly with Ted's buy low, sell low exit strategy.
Thanks to the powerful secrets revealed in Ted Thomas' system, you can join the countless people who have discovered the AMAZING financial power of tax lien certificates and tax deeds. To help YOU take control of YOUR financial future, find out how you can build your wealth, and create a fun-filled lifestyle so you can live life your way.
Get Ted's FREE course (valued at $197) to make it easy for you to learn 'what are tax deed sales and tax lien sales.'
Follow me on:



Share my blog here: