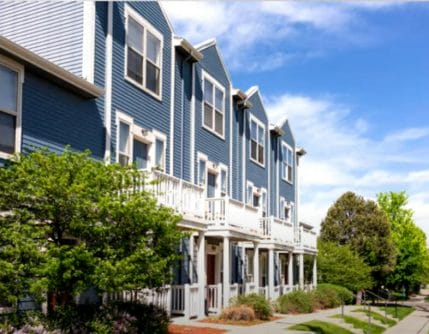 It is possible to buy real estate with no money down, provided you pay attention to what you are doing and spend some time researching purchase options.
The topics to be covered today are:
Want to learn how to purchase bargain real estate? Would you like to buy mortgage-free property for pennies on the dollar? Or earn double-digit interest rates secured by real estate? Then you don't want to miss this FREE Mini Course.
Borrowing Money for a Down Payment
The easiest way to buy real estate with no money down for a mortgage is to borrow the down payment from another source.
This can be done with a conventional commercial loan, a short-term mortgage linked to the house you are buying, or a home equity loan on a property you already have.
Some people say you can borrow the broker's commission for a short time to use as the down payment, but finding a broker to cut this kind of deal will be very hard to do.
Buying Real Estate With an Assumable Mortgage
Assuming an existing mortgage is not an excellent way to buy real estate with no money down. This is not a slide-right-into-place deal though. It requires research on your part. Two things you need to ask are:
Does the mortgage have a due-on-sale clause? If so, you can't assume the mortgage. When the property changes hands, the mortgage must be paid off.


Will the bank let the mortgage change hands? You and the seller need to negotiate with the bank to make this happen. You are going to need good credit. If the seller is in a short-sale position, then the lender will have additional motivation to keep the mortgage as-is. They won't lose money.
If the owner can sell it outright, you can work with the owner to arrange to buy real estate with no money down. The two of you decide how the loan will be set up.
Buying Real Estate With a Lease to Buy Option
A related sale, a lease with an option to buy, is a popular alternative for people with less than great credit.
You will need to decide how much of the lease payment will go toward the purchase of the house.
In either of these scenarios, get everything in the writing and have a real estate sale expert look over the paperwork.
I have a free gift for you, a special mini course that will show you how to profit with tax lien certificates and reveal the secrets of tax deed investing. Get your FREE gift today.
Zero Down Payment Alternatives
The down payment amount is negotiable. It really is. If you are trying to buy real estate with no money down and find a motivated seller, you may be able to have them cover the down payment. This may not be common, but it does happen.
If you have professional skills, you may be able to swap some labor and materials for the down payment. The barter economy is growing rapidly. This doesn't only happen with a fixer-upper, so you don't necessarily need building skills.
Bookkeepers can trade accounting advice; lawyers can offer legal expertise; doctors can trade medical services. If you have professional skills, someone is willing to barter with you for those abilities. If that person has real estate for sale, you're set.
Buying Real Estate With a Partner
Buying with a partner can be an option. In this case, the partner comes to the deal with the down payment money. It can be a loan or an outright investment in the property.
This works well for commercial property. You buy real estate with no money down and your partner agrees to take a percentage of the income the property generates.
Buying Properties for Cents on the Dollar at Tax Sales
One of the best ways to buy real estate at a bargain price is through a tax sale/auction. It can be a tax lien certificate or a tax-defaulted property deed sale. No matter what it's called, you still get the chance to buy real estate for pennies on the dollar without having a down payment.
Buying real estate this way is not guaranteed, because the owner may have time to redeem the property by paying off the past-due property tax amount plus interest to you.
This method also requires you to research the tax-defaulted property carefully. A great resource for this is Zillow.
If you'd like to know more about how to purchase real estate for pennies on the dollar, Ted Thomas provides full support and complete training with home study courses, Q&A webinars, live tutorials, workshops, web classes, and personal coaching with certified coaches.
Learn how to reap huge rewards from tax lien and tax deed investing! Get started today by taking advantage of Ted's Free Master Class! Act now, it costs you nothing and will give you a big head start!
Ted Thomas is America's Leading Authority on Tax Lien Certificates and Tax Deed Auctions, as well as a publisher and author of more than 30 books. His guidebooks on Real Estate have sold in four corners of the world. He has been teaching people just like you for over 30 years how to buy houses in good neighborhoods for pennies on the dollar. He teaches how to create wealth with minimum risk and easy-to-learn methods.