Learn How to Make Residual Income Online
I'm a real estate guy, and I've been a home-based entrepreneur for 30 years. Today I'll answer your question about how to make residual income online.
Many investors and students refer to this as passive income which is income that's reoccurring and doesn't require you to do the same work over and over even though you get paid again and again.
So, how do you generate residual income, and can you really make passive income online? Yes, absolutely. You can generate passive income streams and make a lot of money. Let's talk about that.
Want to learn how to make big profits in real estate? Would you like to buy mortgage-free homes online for pennies on the dollar? Or earn double-digit interest rates secured by real estate? Then you don't want to miss this FREE Mini Course.
Make Residual Income Online:
Alternative Real Estate Investing
I'm Ted Thomas, and 30-years ago I discovered a little-known subset to the traditional real estate business.
Most people think of the traditional real estate as single-family homes, small office buildings, family farms and buildable residential housing lots.
This subset of traditional real estate surprised me a lot. I missed it completely for years. It's called tax liens and tax deeds. It's managed and administered by the local governments and has been available for 200 years.
Make Residual Income Online:
Tax Delinquent Property
Briefly, every state legislature in the United States has mandated by law that property owners must pay property taxes to their local county.
If the property taxes are unpaid, the state law requires the property to be seized by the treasurer then sold at a public auction.
Anyone can attend this auction, and the asking prices at the auction are determined by the treasurer.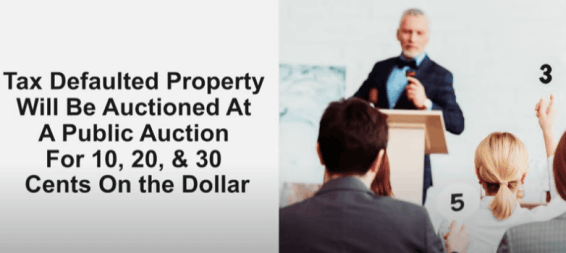 Make Residual Income Online:
Real Estate Sold for Pennies on the Dollar
The treasurer will grant discounts of 60%, 70%, or 80% or more below the tax assessed or market values. Starting bids are often 10 cents, possibly 20 cents on the dollar.
Additionally, the treasurer will delete the mortgage or deed of trust loan at the official county records. It's the law.
Today, I'm discussing your question about how to make residual income online. To explain that, I'll start with a question.
Make Residual Income Online:
Huge Profit Margins
What if we buy tax defaulted real estate online for pennies on the dollar?
I have student investors who are taught to aggressively track auctions, bid at auctions and purchase properties for pennies on the dollar.
Assuming they do purchase for pennies on the dollar, they can sell for as much as the market will bear. This simply means the difference between the purchase price and the market price will be their profit.
Make Residual Income Online:
Earning Residual Income From Installment Sales
Investors are interested in generous profits. Can you make money with residual payments? Yes.
If the investor decides to accept an installment sale, usually called a "contract for deed," the installment payments would earn interest.
This would be residual income. No work and continuous payments.
Make Residual Income Online:
Tax Defaulted Auctions
In over 3,000 counties, the local government will auction defaulted real estate to the public. These auctions are announced on the county website and in the local newspaper.
A county with a small population will have dozens of properties to auction, and large population counties will have hundreds, or even a thousand properties to sell.
My student investors buy tax defaulted properties for pennies on the dollar. They learn about them on the county website and in the local newspapers.
Make Residual Income Online:
Online Auctions
Online auctions are conducted by commercial companies like Bid4Assets. Anyone can purchase at the auction and is just required to set up an account with the commercial auction company.
Typically, a county will begin or start the auction at a very low price, usually the back-delinquent taxes which could be only 10 cents on the dollar. Keep in mind, that's where the auction starts.
I have a free gift for you, a special Master Class that will show you how to profit with tax lien certificates and reveal the secrets of tax deed investing. Get your FREE gift today.
Make Residual Income Online:
Purchasing Property at Tax Defaulted Auctions
For example, a $100,000 single-family home with an assessed value of $100,000 may have a starting bid of only $5,000.
Savvy local investors will evaluate the property and then attend a live or online auction. Let's assume the property is sold in a competitive auction, and the highest bidder is willing to pay $30,000.
Nice deal! The county treasurer will sell the delinquent property online or offline and issue a deed.
At this point, the property has now passed from the county back to a private investor, and the county will return the property from the default list to the honorable tax roll.
The new purchaser may keep the property and live in it or fix it up and resell it. The new purchaser has all the benefits of ownership.
Make Residual Income Online:
Selling Property Fast
How can these properties be turned into passive income investments?
If the new purchaser decides to sell quickly, they can do exactly that. If the property has an assessed value of $100,000, however, it's slightly used and abused, the new purchaser can sell quickly for a lesser price than the $100,000.
How would they do that? By using media, like the Multiple Listing Service, eBay, Craigslist, Zillow, Trulia, and as many online sources as possible.
Make Residual Income Online:
Seller Financing
If the investor desires residual income, they could offer seller financing which is nothing more than an installment sale of real estate just like an installment sale of an automobile or a kitchen appliance. Buyers are attracted to installment sales.
There is a big market for individuals who want real estate or have a family and need a home. However, they have poor FICO scores, and banks rarely lend to individuals or couples with low credit scores. They are rejected.
The combination of slightly used and abused, not pristine new construction and poor FICO scores now goes to the investor's advantage.
A high percentage of buyers are credit challenged, rejected at the bank and want a home.
Make Residual Income Online:
Installment Payments
Auction buyers can solve their problem by selling them a property under market for say, $60,000 when the property was worth much more. Plus, offer installment payments.
Those who want residual income will accept a down payment. Let's say $10,000 and installment payments on the $50,000 balance, and all parties are happy.
The seller now has income from the installment contract of 5 or 10 or 20 years, depending on which they choose, and the new buyer is suddenly approved to own a used and abused property which is appealing to them since they are not wasting money on rent.
How to Make Residual Income Online:
Conclusion
Whether you want to generate cash flow fast or create streams of residual income for years to come (or both), you can do this with tax defaulted property investing.
The huge profit margins that come with purchasing mortgage-free properties for pennies on the dollar, not only mitigate your risk, but also enable you sell quickly to bargain hunters.
If you'd like to know more about investing in tax delinquent property, Ted Thomas provides full support and complete training with home study courses, Q&A webinars, live tutorials, workshops, web classes, and personal coaching with certified coaches.
You can learn how to reap the huge rewards from tax lien and tax defaulted property investing! Get started today by taking advantage of Ted's Free Master Class! Act now, it costs you nothing and will give you a big head start!