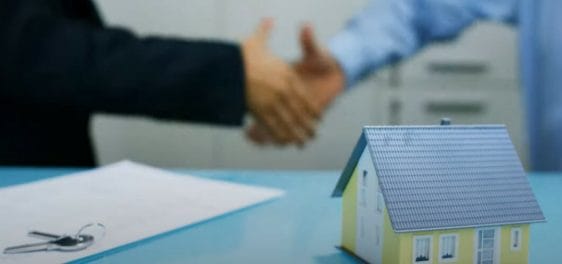 Find out how to get a mortgage with no money down three easy ways.
The topics covered today are:
Want to learn how to purchase bargain real estate? Would you like to buy mortgage-free property for pennies on the dollar? Or earn double-digit interest rates secured by real estate? Then you don't want to miss this FREE Mini Course.
Can You Get a No Money Down Mortgage?
A lot of people are wondering how to get a mortgage with no money down.
A good credit score is paramount. If you have score under 600, then you'll be able to get a mortgage, but you're going to come up with a good down payment.
Here's three options on how to get a mortgage with no money down.
Getting a Zero Down Mortgage From the VA
If you are a veteran wondering how to get a mortgage with no money down, then you have a leg up that non veterans don't have.
The Veterans Administration offers a no-money-down mortgage to veterans. If you are married to a veteran, then the two of you can buy a house under this program.
VA loans are available to any active duty and honorably discharged veterans from any of the armed forces, the National Guard and the Coast Guard. Surviving spouses of veterans kill in the line of duty are also eligible.
The nearest VA office can explain how to get a mortgage with no money down under their programs.
Navy Federal Credit Union 100% Financing Mortgage
As the name suggests, the Navy Federal Credit Union is linked to the military. However, you don't have to be in the military to join the credit union and apply for a no-down payment mortgage.
Membership is open to civilian employees and contractors working for the of the Department of Defense as well as government employees.
The credit union has offices around the nation. Mortgage specialists there give you information on how to get a mortgage with no money down.
USDA No Money Down Loan
It surprises people to learn that the United States Department of Agriculture offers mortgages. You don't have to have any connection to the government to apply for a mortgage with the USDA, but loans are primarily for homes in rural areas.
The USDA definition of a rural area is pretty wide, so you may qualify for loan in places that are not what you'd consider the countryside.
Loans are also made only to people with low to moderate incomes. Again, the definition is pretty generous. Moderate income maxes out at 115 percent of the median income for your area. So what may qualify in rural Idaho may not qualify in parts of California.
Most counties in the US have a USDA office, but all of these offices do not have mortgage specialists. The staff in the local office can direct you to the nearest regional office and people who can explain how to get a mortgage with no money down.
Conclusion
We hope you enjoyed today's lesson on how to get a mortgage with no money down.
Three options are Veterans Affairs, the Navy Federal Credit Union, and the USDA.
If you'd like to learn how to purchase mortgage-free real estate for pennies on the dollar, Ted Thomas can show you a little-known way how to do that. Ted provides full support and complete training with home study courses, Q&A webinars, live tutorials, workshops, web classes, and personal coaching with certified coaches.
Learn how to reap huge rewards investing in bargain real estate! Get started today by taking advantage of Ted's Free Master Class! Act now, it costs you nothing and will give you a big head start!
Ted Thomas is America's Leading Authority on Tax Lien Certificates and Tax Deed Auctions, as well as a publisher and author of more than 30 books. His guidebooks on Real Estate have sold in four corners of the world. He has been teaching people just like you for over 30 years how to buy houses in good neighborhoods for pennies on the dollar. He teaches how to create wealth with minimum risk and easy-to-learn methods.